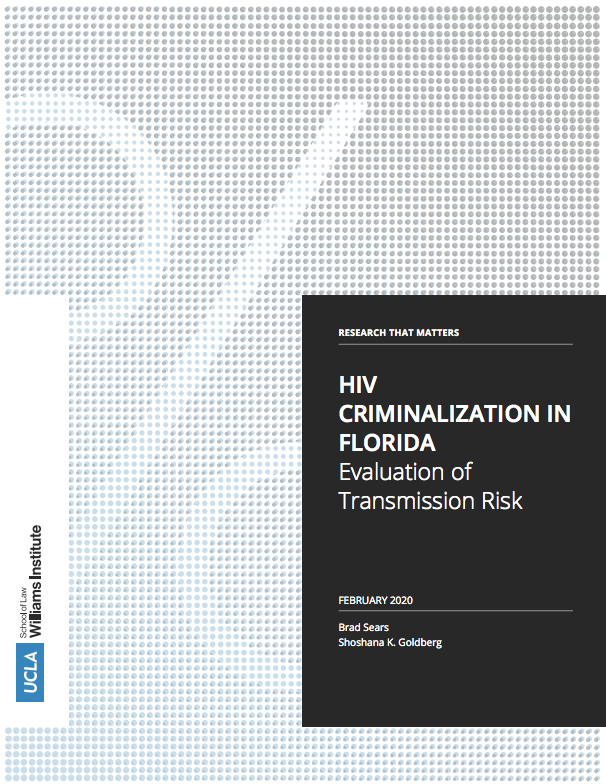 Florida's HIV criminal laws undermine public health efforts
For Immediate Release
March 12, 2020
Media Contact
Rachel Dowd
dowd@law.ucla.edu
(310) 206-8982 (office) | (310) 855-2696 (cell)
The laws deter testing, disclosure, and other HIV prevention strategies
Florida's HIV criminal laws may undermine the state's public health efforts by deterring people from seeking HIV testing and treatment, stigmatizing those with HIV, and disproportionately affecting the communities most impacted by HIV, including people of color, women, LGBTQ people, and the formerly incarcerated, according to a new report by the Williams Institute at UCLA School of Law.
HIV criminalization is a term used to describe laws that either criminalize otherwise legal conduct or that increase the penalties for illegal conduct based upon a person's HIV-positive status. Florida has four HIV-specific criminal laws.
Using data from the Criminal Justice Information Services at the Florida Department of Law Enforcement, researchers found that from 1986 to 2017, there were 266 convictions under Florida's HIV criminal laws—approximately eight convictions per year.
None of the convictions required intent to transmit HIV as an element of the crime, and none required actual transmission of HIV.
"HIV is treatable, preventable, and harder to transmit than was thought in the early years of the AIDS epidemic when Florida's HIV criminal laws were passed," said lead author Brad Sears, the David Sanders Distinguished Scholar of Law and Policy at the Williams Institute. "Enforcement of these laws disproportionately stigmatizes the very communities Florida needs to engage to combat HIV."
This research was generously funded by a grant from the Elton John AIDS Foundation.