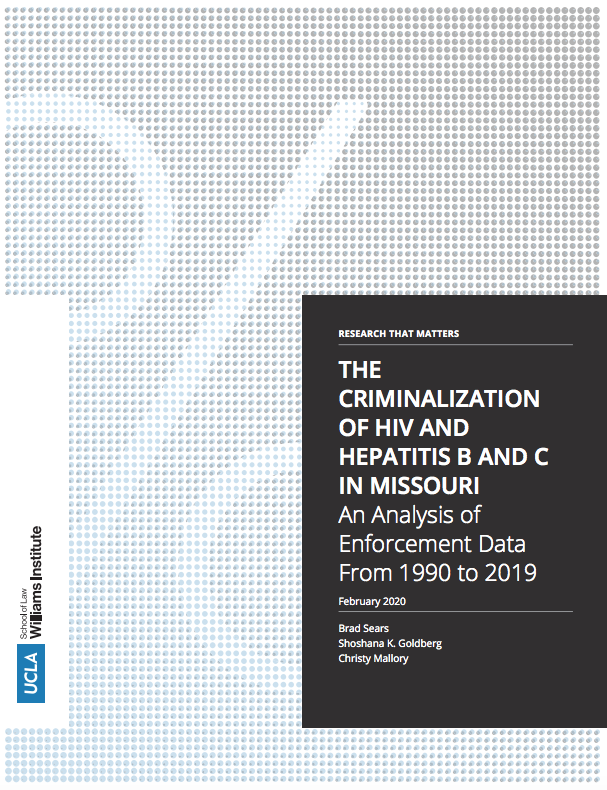 Missouri's HIV criminalization laws have impacted nearly 600 people
For Immediate Release
February 26, 2020
Media Contact
Rachel Dowd
dowd@law.ucla.edu
(310) 206-8982 (office) | (310) 855-2696 (cell)
The cost of incarceration related to these crimes, to date, is $17.7 million.
Between 1990 and 2019, at least 593 people were arrested under Missouri laws that criminalize people living with HIV and hepatitis B and C, according to a new report by the Williams Institute at UCLA School of Law. Of those, 318 people were convicted for the crimes with average sentences ranging from 2.9 to 10 years. To date, the estimated cost of incarceration related to HIV/hepatitis crimes is $17.7 million.
Using data obtained from the Missouri State Highway Patrol (MSHP) – Criminal Justice Information Services, researchers found that HIV/hepatitis criminalization laws were enforced in 70 of Missouri's 114 counties. However, enforcement was heavily concentrated in a smaller subset of counties. In addition, the report shows that HIV/hepatitis crimes are disproportionately enforced on the basis of race and sex, with Black men being the most likely to be arrested and convicted.
HIV/hepatitis criminalization is a term used to describe laws that either criminalize otherwise legal conduct or increase the penalties for illegal conduct based upon a person's positive status. More than two-thirds of U.S. states and territories have enacted HIV criminal laws. Missouri has five laws that criminalize different types of exposure, including three HIV-specific laws and two laws for exposure to HIV or hepatitis in connection with the Department of Corrections and the Department of Mental Health (DOC/DMH).
"Violations of these laws are all felonies. They do not require that the defendant actually infect anyone—or intend to infect anyone—and they include behaviors that pose no or little risk of transmission," said lead author Brad Sears, Distinguished Scholar of Law and Policy at the Williams Institute. "These laws are disproportionately enforced against already vulnerable communities and aren't preventing the spread of HIV and hepatitis."
FINDINGS
HIV Crimes
Missouri has one arrest for an HIV crime for every 60 people living with HIV in the state.
HIV crimes appear to be disproportionately enforced in the Saint Louis HIV Care Region, particularly in St. Louis City and St. Louis counties. While the St. Louis HIV Care region has 48.3% of people living with HIV in Missouri, it has 61.0% of all HIV criminal incidents.
Black men make up 5.5% of the state's population and 35% of people living with HIV in the state. They make up over half of those with an HIV incident (50.2%) or conviction (54.2%).
Department of Corrections/Department of Mental Health Crimes
Over 99% of all 398 people arrested under DOC/DMH laws, 396 people, were arrested for exposing an employee or someone else connected with the Department of Corrections to bodily fluids.
St. Francois, Mississippi, and Texas counties have 3.6% of Missouri's incarcerated populations but represent 33.6% of all DOC/DMH incidents.
Black men make up 5.5% of the state's population and 32% of people who are incarcerated in the state. They make up 41.7% of those with a DOC/DMH criminal incident and 45% of those who have been convicted of these crimes.
Lawmakers in Missouri filed a bill in 2020 to revise the state's HIV criminalization laws. A hearing on the bill is expected in March.
This study was funded through a generous grant from the Elton John AIDS Foundation.