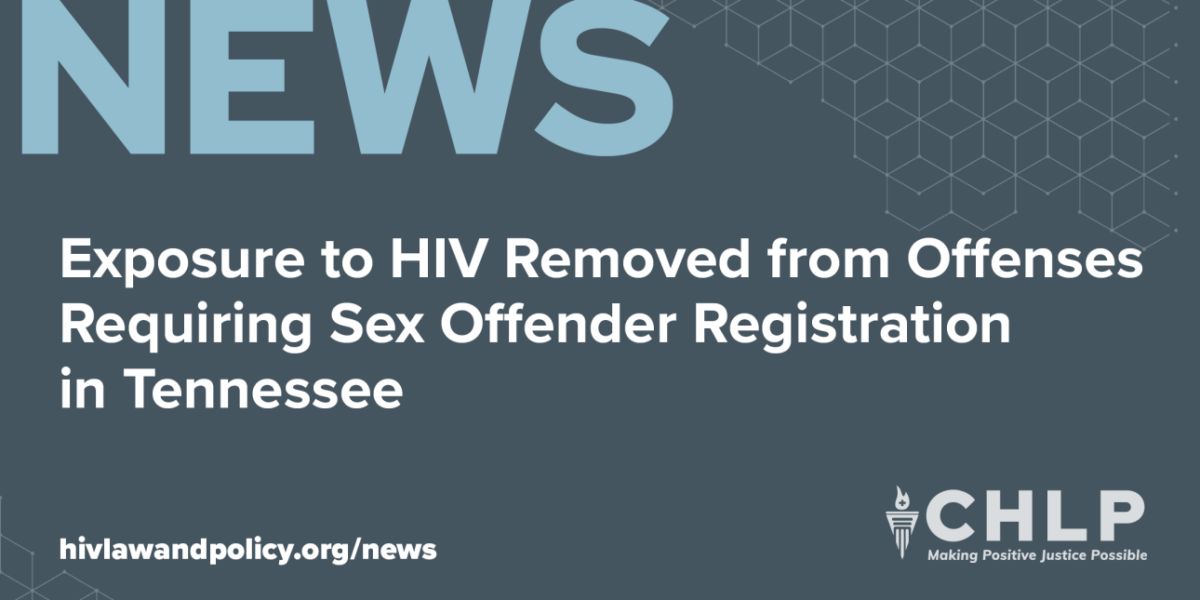 News Release from CHLP: Exposure to HIV Removed from Offenses Requiring Sex Offender Registration in Tennessee
Exposure to HIV Removed from Offenses Requiring Sex Offender Registration in Tennessee
People living with HIV convicted of criminal exposure can request to terminate registration requirements with the Tennessee Bureau of Investigation
(NEW YORK) – On May 17, 2023, Tennessee Governor Bill Lee signed Senate Bill 0807/House Bill 832 into law after it passed the House and Senate in April. The law removes criminal exposure to HIV from the list of violent sexual offenses where a conviction required an individual to register as a sex offender for life. The law will go into effect on July 1, 2023. The bill was sponsored by Republican Rep. Bud Hulsey.
Tennessee is one of 30 states that have HIV-specific criminal laws. Under current Tennessee law, people living with HIV (PLHIV) or hepatitis B or C may still be charged and convicted of a felony for engaging in sexual activities without disclosing their status. While the amended law removes the heightened penalty for exposure, it does not remove aggravated prostitution from the list of violent sexual offenses requiring registration as a sex offender, so there remains a heightened penalty for PLHIV who know their status to engage in sex work.
"This change is a win for people living with HIV in Tennessee who are on the registry for life for an exposure conviction," said CHLP Staff Attorney Jada Hicks. "Forcing people living with HIV to register as sex offenders for consensual sexual activity further criminalizes them and does nothing to enhance public safety. It is past time that stigmatizing HIV laws in Tennessee and other states catch up with the science of HIV transmission."
As of April 2022, more than 70 people were on Tennessee's registry for an HIV exposure charge. With the passage of SB 0807, anyone convicted of criminal exposure to HIV prior to July 1, 2023, may file a request to terminate registration requirements with the Tennessee Bureau of Investigation (TBI).
"The law that Governor Lee signed is about to change my life. For the past 16 years I've been depressed, looking over my shoulder, and just being scared of messing up," said Tennessee advocate Lashanda Salinas. "This law is going to finally let me have my life back. I can see family, my cousins, and attend family reunions and participate in things."
Republican Rep. Bob Ramsey, who sponsored the House version of the bill, argued that the laws needed to be updated "to look at this disease in a more realistic light and try to destigmatize it so that we could identify it and treat it, more so than trying to punish it."
Those registered as sex offenders for a conviction of criminal exposure to HIV who wish to have their names removed can do so through a fingerprint-based state and federal criminal history check process to determine whether additional convictions exist for sexual offenses or violent sexual offenses. If the requirements of the amendment are satisfied, TBI will remove the individual from the registry and notify them that they are no longer required to comply with the registration requirements.
If the TBI determines that the person would be required to register even if the offense had been committed on or after July 1, 2023, or that they had been convicted of any additional sexual offenses or violent sexual offenses during the period of registration, then they must remain on the registry. Under the bill, the TBI's decisions can be appealed, allowing for judicial review by the courts.