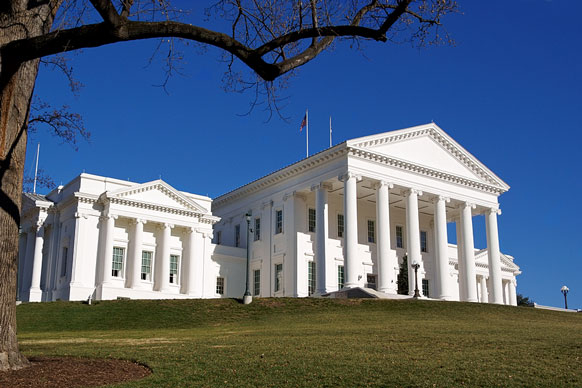 Virginians No Longer Required to Disclose HIV+ Status to Sexual Partners
It is no longer a crime for Virginians to fail to disclose their HIV+ status before engaging in sexual activities with an unknowing partner, after legislation from the General Assembly's spring session took effect Thursday.
The new law says that it is not a crime to unknowingly transmit the virus, for which there is no cure, unless the person transmitting intended to do so. Under the new law, an accuser must also prove that they contracted the virus.
"Those changes set a new legal bar for accusers that's nearly impossible to scale," The Body, an HIV/AIDS resource website said. "The previous law only required proof of intent, putting the burden of proof on the partner living with HIV."
One of the cosponsors of the legislation that changed the law celebrated on Twitter.
"The HIV Law Modernization bill is now law! This law, which I passed with [state Sen. Mamie Locke] reforms outdated and ineffective 1980s-era laws that criminalize HIV. These laws were ineffective from a public health perspective and stigmatize HIV-positive status," state Sen. Jennifer McClellan (D-District 9) said. 
Virginia, whose General Assembly is controlled by Democrats and took a leftward turn during the spring session, is only the ninth state to implement relaxed HIV+ transmittal laws.
In many states, an accuser only has to prove possible exposure in order for criminal charges to be brought.
But activists are not satisfied with simply raising the bar for prosecution.
They were also hoping that the punishment for crime would be reduced from a felony, to a misdemeanor, and will likely keep fighting until that happens.
"That was one of our hard demands, but after careful consideration of how far we were able to push so many other great wins, we decided to accept it," activist Dierdre Johnson told The Body.
---
Published on CBS News on 21/03/2021
Northam acts on final pieces of legislation from special session
RICHMOND, Va. (CBS19 NEWS) — Governor Ralph Northam has finished taking action on legislation that passed during the special session of the General Assembly.
According to a release, he signed several bills, including measures to ensure schools provide safe, in-person learning opportunities, bans firearms at polling locations, extends eviction protections, and provide paid sick leave to home health care workers.
Additionally, Northam proposed several amendments to the state budget.
"Throughout this session, we have focused on responding to the ongoing public health and economic impacts from the COVID-19 pandemic and moving our Commonwealth forward," he said. "These new laws will increase support for Virginia families and businesses, ensure our children and teachers can safely return to classrooms, advance equity, and tackle systemic racism. I am extremely proud of the meaningful progress we have made to enact legislation as unprecedented as the challenges we are facing."
Senate Bill 1138, sponsored by Senator Mamie Locke, updates several outdated criminal laws related to people living with HIV and other sexually transmitted infections. The reforms reflect contemporary public health knowledge and help to de-stigmatize these diseases.
---
Virginia General Assembly passes bill to modernize HIV laws
Published by NBC12 on February 20, 2021
RICHMOND, Va. — The General Assembly passed a bill this week that lawmakers say will modernize Virginia's current HIV laws.
Senate Bill 1138, introduced by Sens. Mamie Locke, D-Hampton, and Jennifer McClellan, D-Richmond, also removes a law that prohibits the donation of blood and organs by people with HIV and other sexually transmitted diseases. A 21-17 vote along party lines pushed the bill out of the Senate earlier this month. The House of Delegates passed the bill Friday in a 56-44 vote.
The bill repeals a law that makes it a felony for HIV-positive people to sell or donate blood, body fluids, organs and tissues. Donors must be in compliance with the HIV Organ Policy Equity Act. This state legislation does not apply to national organizations such as the American Red Cross. The organization implements FDA guidelines that require men who have sex with men to defer from sexual intercourse for three months before donating blood.
The measure also removes HIV, AIDS, syphilis and hepatitis B from the list of infectious biological substances under the current infected sexual battery law, opting to use the language "sexually transmitted infection." The crime is punishable by a Class 6 felony, which carries a punishment of no more than five years in prison or a $2,500 fine. In 2019 and 2020, three offenders were convicted of such crimes, according to data provided in the impact statement by the Virginia Criminal Sentencing Commission. The Senate voted to lower the penalty from a Class 6 felony to a Class 1 misdemeanor.
Opponents of the bill spoke against reducing the penalty for such crimes. The House vote Friday included an amendment to keep the Class 6 felony punishment.
The bill adds language that HIV will not be included in the current statute as an infectious biological substance. It is a Class 5 felony to cause malicious injury by means of an infectious biological substance. The offense is punishable by five to 30 years in prison.
McClellan said current HIV laws put in place during the 1980s AIDS epidemic have proven ineffective from a public health perspective. She said they are counterproductive and were implemented years ago to receive federal funding.
---
February 6, 2021
Citing stigma and fear, Virginia Senate votes to reform HIV criminalization law
Deirdre Johnson first learned she had HIV when she was six months pregnant. She was shocked to learn that in Virginia, it was a crime for her to have consensual sex with someone without disclosing she had the virus.
"Virginia's HIV criminalization law is rooted in stigma and discrimination," Johnson said. "It targets people living with HIV and paints them — and people like me — as vectors of disease to be feared and criminalized."
Johnson, who lives in Petersburg, takes medications so that she now is at no risk of transmitting the virus. Her son was born HIV-negative. She co-founded Ending Criminalization of HIV and Overincarceration in Virginia, and advocates for changing the state's HIV criminalization laws.
The Virginia Senate passed legislation Friday that would decriminalize people having consensual sex without disclosing they have HIV, which advocates say will reduce stigma and improve public health. The bill, from Sens. Mamie Locke, D-Hampton, and Jennifer McClellan, D-Richmond, passed the Senate on a party-line vote of 21-17, and heads to the House of Delegates for its consideration.
Virginia is one of 37 states that criminalizes exposing or transmitting HIV to another person. States adopted these laws during the panic in the 1990s about how to prevent the spread of the virus.
In particular, states acted in response to a 1997 case in New York that drew nationwide attention. Nushawn Williams knowingly infected at least 13 women and teenagers with HIV through unprotected sex. This prompted fear of people intentionally spreading HIV, the virus that causes AIDS, although there's no evidence that a significant number of people were ever intentionally trying to infect other people with HIV.
The statute is rarely used. Between 2019 and 2020, three people were convicted of felony infected sexual battery and misdemeanor sexual battery, according to the Virginia Sentencing Commission. The misdemeanor offense carries possible jail time of 12 months, and the felony up to five years.
Senators were concerned that repealing this law would prevent prosecuting someone for intentionally, maliciously infecting someone with the virus. The bill would reduce the penalty from a felony to a Class 1 misdemeanor for someone to engage in "sexual behavior that poses a substantial risk of transmission" and transmits a sexually transmitted infection to someone.
Sen. Siobhan Dunnavant, R-Henrico, an obstetrician-gynecologist, said she's had to be the one to deliver news to women that a person they were in a relationship with transmitted a disease to them.
"I cannot diminish in any way the consequences for someone who has intentionally infected a woman," she said.
According to the Virginia Department of Health, 25,000 people live with HIV in the commonwealth.
Andre Leaphart pleaded guilty to a misdemeanor offense under this statute in 2017. He said part of the problem with the law is that it's broadly written and can be used to prosecute people like him who had never intended to harm anyone. It doesn't require transmission, and intent could be interpreted as the defendant not disclosing their HIV status.
After his experience, he advocates for improved HIV testing and outreach. He said the law can be a barrier to testing. World health groups have identified HIV criminalization laws as hurdles to effective treatment and prevention.
"This bill ensures Virginia code reflects current scientific understanding of HIV and promotes public health by alleviating the stigma and mistrust of health institutions," Leaphart said.
A number of states in recent years have modernized their HIV criminalization laws. Changes include requiring intent to transmit, actual transmission or providing defenses for taking measures to prevent transmission.
Sen. Creigh Deeds, D-Bath, said he appreciates the mindset in the 1990s that led to this law. Then, getting HIV was a death sentence. That's no longer the case, so Deeds said it was worth reexamining the law now to reflect the current understanding of the virus.
"The stigma, fear and mistrust that this law perpetuates contributes to negative public health outcomes," said Vee Lamneck, executive director of Equality Virginia.
---
January 29, 2021
Good news from Equality Virginia:
Senate Bill 1138 to Modernize and Repeal Discriminatory HIV Laws in Virginia Receives Senate Judiciary Committee Approval
Current laws disproportionately impact Black, Indigenous, Latinx communities and other people of color
RICHMOND, Va. (Jan. 28, 2021) – The Virginia Senate Judiciary Committee approved Senate Bill 1138 on Wednesday, a bill sponsored by State Senators Mamie Locke (D-Hampton) and Jennifer McClellan (D-Richmond) that would amend and repeal current HIV statutes that disproportionately impact people of color.
SB 1138 would create several updates to the Virginia Code limiting the scope of the law to prevent criminalization and eliminating additional punishments for people living with HIV when charged with a crime.
HIV criminalization refers to the use of laws and policies to target and punish people based on their HIV positive status. Virginia is one of 37 states with laws criminalizing the alleged potential exposure, non-disclosure, or potential transmission of HIV.
"These outdated, dangerous, and discriminatory laws disproportionately impact Black, Indigenous, Latinx and other persons of color," said Vee Lamneck, executive director of Equality Virginia. "To ensure an equitable state for Black and Brown individuals and to promote public health, it's essential lawmakers pass SB 1138."
The HIV epidemic remains a significant public health issue across the country and in Virginia. According to the Virginia Department of Heath's most recent data, approximately 25,000 people live with HIV in the commonwealth. Data highlights that communities of color, LGBTQ+ individuals, people who use drugs, and sex workers are most likely to be impacted by HIV.
Despite only making up 19.5% of the state's population, Black people represent 58% of persons living with HIV in Virginia. The rate of Black males living with HIV is 5.5 times higher than white males and the rate of Black females living with HIV is 15.1 times that of white females.
Meanwhile, the rate of Hispanic/Latino males living with HIV is 2.2 times higher than white males and the rate of Hispanic/Latina females living with HIV is 4.1 times that of white females.
Current state laws, some of which were originally enacted in the 1980s, do not reflect modern public health and scientific best practices, and disproportionately harm communities of color.
"Virginia's current HIV laws are rooted in fear and racial biases," said Deirdre Johnson, co-founder of ECHO VA coalition. "Criminalization increases stigma and harms marginalized communities. Data shows that these laws target and harm women of color, women who do sex work, and transgender women."
Studies in other states highlight how HIV laws are enforced based on race and gender. A study by The Williams Institute at UCLA School of Law of Georgia's criminal justice system reported that Black men and women are significantly more likely to be arrested for HIV-related offenses than their white peers, and Black men are nearly twice as likely to be convicted than white men.
"It's critical we pass SB 1183 as we continue the important work to make a more equitable justice system for all Virginians," said Senator Locke. "HIV criminalization undermines public health and helps fuel the HIV epidemic in our state. I am committed to working with my General Assembly colleagues to ensure current laws are repealed and modernized to reflect modern science and public health strategies."
"Living with HIV should not be a crime," added Senator McClellan. "We know current laws deter testing and create additional barriers for vulnerable populations. HIV criminalization is a critical public health issue that lawmakers can help solve by passing SB 1138."
Last November, HIV advocacy groups ECHO-VA and the Positive Women's Network-USA testified about current HIV laws to Virginia's Commission to Examine Racial Inequity in Virginia Law, a council charged with identifying and making recommendations to address laws that were intended to or could have the effect of promotion or enabling racial discrimination or inequities. The Commission was highly receptive to the testimony and agreed to include a review of the state's HIV criminalization statute with a recommendation to establish a task force to examine the statute's impact on racial and ethnic minorities in its 2020 report to the Governor.
"HIV isn't a death sentence and it should never be a prison sentence," said Kamaria Laffrey, with the Sero Project. "We know current laws are disproportionately enforced against Black individuals and disenfranchised communities. Passing SB 1138 is essential to stopping the inappropriate and unjust criminal prosecutions of people living with HIV."
"We know the current laws are not effective from a public health perspective," said Breanna Diaz with Positive Women's Network-USA. "These discriminatory policies discourage people from seeking HIV testing and treatment. They create mistrust of, and alienation from, public health institutions and put people living with HIV at heightened risk of violence from intimate partners."