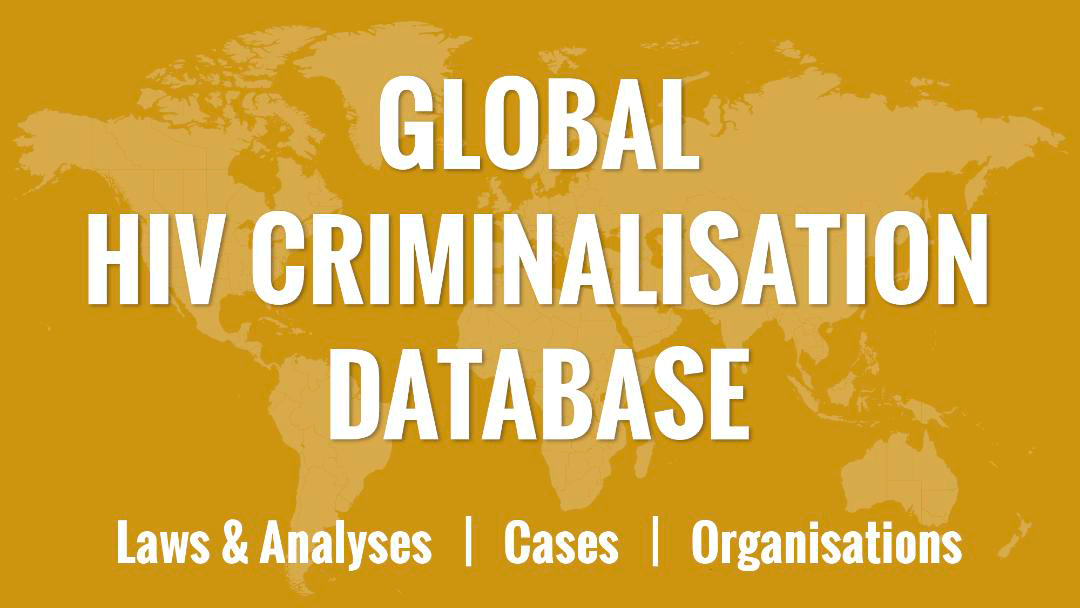 Today, we are delighted to announce a new version of the HIV Justice Network (HJN) website, www.hivjustice.net.
The centrepiece of the new website is the Global HIV Criminalisation Database, which comprises three separate but interrelated databases:
Laws and Analyses – a new portal providing updated information and analysis of HIV criminalisation laws previously collated by GNP+ as part of the Global Criminalisation Scan;
Cases – a regularly updated searchable global database of reported HIV criminalisation cases; and
Organisations – a new directory of organisations around the world actively working against HIV criminalisation.
Each section of the Database also features an interactive search tool and global map providing a visual account of where different kinds of laws are used, where various types of cases have been reported, and where organisations operate.
Laws and Analyses
The list of laws used for HIV criminalisation contained in the Global HIV Criminalisation Database is based on GNP+'s groundbreaking Global Criminalisation Scan.
"We hope this new, improved version of our website will continue to be an essential source of up-to-date information for individuals and organisations advocating against HIV criminalisation around the world. We would especially like to acknowledge GNP+'s tremendous work developing and promoting their Global Criminalisation Scan, and take seriously our responsibility as custodians of global HIV criminalisation data moving forward."

Edwin J Bernard, HJN's Executive Director
Further substantial assistance was provided by Australian law firm Hall & Wilcox, with support from the UNAIDS secretariat in Geneva, as well as networks of advocates and civil society organisations from around the world.
In addition, we are grateful to the Center for HIV Law and Policy for allowing us to link to their regularly updated original research and analysis on HIV-related criminalisation in the United States, excerpted from 'HIV Criminalization in the United States: A Sourcebook on State and Federal HIV Criminal Law and Practice'.
We are currently confirming data for a number of jurisdictions, particularly those in the Caribbean, Latin America, the Middle East and North Africa. Those data will be published shortly.
Cases
We continue to include a searchable list of cases primarily curated from media reports. Although the reports do not usually reflect the views or values of HJN, they provide examples of the way HIV criminalisation cases are publicly described.
We count cases from the moment there is a media report, even if the case does not reach a court. However, total estimated case numbers for any particular jurisdiction may not always tally with the number of case reports on our site, because not all cases are reported in the media. We also include a range of other sources to estimate case numbers, including information provided to us by local community agencies and academic institutions, and/or found in court databases.
Therefore cases, and case numbers, should be considered illustrative of what is likely to be a more widespread, poorly documented use of criminal law against people living with HIV.
Organisations
Another new element of the Global HIV Criminalisation Database is a directory of organisations undertaking a range of activities related to HIV criminalisation, including case monitoring, community mobilisation, legal support, political advocacy, public education, research, and work with the media.
The directory only includes organisations that have 'opted-in' to our previous surveys by asking to be included in the directory, and inclusion does not imply endorsement by HJN. If your organisation is not included in the directory and you would like to be included, please fill in this form. If you wish to amend your organisation's details, please contact us, letting us know the information you wish to change.
News, Publications, Videos

The website continues to feature regular news about all aspects of HIV criminalisation, including news curated from other sources that we think is relevant to the global movement to end HIV criminalisation.
Earlier this year we relaunched our newsletter, HIV Justice Weekly. Published each Friday, it is a dynamic and useful summary of the week's news collated by HJN. Given the current parallel pandemic of bad laws and overly zealous law enforcement, this is where we are also currently covering punitive responses to COVID-19, especially where these responses intersect with HIV criminalisation.
Recent publications produced by the HIV Justice Network, including our Advancing HIV Justice 3 report, and videos produced by us and others can also be found on the website.
About HJN
The HIV Justice Network (HJN) is a global information and advocacy hub for individuals and organisations working to end the inappropriate use of the criminal law to regulate and punish people living with HIV. Our mission is to collate, create and disseminate information and resources enabling individuals and communities to effectively advocate against inappropriate criminal prosecutions for HIV non-disclosure, potential or perceived exposure and transmission.
The HIV Justice Network also serves as the secretariat for a global coalition campaigning for HIV JUSTICE WORLDWIDE (HJWW), run by a nine organisation Steering Committee and with more than 100 members. Visit www.hivjusticeworldwide.org (also available in French, Russian, and Spanish) to learn more about what we do, what you can do, and how you can join the movement to end HIV criminalisation.
HJN is also the lead grantee for the HIV Justice Global Consortium, funded by Robert Carr Fund for civil society networks, which is the mechanism through which HJN – and most HJWW activities – are funded.