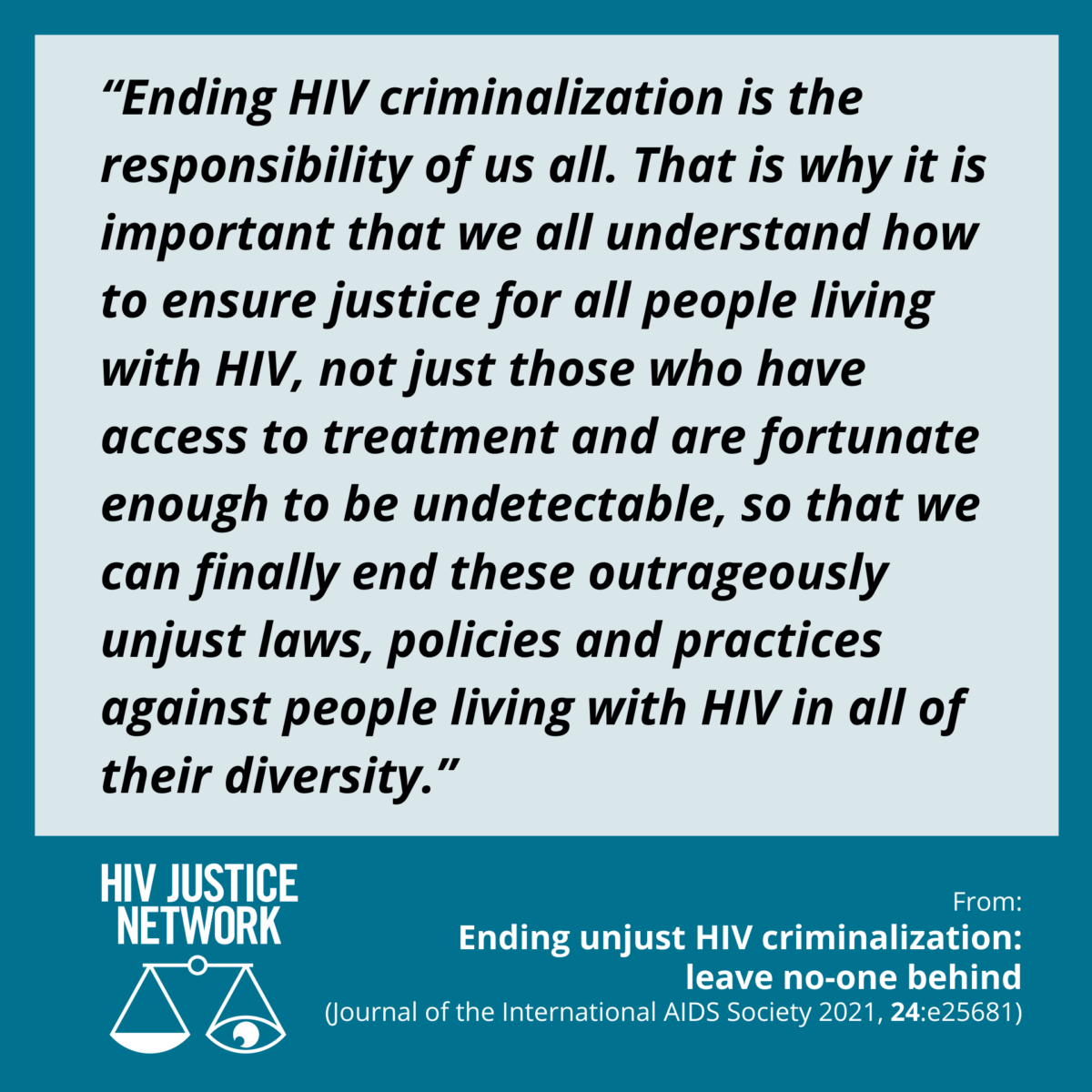 An editorial published to coincide with Zero Discrimination Day (March 1) by leaders in the HIV Justice movement celebrates "the courage and commitment of the growing global community of advocates, human rights defenders and others around the world who are challenging laws, policies and practices that inappropriately and unjustly criminalize people living with HIV", but warns that this work must include and benefit those populations who are the most marginalised, and who remain most vulnerable to prosecution, despite advances in HIV science that are being used to challenge and modernise these laws.
Writing in the Journal of the International AIDS Society, the authors – who include HJN's Executive Director, Edwin J Bernard; HJN's Supervisory Board member, Michaela Clayton; and HJN's Global Advisory Panel member, Edwin Cameron, along with Chris Beyrer, Desmond M. Tutu Professor of Public Health and Human Rights at the Johns Hopkins Bloomberg School of Public Health and GNP+'s Alexandra Volgina – note that despite many advances in the science of HIV there remains one area that is still an "all too common a threat to the lives and wellbeing of people living with HIV, as well as to the goal of ending the epidemic" – HIV criminalisation.
HIV criminalisation describes the unjust application of criminal and similar laws to people living with HIV ostensibly based on their HIV status, either via HIV‐specific criminal statutes or general criminal or other laws.
Citing data collated from HJN's global case monitoring which suggests that HIV criminalisation intersects with "discrimination or criminalization on the basis of ethnicity, sex, gender identity, immigration status, sex work, sexuality and/or substance use," they note that HIV criminalisation can be seen as a "surrogate marker for state‐sponsored stigma and discrimination against marginalized groups of people at higher risk of HIV."

The editorial also addresses public health and healthcare workers who are often viewed as an extension of the criminal justice system by marginalised populations. "We are also seeing a frightening trend of prosecutions being initiated by those working in healthcare or public health without specific complaints. In some cases, police were notified of a person's HIV diagnosis by health authorities, which then became a prompt to investigate the person's relationship with their partner."
Relatively few countries have repealed or modernised their laws, although efforts are currently underway across the globe, assisted by the 2018 publication of the Expert consensus statement on the science of HIV in the context of criminal law authored by 20 of the world's leading HIV scientists, including Professor Beyrer.
The editorial celebrates and encourages the growing number of global advocates, human rights defenders and others around the world who are challenging HIV criminalisation but notes that everyone involved in the HIV response needs to play their part. "Ending HIV criminalization is the responsibility of us all," they argue.
"It is important that we all understand how to ensure justice for all people living with HIV, not just those who have access to treatment and are fortunate enough to be undetectable," they conclude, "so that we can finally end these outrageously unjust laws, policies and practices against people living with HIV in all of their diversity."