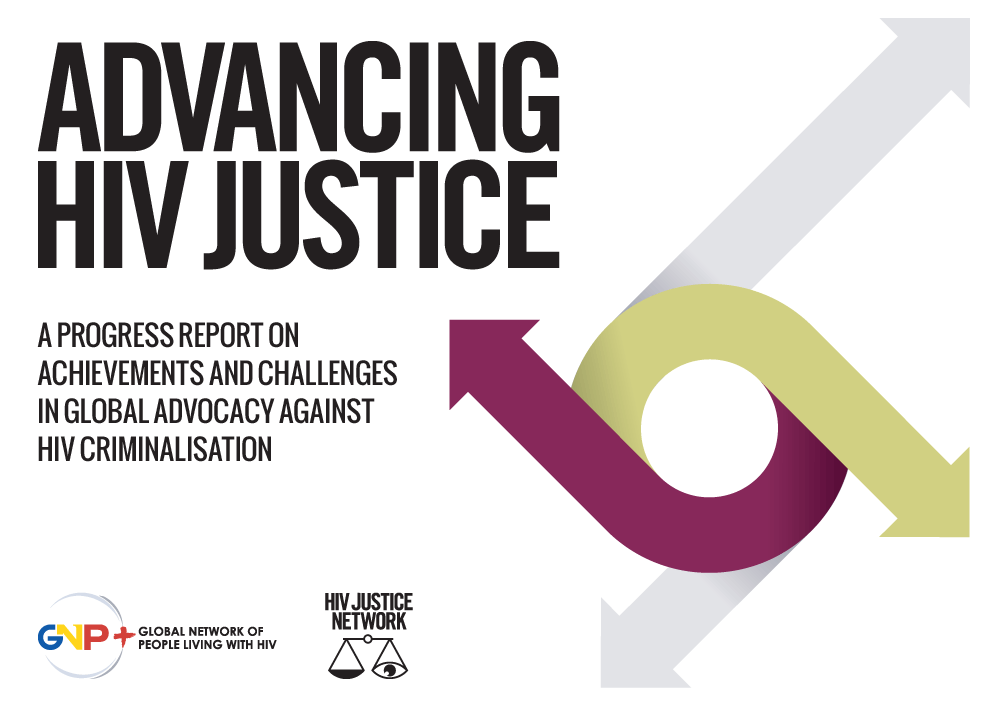 A new report released today by the Global Network of People Living with HIV (GNP+) and the HIV Justice Network highlights the tireless work of advocates around the world challenging inappropriate criminal laws and prosecutions for HIV non-disclosure, potential or perceived exposure and transmission.
Advancing HIV Justice shows that advocates around the working to repeal, modernise or otherwise limit laws and policies that inappropriately regulate and punish people living with HIV have achieved considerable success.  This is especially the case when policymakers or criminal justice system actors are open to learning more about scientific and medical advances in HIV prevention, treatment, care and support, and involve civil society – led by people living with HIV – to ensure that critical criminal law and human rights principles are followed.
"That is why we welcome the new, detailed guidance on limiting overly broad HIV criminalisation that was released last week by UNAIDS," says Kevin Moody, International Coordinator and CEO of GNP+. "The guidance will help to continue advancing HIV justice, serving as a powerful new tool for people living with HIV, and those advocating on our behalf, in our work with policymakers and criminal justice system actors."
Writing in the foreword, Susan Timberlake, Chief, Human Rights and Law Division, UNAIDS Secretariat, notes that Advancing HIV Justice "powerfully demonstrates that civil society advocacy on this issue is not only alive – it goes from strength to strength."
In the 18-month period covered by the report (September 2011 to March 2013), significant advances were made in terms of:
building the global evidence base in order to better understand the 'who, what, where, when and why' of laws and prosecutions around the world;
generating persuasive social science that shows exactly why overly broad HIV criminalisation does more harm than good, often achieving exactly the opposite of what law- and policymakers intend in terms of public health and human rights;
challenging inappropriate or overly broad new laws in Africa, Asia, the Caribbean, Latin America and the United States;
advocating for law reform in Europe and the United States, including successful repeal in Denmark and modernisation of one of Switzerland's two laws used to prosecute potential or perceived HIV exposure; and
addressing legal processes and enforcement, including the creation of prosecutorial guidelines in Scotland.
However, the report also highlights that the road to law and policy reform is not always straightforward or easy, due not only to complex intersections of laws, policies and practices, but also because of each country's unique social, epidemiological and cultural contexts.
"Despite the many incremental successes of the past 18 months, more work and more funding is required to strengthen advocacy capacity," says the HIV Justice Network's co-ordinator, Edwin J Bernard, who co-authored the report with Sally Cameron. "HIV criminalisation is a complex issue. It entails a detailed understanding of diverse aspects of the criminal justice system; collection and analysis of evidence of the scope and impact of prosecutions across local and national boundaries; articulation and argument about complex moral and ethical issues of trust, blame and responsibility; and inclusion of HIV prevention and human rights priorities. Development of strategies against HIV criminalisation relevant to each individual jurisdiction requires time, effort, and the involvement of multidisciplinary experts."
Advancing HIV Justice: A progress report of achievements and challenges in global advocacy against HIV criminalisation is available as a 52 page pdf that can be read or downloaded at: http://www.advancing.hivjustice.net