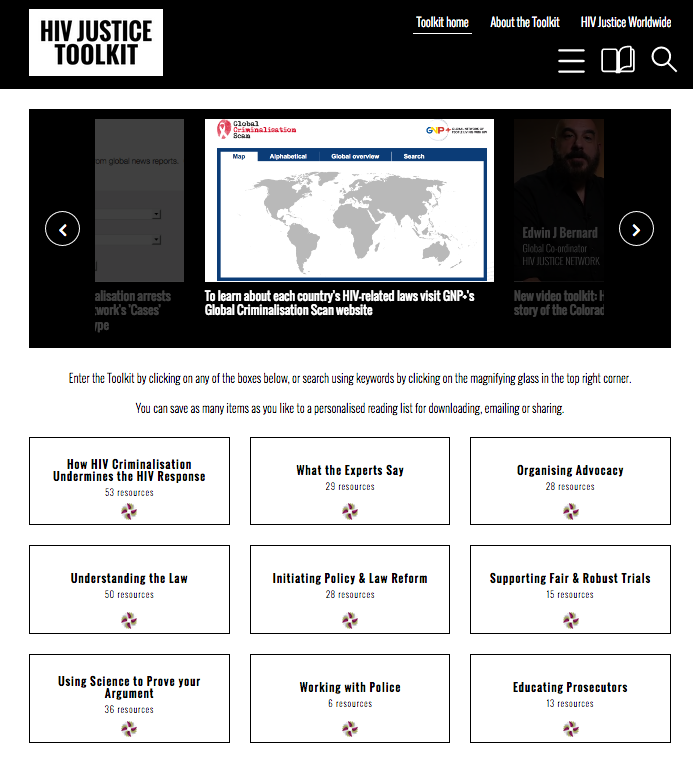 HIV JUSTICE WORLDWIDE today announced the launch of the HIV Justice Toolkit, which aims to support advocates to oppose HIV criminalisation at all levels – from educating communities and lawmakers to defending individual cases.
Curated by Sally Cameron, Senior Policy Analyst at the HIV Justice Network (HJN) with input and assistance from HJN's Global Co-ordinator, Edwin J Bernard and HJN's Research/Outreach Co-ordinator, Sylvie Beaumont, the Toolkit's creation was faciliated by the HIV JUSTICE WORLDWIDE Steering Committee, designed by Thomas Patterson/NAM, and supported by a grant from the Robert Carr civil society Networks Fund.
"We are delighted at the launch of this timely HIV Justice Toolkit. Advocates will find that the use of this Toolkit will increase collaborative and targeted responses for the most vulnerable – in our case women living with HIV, who often suffer the most because of HIV criminalisation. The Toolkit is timely in galvanising action and encouraging activists and communities to proactively mount evidence-based advocacy campaigns to end HIV criminalisation."

Lynette Mabotte, Southern and East Africa Regional Programmes Lead,
The Toolkit is a comprehensive compendium of almost 300 documents and videos, organised under twelve main headings, each of which is broken down into futher subsections.
How HIV criminalisation undermines the HIV response
What the experts says
Organising advocacy
Understanding the law
Initiating policy and law reform
Supporting fair and robust trials
Using science to prove your argument
Working with police
Educating prosecutors
Educating judges
Getting the message right
Other toolkits
The entire Toolkit is also searchable by keyword.
"This easy-to-read summary of critical resources is a tremendous contribution to the fight to end HIV criminalisation. We will reference and utilise this important new addition to the HIV JUSTICE WORLDWIDE site frequently."

Sean Strub, Executive Director, Sero Project
Although the Toolkit is currently only available in English, where documents already exist in other languages, these are included.
HIV JUSTICE WORLDWIDE are now working on a French version of the Toolkit, with other languages (i.e. Spanish and Russian) due in 2018, depending on demand, capacity and funding.
Explore the resources contained within the HIV Justice Toolkit at: http://toolkit.hivjusticeworldwide.org/
If you find the Toolkit useful and/or you have resources you would like featured in the Toolkit please contact us.
New video advocacy tool: How to organise to change the law – the story of the Colorado Mod Squad
The Toolkit also features a new video advocacy tool, 'The Colorado Story' which explains in 15 minutes how a group of dedicated advocates in Colorado 'modernised' their HIV-related laws to improve the legal environment for people living with HIV.
Featuring Barb Cardell and Kari Hartel of the Colorado Mod Squad and Colorado State Senator, Pat Steadman, the video was written and introduced by HJN's Edwin J Bernard, with interviews by Mark S King, and directed / produced by Nicholas Feustel for the HIV Justice Network/HIV JUSTICE WORLDWIDE.
About HIV JUSTICE WORLDWIDE
HIV JUSTICE WORLDWIDE is a growing, global movement to shape the discourse on HIV criminalisation as well as share information and resources, network, build capacity, mobilise advocacy, and cultivate a community of transparency and collaboration.
The mission of HIV JUSTICE WORLDWIDE is to seek to abolish criminal and similar laws, policies and practices that regulate, control and punish people living with HIV based on their HIV-positive status.
We believe that this HIV criminalisation is discriminatory, a violation of human rights, undermines public health, and is detrimental to individual health and well-being.
To learn more, visit http://www.hivjusticeworldwide.org