The HIV JUSTICE WORLDWIDE (HJWW) coalition which campaigns to end HIV criminalisation around the world, will next week mark five years since its launch. It was on March 24th, 2016 when the seven HJWW founding partners and our key allies met in Brighton, UK to launch this coalition to coordinate a global response to the unjust use of criminal and similar laws against people with HIV.
The original seven founding partners were the AIDS and Rights Alliance for Southern Africa (ARASA), the Canadian HIV/AIDS Legal Network (now known as the HIV Legal Network), the Global Network of People Living with HIV (GNP+), the International Community of Women Living with HIV (ICW), the Positive Women's Network – USA (PWN-USA), the Sero Project (Sero) and HIV Justice Network (HJN) which co-ordinates the joint work plan and serves as the secretariat for HJWW.
At the time of the launch, HJWW wanted to end HIV criminalisation by empowering people living with HIV and those who advocate on their behalf to ensure policymakers, criminal justice actors and other relevant stakeholders abolish existing laws and oppose the passage of proposed laws designed to regulate, control, and punish people living with HIV on the basis of their HIV status.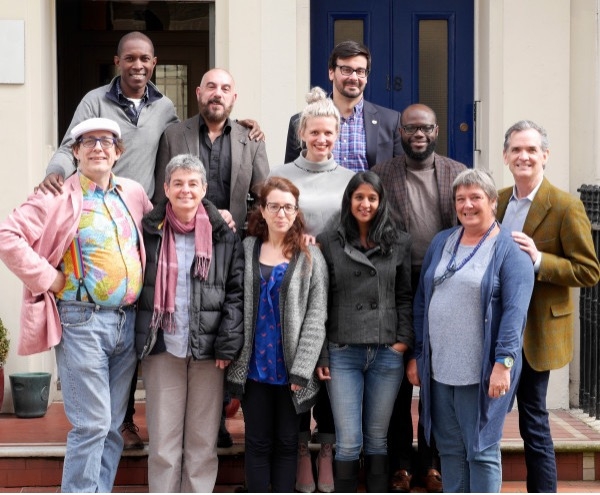 HIV JUSTICE WORLDWIDE founding partners* and supporters at the launch of the coalition in Brighton, March 24th, 2016. Back row L-R: Rhon Reynolds (GNP+*), Edwin J Bernard (HIV Justice Network*), Jessica Whitbread (ICW*), Boyan Konstantinov (UNDP), Patrick Eba (UNAIDS), Sean Strub (SERO*). Front row L-R: Julian Hows (GNP+*), Sylvie Beaumont (HIV Justice Network*), Cécile Kazatchkine (Canadian HIV/AIDS Legal Network*), Naina Khanna (PWN-USA*) and Michaela Clayton (ARASA*).
Five years on, we have achieved some remarkable progress. What started as a core group of seven working to shape the discourse on HIV criminalisation, has now grown to include more than 110 organisations and individuals sharing information and networking; building capacity; mobilising advocacy, and cultivating a global community collaborating to address HIV criminalisation.
From working on progressive, impactful statements on HIV science and the criminal law, and on COVID-19, to providing technical support to challenge proposed laws and strike down existing laws in various countries, to training advocates on how to work with the media, HJWW has also joined with other movements to highlight the intersectional aspects of HIV criminalisation with other key populations, as well as with movements for gender, racial and migrant justice, including during its flagship meeting, Beyond Blame.
However, although some progress has been made in preventing new laws from being passed, and reforming or repealing HIV criminalisation laws, many countries around the world continue to enforce a wide range of unjust laws against people living with HIV.
There's still so much more to do, and we can do more when we collaborate. Why not join the movement? An an individual, network, or organisation you can help to make HIV justice worldwide a reality!