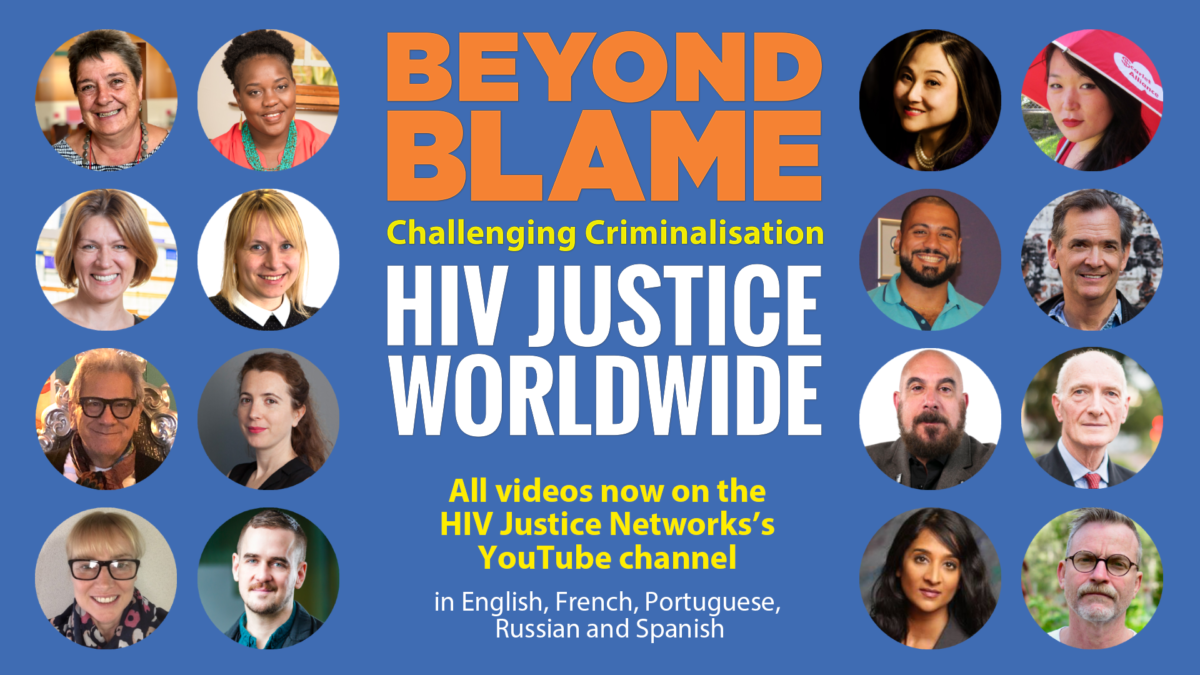 Earlier this month, advocates from all over the world came together for two hours to discuss the successes and challenges of the global movement to end HIV criminalisation.
All of the recordings of Beyond Blame: Challenging HIV Criminalisation for HIV JUSTICE WORLDWIDE are now available on the HIV Justice Network's YouTube Channel.
"HUGE pleasure 2B at #BeyondBlame2020 conference – deftly curated, deeply informative; speakers were great; the passion & commitment to #HIVjustice was palpable. Much progress yet a sober reminder that the work is far from over."

Kene Esom, Policy Specialist: Human Rights, Law and Gender, United Nations Development Programme (UNDP)
The full-length director's cut version – with enhanced audio and video – is now available in English as well as with the audio track of the recorded simultaneous translation in French, Spanish, Russian, and Portuguese.
The English version is also available as a YouTube playlist in 'bite-size' chunks, with each segment of the webshow available as standalone videos. This means, for example, if you just want to watch (or share) the segment on 'women challenging HIV criminalisation in Africa', or on 'bringing science to justice, and justice to science', it's now possible.
"That webinar was perfectly executed. Great sound, engaging transitions (they actually played people on and off!), and multiple speakers in various collections. Having ALL OF THEM back at the end showed the breadth of this technical accomplishment and the depth of the speakers' field of expertise. Not everyone may notice these things but boy, I sure do, and it was totally pro. I've seen big name conferences who couldn't get this right… Congratulations all around, and especially to [director] Nicholas Feustel.

Mark S King, My Fabulous Disease
We have also made available for the first time the standalone recording of Edwin Cameron's closing speech, which inspired so many. The transcript is included in full below.
"We have been being battling this fight for many years. Since the start of the HIV epidemic we as gay men, as gay women, as queers, as transgender people, as sex workers, as people using drugs, have been persecuted by the criminal law. And I'm here to say, "Enough! Enough!

We have achieved a great deal with our movement, with the HIV Justice Network. We have achieved a great deal in conscientizing law makers, law givers and the public. It is now time for us to join in unison to demand the end of these stigmatising, retrograde, unproductive, hurtful, harmful laws.

It is a long struggle we've engaged in. And it's one that has hurt many of us. Some of us here today, some of us listening in, some of us who have spoken, have felt the most brutal brush of the law. They have been imprisoned, unjustly prosecuted, unjustly convicted, and unjustly sent away.

HIV is not a crime. But there is more to it. Criminalising HIV, criminalising the transmission or exposure of HIV, as many countries on my own beautiful continent Africa do, is not just stupid and retrograde. It impedes the most important message of the HIV epidemic now, which is that this epidemic is manageable. I've been on antiretroviral treatment now for very nearly 23 years. My viral load has been undetectable for more than 20.

We can beat this, but we have to approach this issue as public health issue. We have to approach it rationally and sensibly, and without stigma, and without targeting people, and without seeking to hurt and marginalise people.We've made calamitous mistakes with the misapplication of the criminal law over the last hundred years, in the so-called 'war on drugs'. We continue to make a calamitous mistake in Africa and elsewhere by misusing the criminal law against queer people like myself. We make a huge mistake by misusing the criminal law against people with HIV.

Let us rise today and say, "Enough!"