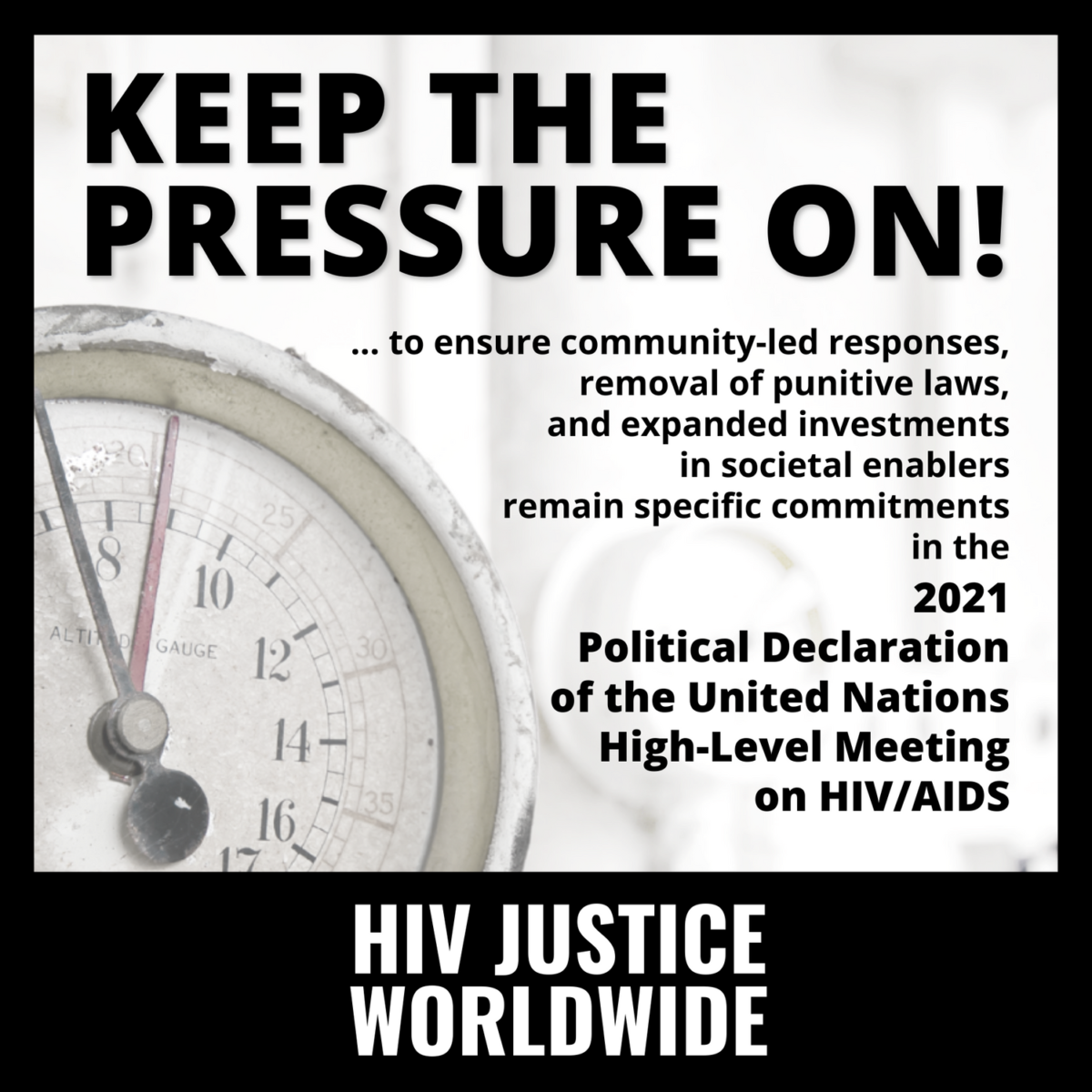 KEEP THE PRESSURE ON TO ENSURE COMMUNITY-LED RESPONSES, REMOVAL OF PUNITIVE LAWS, AND EXPANDED INVESTMENTS IN SOCIETAL ENABLERS REMAIN SPECIFIC COMMITMENTS IN THE 2021 POLITICAL DECLARATION
As a global coalition campaigning to abolish criminal laws and similar policies and practices that regulate, control and punish people living with HIV in all of their diversities, because of their HIV status, we are deeply concerned about ongoing negotiations at the United Nations General Assembly on the wording of the 2021 Political Declaration on HIV and AIDS.
The Political Declaration is crucial to translating into strong political commitments the approach of the Global AIDS Strategy 2021-2026 to end inequalities and close the gaps that are preventing progress towards ending AIDS as a public health threat by 2030.
Areas of particular concern include ensuring that the Declaration:
Names all key populations, as well as a commitment to address the specific structural barriers that key populations face.
Commits to the removal of punitive laws, policies, and practices against people living with and impacted by HIV in all of their diversities; such a commitment needs to go beyond the absence of discrimination.
Endorses the 10-10-10 targets on societal enablers related to punitive laws, policies, and practices as well as gender-based inequalities and gender-based violence, stigma, and discrimination.
Supports community leadership in line with the 30-60-80 targets on community-led testing and treatment, societal enablers, and prevention programmes.
Commits to increase annual HIV investments in low- and middle-income countries to US$29 billion and expand investments in societal enablers to US$3.1 billion by 2025.
Commits to establish a mechanism to regularly track and review progress across all targets, including financing, and to course-correct promptly if gaps emerge.
Now more than ever, evidence-based responses and renewed political will are called for – especially in face of the additional burdens imposed by the COVID-19 pandemic. If the Declaration does not specifically include all of these, then the 2021 Political Declaration will remain no more than words on paper.
The Declaration needs to build upon previous commitments towards enabling legal and policy environments for all people living with and affected by HIV. We urge all involved in this process to ensure that the Declaration does not use watered-down language and, instead, commits to action to do what we already know are the essential and necessary elements to achieve progress.
The evidence base for removing punitive laws and policies based on HIV status is comprehensive and clear. Numerous studies and meta-analyses on the impact of punitive laws on HIV responses, as included in our HIV Justice Toolkit, provide evidence that bolsters the efforts of advocates and public health experts to remove such counterproductive laws.
In particular, the publication of an Expert Consensus Statement on the science of HIV in the context of criminal law in 2018 has strengthened litigants' and advocates' arguments that HIV criminalisation is not grounded in science. In addition, the 2018 release of a supplement to the previous report of the Global Commission on HIV and the Law underscores the consensus of public health experts that punitive laws undermine HIV responses, cause needless suffering, and should be removed.
The 2021 High-Level meeting on HIV/AIDS – and the Political Declaration that results from it – is a crucial opportunity to create sustained momentum for the policies, programmes, and funding that are needed to end HIV as a global health threat by 2030.
Consequently, we also endorse, and want to highlight, the Civil Society Declaration for the United Nations General Assembly 2021 High-Level Meeting (HLM) on HIV/AIDS "End inequalities. End AIDS. Act now!" developed by the Multi-Stakeholder Task Force for the 2021 HLM, supported by its advisory group, and signed by over 700 organisations, networks and institutions globally.