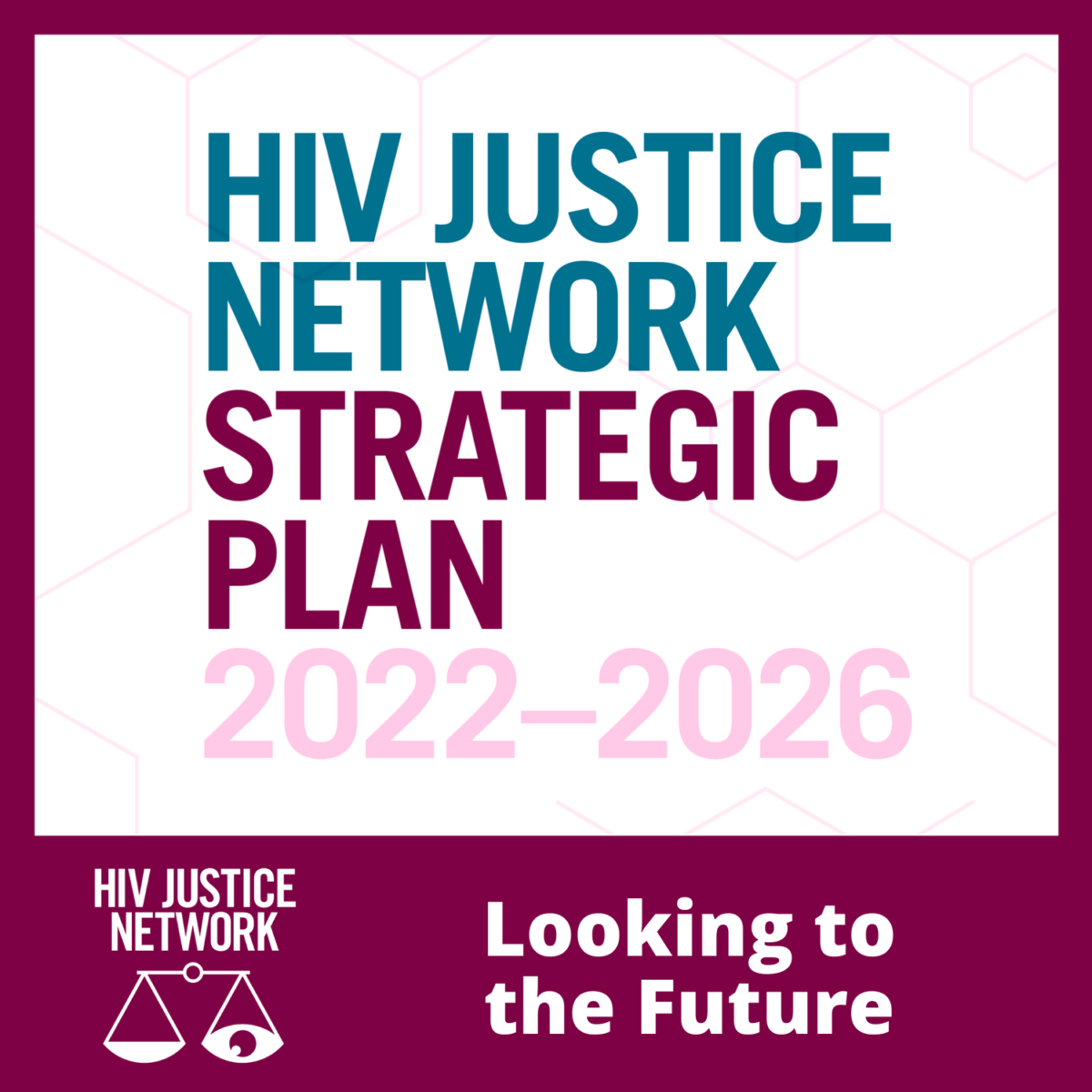 Today, the HIV Justice Network looks to the future with the publication of our new Strategic Plan, covering the years 2022-2026.
People living with HIV remain firmly at the heart of this strategy, and all our work aims to contribute towards an environment in which they can feel safe, more empowered, and able to enjoy their human rights.
However, we also recognise that HIV criminalisation can disproportionately impact people who are either additionally criminalised, or who are otherwise mistreated by discriminatory legal systems – or both and we seek to better understand and proactively address intersectional stigma, discrimination, and criminalisation.
Mindful of the many challenges ahead in removing discriminatory laws, policies, and practices that unjustly regulate, control, or criminalise people living with HIV, in all of our diversities, this Strategic Plan focuses on five specific areas that we, as an organisation, seek to address in the next five years. These also align well with the Global AIDS Strategy 2021-2026 and reflect the 2021 Political Declaration on HIV and AIDS.
We also believe there is significant learning from our work on HIV criminalisation that can be leveraged to support the COVID-19 response and recovery, as well as future pandemic preparedness.
We want legal reform so that there are fewer unjust HIV-related criminal laws and limited application of other criminal laws to people living with HIV.
We want to put the 'justice' back into the criminal legal system, ensuring that key stakeholders at the front end of the criminal legal system are more aware of standards and norms around HIV and human rights, science, and public health, and treat people living with HIV with dignity.
We want to change the media narrative so that the stigma and intersecting discrimination that is created by HIV criminalisation and perpetuated through harmful narratives in the media is challenged and reframed.
We want rights-based public health policies and practices, and seek to ensure greater recognition and awareness that HIV and other communicable diseases such as hepatitis, tuberculosis, and COVID-19, as well as future pandemics, are public health issues, not criminal issues.
And we want to grow the HIV Justice Movement, by collectively building community solidarity across movements and individual power and agency for all those who are marginalised and under-served.
Based on our strengths and expertise, we have developed four strategic approaches to achieve these goals, within an overall framework of intersectional analysis: building the evidence base; producing and collating advocacy tools and resources; convening, connecting, and supporting; and representation and awareness-raising.
Edwin Bernard, HJN's Executive Director, hopes the new strategy will strengthen existing partnerships and create new ones. "The success of this Strategic Plan will only be possible when people living with HIV and our allies build power together. We understand that we can achieve far more by working in partnership with others, and so we will continue to rely on the support of our members, as well as current and future partners and funders."
Kevin Moody, who serves as the Chair of the Supervisory Board of HJN, said the new strategy "… acknowledges that the quality of life of people living with HIV is dependent on their ability to live free of discrimination and criminalisation."
"Our new strategy further recognises that people living with HIV experience oppression based on multiple factors and, therefore, aims to build strategic partnerships to reduce intersectional aspects of discriminatory laws, policies, and practices around the world," he added.
The Strategic Plan was developed through a two-stage process. A detailed Strategic Review took place between August and November 2020, followed by a strategic planning process between January and April 2021. This process was participatory and inclusive and involved a range of internal and external stakeholders.
We would like to thank all the individuals and organisations that contributed to the development of this Strategic Plan, as well as the Robert Carr Fund for funding this process, and we look forward to working with all of you in its delivery.