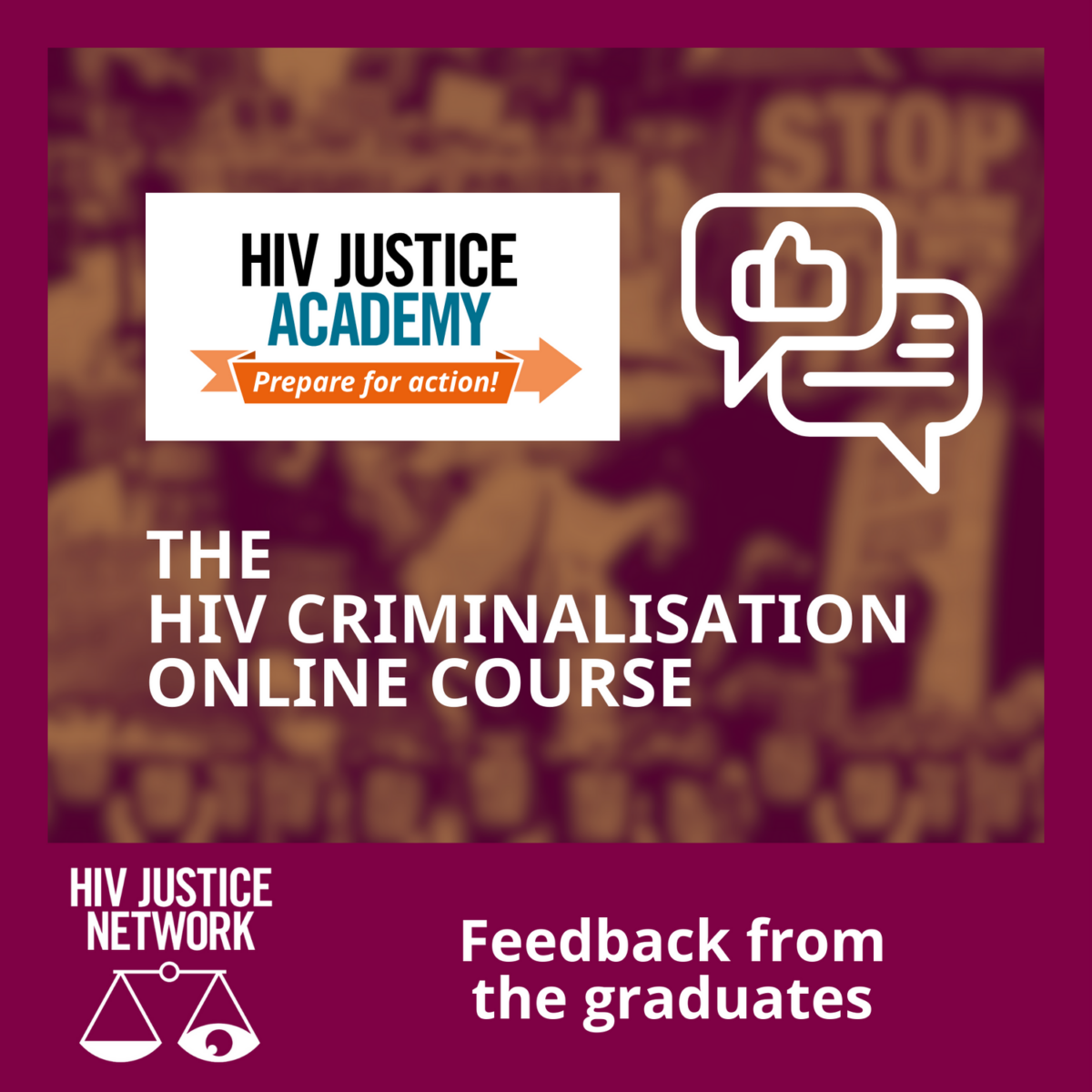 The HIV Criminalisation Online Course is the centrepiece of our free online learning hub, the HIV Justice Academy, which launched just over a year ago.
More than 500 HIV justice advocates from around the world have since enrolled in the HIV Criminalisation Online Course. Those who have completed the course – and told us their thoughts in the end-of-course survey – are extremely positive about the experience, finding it relevant, interesting, and engaging. They especially liked the video content and personal testimonies which they tell us brought the issues to life. And we heard from both beginners and experts alike that the course was pitched right for them – no mean feat!
"Although I have been working on HIV discrimination for years, it was spectacular to refresh the memory," wrote one. "The course met my expectations fully…now I really feel strongly equipped to continue doing my community work," said another. "The course took a holistic approach to explaining HIV criminalisation. It lends legal, scientific, and social perspective, it also went further to touching on how I could be an advocate," said a third.
One recent Academy graduate is HIV advocate and HIV criminalisation survivor, Lashanda Salinas, from the US state of Tennessee. She told us that the HIV Criminalisation Online Course "helped me learn things that I didn't know, including how people are criminalised in other countries." She also tells us that she found the course's comprehensive Glossary and the Academy's Resource Library "amazing and helpful".
Like all the advocacy tools and resources contained within the HIV Justice Academy, the HIV Criminalisation Online Course is free to all, and available in English, French, Russian and Spanish.
The course can be done at your own pace, and you will receive a certificate of completion once you have passed the end-of-course test.
We're delighted that Lashanda and all the other graduates of the HIV Justice Academy's HIV Criminalisation Online Course have learned new information and gained new skills as we work together to achieve HIV justice.
Do you know someone who might benefit from the HIV Criminalisation Online Course, or the other resources in the HIV Justice Academy – our Action Toolkits and Resource Library? Why not share this link with them today: academy.hivjustice.net