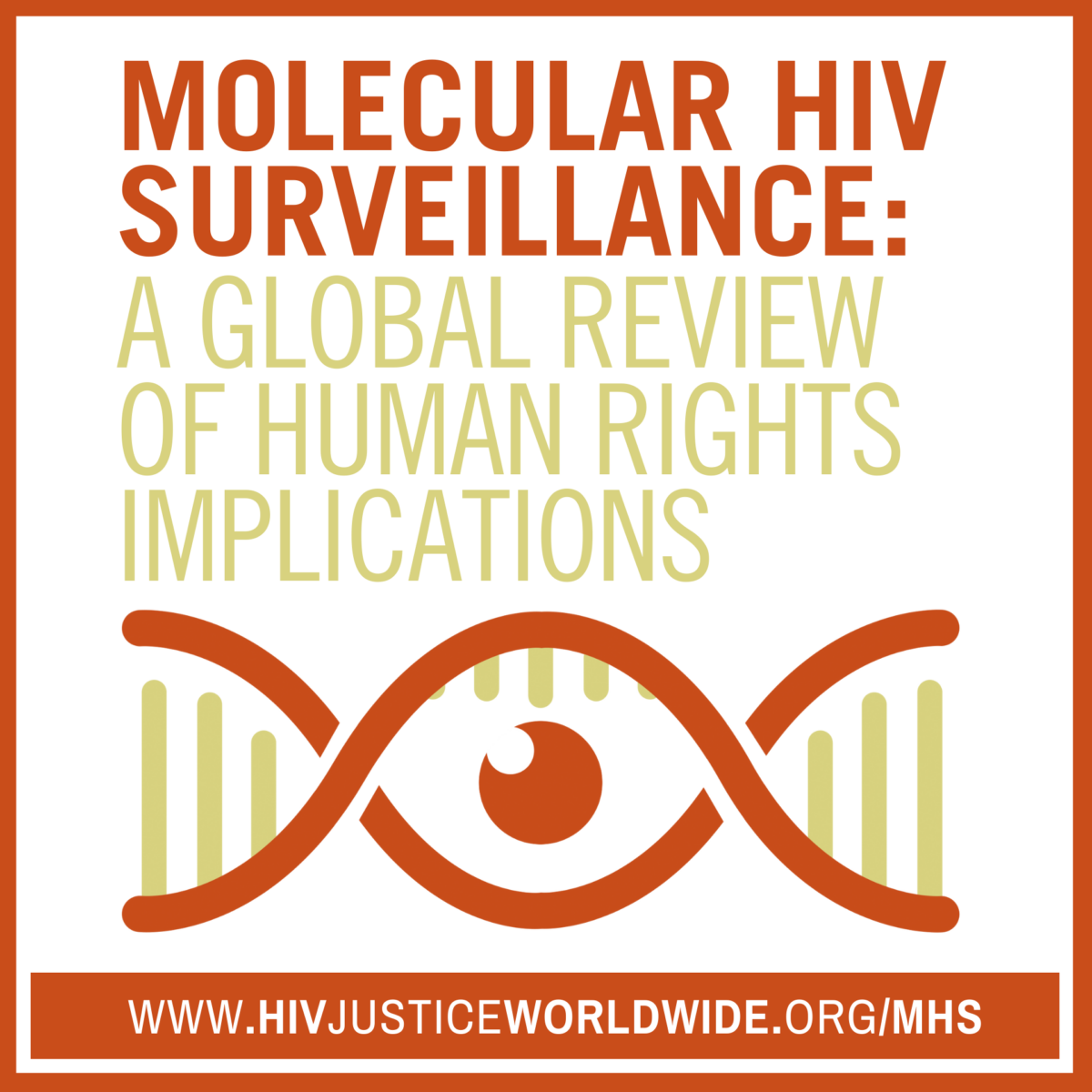 A new briefing paper published today by Positive Women's Network-USA on behalf of the HIV JUSTICE WORLDWIDE coalition aims to support people living with HIV, activists, legal experts, and human rights campaigners in understanding the complexities and consequences of molecular HIV surveillance (MHS).
"Molecular HIV Surveillance: A global review of human rights implications" provides a detailed explanation of what MHS is and how it is used across the globe, including how the technology works, where it is being conducted, and by whom. The paper describes growing human rights concerns relating to the use of this technology and goes on to list a number of recommendations for the use of MHS which were gathered from an international literature review and from members of the Expert Advisory Group.*
Molecular HIV surveillance (MHS) is an umbrella term that describes a wide range of practices focused on the monitoring of HIV variants and the differences and similarities between them for scientific research, public health surveillance, and intervention.
To conduct MHS, scientists rely on the results of HIV genetic sequencing tests taken from people living with HIV – these tests are often done before prescribing HIV medication to determine if the individual has a strain of HIV that is resistant to certain treatments. Interest in, and use of, MHS for reasons other than tailoring treatment regimens is increasing globally, however. Of particular concern, in some regions, MHS is being conducted and HIV data is being shared in ways that put the rights and safety of people living with HIV in jeopardy.
"HIV is highly stigmatised and communities that are most vulnerable to acquiring HIV are already highly policed and at risk for violence" said Naina Khanna, co-executive director of Positive Women's Network-USA, a US-based membership organisation led by women and people of transgender experience living with HIV. "In more than 30 states in the US alone, and over 100 countries around the world, people with HIV can be criminalised on the basis of their health condition. Taking this kind of data from people without their consent or knowledge and storing or sharing it without adequate protections is extremely risky and could come at the cost of someone's personal safety, their livelihood, and in the case of HIV criminalisation, their freedom."
The paper highlights how HIV experts and advocates have raised a range of human rights concerns about this technology. These include:
Consent and autonomy;

Lack of community consultation;

Increased stigma on targeted communities;

Privacy and data protections;

Whether or not the technology can be used to "prove" direct transmission; and,

How MHS may intensify HIV criminalisation within communities who are already marginalised and oppressed.
Edwin J Bernard, Executive Director of the HIV Justice Network and global co-ordinator of the HIV JUSTICE WORLDWIDE coalition added: "MHS treats people living with HIV as 'clusters' and targets of public health interventions, rather than the beneficiaries of public health. When you combine MHS with HIV criminalisation it's a perfect storm. That's why I commissioned PWN-USA to produce this briefing paper as a first step to understand the problems and to suggest a range of possible solutions. With increased knowledge on the practices of MHS, individuals and organisations can be better equipped to advocate for ending research and surveillance practices that have the potential to harm the rights, autonomy, and well-being of people living with HIV."
The paper provides wide-ranging recommendations for change aimed at various stakeholders, highlighting five key areas of action:
Take seriously and act upon community concerns about MHS.
Respect the bodily autonomy and integrity of people living with HIV in all our diversity.
MHS implementers must demonstrate a clear public health benefit that outweighs the potential harms of MHS, including by ensuring protections (i.e., data privacy, legal protections, social harms prevention, etc). These demonstrated benefits of MHS must measurably include people living with HIV.
Providers ordering HIV sequencing must inform people living with HIV about how their blood and data are being used for MHS purposes and be allowed to withdraw the consent if they so wish, without fear of negative consequences to their HIV treatment and care.
Implementers of MHS should publicly advocate against punitive or coercive laws and policies aimed at people living with HIV and ensure that MHS is never used in criminal, civil, or immigration investigations or prosecutions.
The paper is now available in four languages:
Watch the launch video below:
Follow the online conversation on Twitter by using the hashtags #EndMHS #DataPrivacy #DataProtection #HIVJustice and by following @HIVJusticeNet @uspwn.
We gratefully acknowledge the financial contribution of the Robert Carr Fund to this report.
*MHS Expert Advisory Group
Naina Khanna & Breanna Diaz, Positive Women's Network-USA

Edwin J. Bernard, HIV Justice Network

Marco Castro-Bojorquez, HIV Racial Justice Now (in memoriam)

Brian Minalga, Legacy Project

Andrew Spieldenner, US People Living with HIV Caucus

Sean Strub, Sero Project