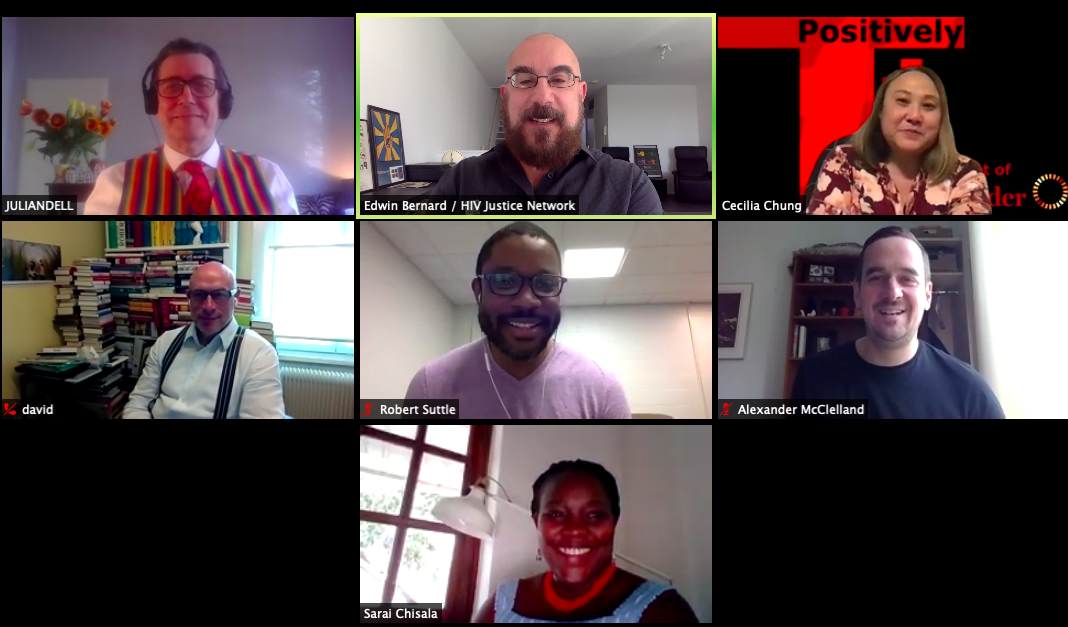 Today, the HIV Justice Network is proud to announce our Global Advisory Panel (GAP), an international expert reference group of activists, lawyers and academics – more than half of whom are openly living with HIV – from all regions of the world who are working on ending HIV and intersectional criminalisations.
Sarai Chisala-Tempelhoff, a Malawian human rights lawyer, says: "As an African woman and feminist who has been researching and exploring the interactions between law, HIV and women's lives for almost two decades, being a member of the GAP feels like a fitting culmination of my life's passions and goals: to keep bridging that gap between marginalised women's lived realities and the laws that they live under."
Members have been selected on the basis that they have specific skills, interests, and knowledge of the issues that we work on, and how this intersects with other social justice issues and movements.
Elie Balan, who works on LGBT rights in the Middle East / North Africa region says: "As a person living with HIV I have seen HIV criminalisation happen around me and to people I know, and to me it is a personal issue more than anything. I am excited to be part of the GAP to ensure such practices are ceased within my country and region."
The GAP, co-ordinated by HJN team member, Julian Hows, has been convened to assist HJN deliver on its mission by:
Providing feedback on our current work, activities and outputs.
Being both a 'critical friend' as well as an ambassador for the ways that we are delivering on our mission, strategically and operationally.
Assisting us with building strategic alliances towards the common goal of ending HIV-related criminalisation around the world.
Alexander McClelland, a Canadian activist and social scientist living with HIV, says: "Being part of the GAP is vital to ensure we share globally what is happening in our respective countries, so we can learn strategies of resistance, and build a forceful collective response to help end practices of criminalisation."
All members have indicated a willingness to serve for an initial period of two years (i.e. 1 January 2020 until 31 December 2021). In fact, the GAP has met twice – virtually – since initally coming together in January 2020, including earlier this week where information was exchanged regarding the impact of the COVID-19 pandemic on HJN's work, and in the countries, regions and constituents served by GAP members.
Jeffry Acaba, who fights for the rights of people living with HIV in the Asia Pacific region: "HIV criminalisation continues to take place in many parts of the world and the platform that the GAP provides is vital to our collective effort to finally end this unjust and unfair policy practice. I'm honored to be contributing towards that change through the GAP."
We very much welcome all of the GAP members, and look forward to working together to achieve HIV justice.
The current members of the Global Advisory Panel are:
Jeffry Acaba (ASIA PACIFIC)
Elie Ballan (MENA)
Edwin Cameron (AFRICA)
Sarai Chisala-Tempelhoff (AFRICA)
Cecilia Chung (NORTH AMERICA)
Michaela Clayton (AFRICA)
Ann Fordham (EUROPE)
David Haerry (EUROPE)
Jules Kim (ASIA PACIFIC)
Ron MacInnis (NORTH AMERICA)
Allan Maleche (AFRICA)
Alexander McClelland (NORTH AMERICA)
Gennady Roschupkin (EECA)
Robert Suttle (NORTH AMERICA)
To read more about the individual members of the GAP – and their many achievements – please visit HJN's dedicated GAP page.