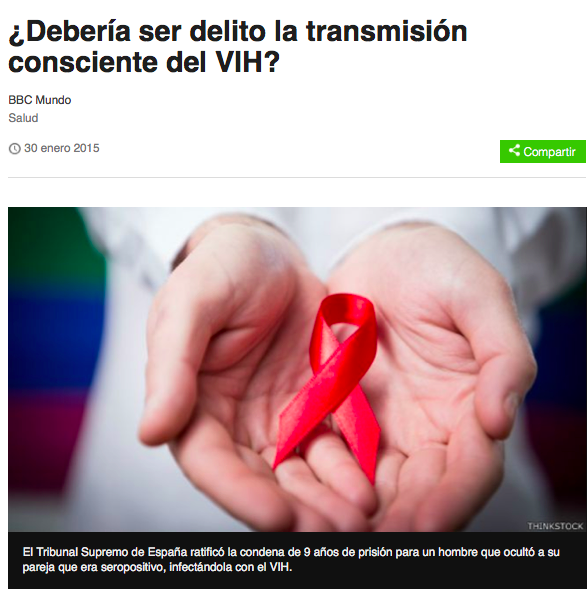 Spain's Supreme Court last week upheld a nine-year prison sentence for a man, known as 'ABM', who did not disclose his HIV-positive status to his former partner, who is now also living with HIV.  Although the reports do not state under which general law he was prosecuted, it is likely to be Article 149 of the Criminal Code, grievous bodily harm.
According to a recent analysis of all previous cases that reached Provincial or Supreme Courts (1996-2012), Article 149 has used for similar cases, using the 'state of mind' of 'dolus eventualis' similar to concept of 'recklessness.' The nine year sentence is similar to two previous cases for alleged HIV transmission during otherwise consensual sex in Spain. (Sixteen sentences and 9 writs belonging to 19 cases were included in the analysis; 17 judged by criminal and two by civil jurisdictions – full text at the bottom of the page).
The Court's judgment, dated December 4, 2014 but published last week, noted that that  the Cantabria Provincial Court's ruling was "sufficiently motivated" and dismissed ABM's appeal which cited a violation of his right to the presumption of innocence and lack of credibility of his accuser, with whom he maintains a dispute over ownership of property.
The Supreme Court upheld the Provincial Court's sentence of nine years in prison. He also has to pay his former partner compensation of 70,000 euros.
According to the judgment, cited in several Spanish language media reports (the most detailed of which was in 20 minutos), ABM was diagnosed in April 2000. In 2007 he began a romantic relationship with the complainant which lasted until 2012. It was alleged that ABM did not disclose to her that he was living with HIV despite having condomless sex. In 2011, she began to suspect that her partner may be living with HIV.
The Court found there was nothing to suggest that she was already HIV-positive when she arrived in Spain (from Peru), based on her own testimony, her medical history and her GP, although there is no mention of phylogenetic analysis being used to attempt to show a link between the viruses. The Court also noted that the woman is asymptomatic and on antiretroviral treatment.
BBC report and analysis
On Friday, BBC Mundo (the BBC's Spanish language BBC World website) published a longer analysis of the implications of overly broad HIV criminalisation in Spanish-speaking countries.  I was interviewed for the piece, and am delighted to report that the journalist, Leire Ventas, produced a very good, balanced report.
Below is an approximate English translation of the Spanish language original.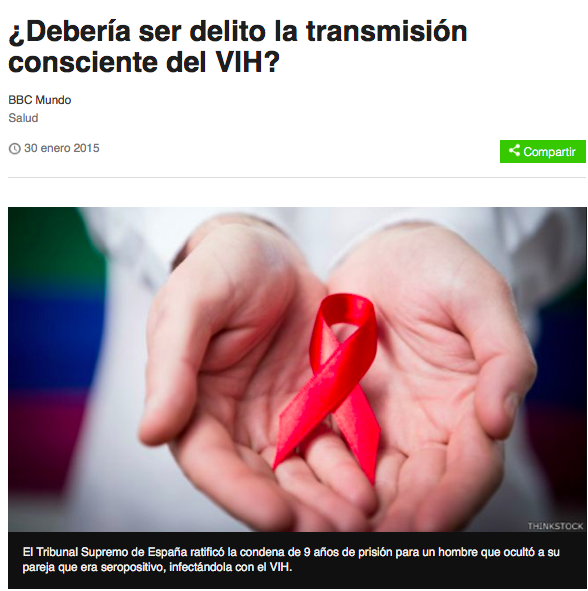 Should knowing transmission of HIV be a crime?
January 30, 2015
A jail sentence in Spain rekindles debate over whether criminal law should apply to people who transmit the human immunodeficiency virus.Spain's Supreme Court upheld the sentence of nine years in prison for a man who hid his HIV positive status from partner, infecting her with HIV.
The Court did not admit the appeal filed by the defendant.
This appeal had alleged violation of the right to presumption of innocence and lack of credibility of the victim, who maintains a dispute over ownership of a property.
According to the facts in the case, the convicted man was diagnosed HIV-positive in April 2000 and began a relationship with the woman in 2007.
They were together until 2012.
According to the Court, during those five years the defendant hid that he was HIV-positive from his partner and had sex without protection.
In 2011, woman began to suspect that her partner may have the virus and subjected to analysis, which confirmed infection.
"Intentional transmission"
Given this statement of facts, the Court found that the defendant had deliberately concealed his condition and that was the reason it upheld the ruling.
In the same vein, intentional transmission is the only case in which the Joint United Nations Programme on HIV / AIDS, UNAIDS, considers appropriate to apply the criminal law to people who transmit HIV or expose others to the virus.
"That is, when the person knows their HIV-positive serostatus and acts with intent to transmit or indeed does transmit," says the report Criminalization of HIV Transmission, 2008 and its revision in 2013 the agency told the BBC.
"If a person known to be HIV-positive acts with the intention of transmitting the virus and transmits it (…), the damage justifies punishment," it adds.
"In other cases, legislators, prosecutors and judges should reject the application of criminal law".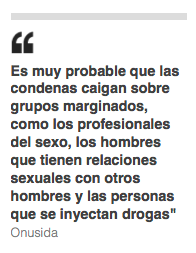 Other cases
According to UNAIDS, the law should not apply to cases where there is no "significant risk" of transmission or where the person did not know they were HIV-positive, did not understand how HIV is transmitted, disclosed their status to the person at risk, or did not for fear of violence.
And neither should the law be used against someone who took "reasonable steps" of protection to reduce the risk of transmission or who previously agreed with the other person "a level of mutually acceptable risk".
Thus, the agency recommends that governments legislate specifically to prevent HIV and only apply general criminal law to cases of intentional transmission.
They should also "develop guidelines to limit the discretion of the police and prosecutors in the application" of criminal law.
And UNAIDS believes that the latter creates "a real risk" of increasing stigma and discrimination.
"It is very likely that prosecutions and convictions fall on members of marginalized groups such as sex workers, men who have sex with men and people who inject drugs," it says.
Obligation to disclose
For that reason, the agency also recommends repealing the legal obligation to disclose one's HIV status or that of others, in the case of health workers, that exist in some countries.
"Everyone has the right to privacy regarding their health and should not be required by law to disclose such information, especially when it may cause serious stigma and discrimination and possible violence."
It considers inappropriate to enact laws criminalising mother-to-child transmission of the virus.
"Everyone has the right to have children, including women living with HIV," said UNAIDS.
It adds: "When pregnant women are advised on the benefits of antiretroviral therapy, almost all access treatment".
The position of Edwin Bernard, co-ordinator of HIV Justice Network, a network of advocates providing information and international legal policy advice on HIV criminalisation, is not far from the recommendations of the UN programme.
"The only cases where it is appropriate to apply the criminal law is when there has been intent and these are usually very rare," he tells the BBC.
He stressed that "not disclosing you have the virus, and keeping it a secret is not the same as wanting to spread it."
There are several reasons not to tell, according to the activist: stigma, violence, even denying the condition itself.
Awareness, not persecution
Therefore he believes that laws around HIV in countries should be aimed at raising awareness and support for the eradication of the disease, and not the prosecution.
Latin America is a region particularly aware of this, he says.
"It has a good record of understanding that with regard to HIV the law should support and not persecute".
"There have been very few known cases of prosecution for HIV transmission in Latin America. Most have taken place in Brazil and under a general, not specific, criminal law".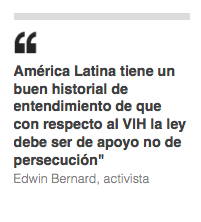 In Spain, by contrast, between 1996 and 2012, 19 legal [or civil] cases were recorded.
This is registered in the report Temporal trends, characteristics and evidence of scientific progress in legal complaints for alleged sexual HIV transmission: 1996-2012.
However, the country with the most prosecutions is the United States, where 30 states have specific legislation on HIV.
"After eight years following up the issue, I can say that judicial systems, prosecutors and judges do not understand how the science has advanced, how the life expectancy of those with the virus has increased. They should know that the risk of transmission is very low ", says Bernard.
For the activist, the ideal situation would be to only have one or two lawsuits per year related to the topic.
"The law should be used, for example, in cases of rape. But when sex is consensual and those involved are aware of the risks, responsibility should also be shared."
F. Bolúmar-Montero, M.J. Fuster-Ruiz de Apodaca, M. Weait, J. Alventosa & J. Del Amo (2015) Time trends, c…