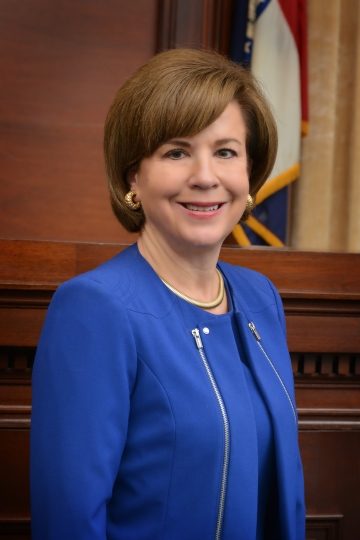 The Missouri Supreme Court has upheld the conviction of a woman (known as 'S.F.') who did not tell her sexual partner that she was living with HIV before engaging in sex.
At her original trial she was found guilty of exposing another to HIV under Mo. Rev. Stat. §191.677 and sentenced to seven years' imprisonment.  The law does not require actual transmission or even actual exposure, and there is no condom use or viral load defence.
Yesterday, the Court issued an unanimous opinion written by Judge Mary Russell (pictured) dismissing the woman's challenge which argued that the law infringes on her right to privacy and to free speech.
The Court opined that
Although the statute may compel individuals with HIV to disclose this information under certain circumstances, the burden on speech is incidental to the conduct the statute seeks to prohibit and does not violate constitutional provisions protecting the freedom of speech. Furthermore, the right to privacy does not permit Defendant to expose others to HIV in the course of sexual activities without first securing their knowing consent to such exposure.
The full judgement can be downloaded from the Missouri Supreme Court website.
This is the second time that Missouri statute has been unsuccessfully challenged on constitutional grounds.
In State v. Mahan (971 S.W.2d,Mo. 1998), the Missouri Supreme Court consolidated the appeals of two men who were convicted under the Missouri statute for failing to inform their sexual partners that they were HIV-positive. One of the men, Sykes, was sentenced to ten years imprisonment for having sex with two women, including his live-in girlfriend, and failing to disclose his HIV status. The other man, Mahan, was sentenced to five years imprisonment for failing to tell his sexual partner that he was HIV-positive.

The appellants argued that the statute was overly broad and criminalized behavior such as an HIV-positive mother giving birth to her child. The court held that the appellants lacked standing on this matter because their behavior directly fell within the language of the statute and, as such, they could not challenge hypothetical scenarios that were not reflective of their behavior. The appeal by one of the defendants, Mahan, also argued that the statute was overly vague, as the phrase "grave and unjustifiable risk" did not provide enough notice as to what acts can be prohibited under the statute.

Specifically, Mahan reasoned that because the risk of transmitting HIV was not quantitatively known to scientists, a person would have no way of knowing when one's conduct would rise to a "grave and unjustifiable risk." The court found because Mahan was counseled that HIV could be transmitted through unprotected sex, including anal sex, and he continued to have anal sex without disclosing his HIV status, the statute was not vague as applied to him, and he had full notice that his actions could result in the transmission of HIV. The court upheld both of the convictions.

Excerpted from: Positive Justice Project. Ending & Defending Against HIV Criminalization, A  Manual For Advocates: Vol 1 States and Federal Laws and Prosecutions. Center for HIV Law and Policy, New York. Fall 2010 (updated May 2015).