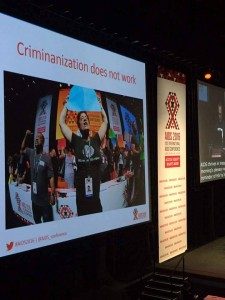 Over 200 activists called for an end to HIV criminalisation throughout the world saying it unjustly harms and blames HIV positive people, damages prevention strategies and undermines national and international sexual health programs.
Earlier during the week some 200 people living with HIV, human rights activists and representatives of key populations gathered for a one-day meeting,  held at Durban South Africa, challenging HIV criminalisation under the title "Beyond blame: challenging HIV criminalisation."
The meeting, which preceded the International Aids Conference in Durban, heard individuals who have faced HIV criminalization recount the far-reaching personal, social and legal impacts of unjust prosecution on their lives and that of their families. Furthermore activists outlined how HIV criminalisation not only uses blame culture, harming not only HIV positive people, but also damaging prevention and undermining sexual health programs world-wide.
The meeting demanded that HIV scientists and clinicians become more involved in efforts to ensure that the application of the criminal law is consistent with best available evidence relating to risk, harm and proof in the context of HIV, as well as calls for members of parliament and the judiciary to end unjust HIV criminalisation.
Speaking with KaleidoScot, Edwin J Bernard, Coordinator at HIV Justice Network, who organised the meeting said: "The meeting included three HIV criminalisation survivors – including one, Kerry Thomas, who called in from behind bars in Idaho – highlighted that HIV criminalisation doesn't just harm public health, it harms the lives of ordinary people living with HIV, who are often demonised, stigmatised and unjustly targeted by the law.
"Elizabeth Taylor's grandchildren (and great-grandchild) Laela Wilding, Finn McMurray, Rhys Tivey, and Quinn Tivey were also there, and so incredibly moved, was also inspiring.  They have pledged to make HIV criminalisation a key issue for the Elizabeth Taylor AIDS Foundation.
"Then on Tuesday morning, following Justice Edwin Cameron's Jonathan Mann Memorial Lecture, more than 100 of us took to the stage demanding an end to HIV criminalisation. Justice Cameron welcomed us with open arms, literally!  We chanted: WE HAVE A VIRUS! WE ARE NOT CRIMINALS! END CRIMINALISATION NOW!"
HIV medication, or antiretroviral (ARVs), is now highly effective to the point that people who have HIV and use ARVs properly are effectively non-infectious, a recent study found zero infection cases between mixed-HIV status couples. However, many new infection cases arise from people who are unaware of their HIV status – something that HIV criminalisation is likely to worsen, not help.
The general consensus among the scientific and medical communities – and HIV charities – is that ascribing personal blame for infection is neither reliable nor helpful, and that decisions on public health matters should be determined by cost-effectiveness and clinical need rather than moral judgements.
The UNAIDS guidance aims to "end overly broad criminalization of HIV non-disclosure, exposure and transmission on the basis that it "raises serious human rights and public health concerns". it recommends "concentrating efforts on expanding the use of proven and successful evidence-informed and rights-based public health approaches to HIV prevention, treatment and care" and "limiting any application of criminal law to truly blameworthy cases where it is needed to achieve justice."
The Oslo Declaration also suggests that "a better alternative [to criminalisation] is to create an environment that enables people to seek testing, support and timely treatment, and to safely disclose their HIV status."
Activists pointed out that not only is criminalisation harmful and wrong, but it is counterproductive and even endangers prevention strategies. Martha Tholanah, a feminist activist from Zimbabwe, and director of the NGO Community and Enterprise Development against Stigma, told Kaleidoscot that she agrees "with the activists on calling for an end to criminalisation of HIV. It's scary that the criminalisation cases are increasing. I wonder if the judicial services personnel ever look at the research and consider how the evidence produced can be considered before they tackle these cases.  Criminlisation perpetuates stigma and instigates mental health problems."
While Maurice Tomlinson, a Senior Policy Analyst at Canadian HIV/AIDS Legal Network, commented: "To paraphrase the UNAIDS report released in advance of the ongoing International AIDS Conference, continued criminalisation has stalled the global fight against HIV by driving persons away from effective prevention, treatment, care and support interventions.  We can't fight HIV with fear.  We must respond with facts and human rights."
Activists have also expressed concerns about Scots law, which they believe is doing a disservice to both people who have HIV and wider issues of public health.
Under Scots law, exposing or infecting someone with HIV are considered "culpable and reckless conduct". These are common-law offences that carry a maximum penalty of life imprisonment, as opposed to five years in England and Wales. If the transmission of HIV is deliberate, it would be legally considered an assault.  Scottish law focuses on behaviour (unlike English and Welsh law which focuses on the harm that results from such behaviour): thus exposing others to the risk of HIV transmission ('HIV exposure') can be prosecuted. The law however does not specifically mention HIV but has been used against HIV and hepatitis positive people.
Lisa Power, a sexual health campaigner who was the co-founder of Stonewall and who also served as the Secretary-General of the International Lesbian & Gay Association, believes that the "messy" and "damaging" stance of Scots law on the issue needs to be reconsidered, and that Scotland should learn from other jurisdictions.
She told KaleidoScot: "I think that the South African model is sensible – it only prosecutes for intentional transmission, which includes transmission where there has been a sustained course of deceptive behaviour.
"Various charities have worked with Government lawyers in England and Wales to draft changes to the assault laws back in the 1990s which would have made things here much clearer, simpler and restricted to intentional transmission – but sadly the law change never got enacted so we still have the messy old Victorian laws – and the Scottish ones are even messier.
"But my experience is that trying to prosecute reckless transmission during casual sex has resulted in quite a lot of damage, including miscarriages of justice, because it's so extremely complicated and people make all sorts of assumptions.
"The trouble with all the UK criminal laws is that we have no way of apportioning responsibility, it's all victim and offender, which is not how most sex happens. Scotland is worse because you have laws on your books that let the Procurator Fiscal bring cases for exposure – and that's a ridiculous charge now we have TasP and PreP and we know the relative (low) risks of any one sexual encounter."
She added: "In my experience, people rush to conclusions, they expect the worst and they also rush to judgement. And as often as not they were wrong."
A Scottish activist, who asked to remain anonymous, told KaleidoScot: "Criminalising HIV transmission merely perpetuates and even encourages stigmatisation, affects the ability of people to openly discuss their health issues, makes it less likely people will present for testing and ultimately plays into the spread of HIV."
Robert McKay, National Director Terrence Higgins Trust Scotland, echoed many of these sentiments. He told KaleidoScot: "The current legal situation creates more confusion and potential challenges for people living in Scotland. Whilst it's important to keep people safe, it's also important that the law uses intent as a better measure of criminal behaviour as opposed to recklessness."
When contacted, the charity HIV Scotland, however, only reiterated the current status of Scots legislation and underlined that there has been improvement with "stake holders such as Police Scotland" which resulted in zero prosecutions in the last few years.
A recent study found that prosecutions for HIV non-disclosure, potential or perceived exposure and/or unintentional transmission have now been reported in 61 countries. This total increases to 105 jurisdictions when individual US states and Australian states / territories are counted separately.
Of the 61 countries, 26 applied HIV criminalisation laws, 32 applied general criminal or public health laws, and three (Australia, Denmark and United States) applied both HIV criminalisation and general laws.
There are reports of at least 313 arrests, prosecutions and/or convictions in 28 countries during the report period, covering 1 April 2013 to 30 September 2015.
The highest number of cases during this period were reported in: Russia (at least 115), United States (at least 104), Belarus (at least 20), Canada (at least 17), France (at least 7), United Kingdom (at least 6), Italy (at least 6), Australia (at least 5), Germany (at least 5).