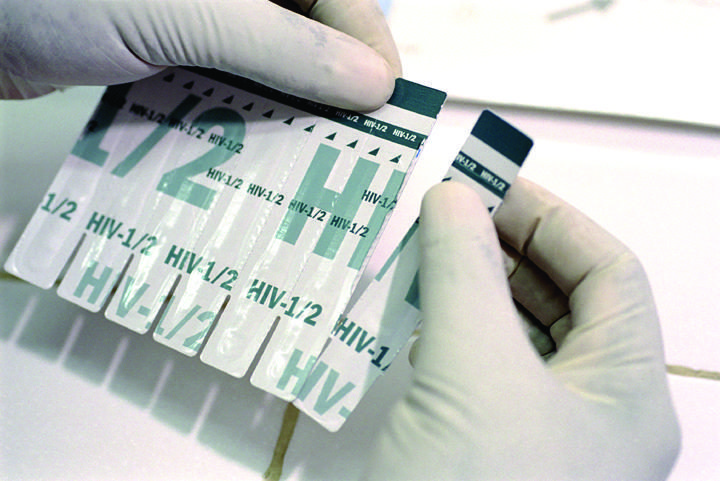 A coalition including the American Civil Liberties Union and Equality California have joined together in an effort to change certain state laws they say criminalize people living with HIV. At a forum held in Fresno last week, a dozen activist and medical professionals talked about a number of goals including reducing the penalty for intentionally spreading HIV from a felony to a misdemeanor.
"We believe the punishment is not proportionate to the crime," says Craig Pulsipher, with the AIDS Project Los Angeles.
"I would just point to similar offenses that are felony in California statutes. This puts intentional transmission of HIV on par with voluntary manslaughter and so we really believe a misdemeanor is sufficient consequence," he says.
The group also wants to repeal a handful of laws including being charged with a felony for soliciting sex while knowingly having HIV. In this case, the law doesn't require any sexual contact or transmission of HIV just the act of soliciting while being positive. Other laws make it a felony for HIV positive people to donate blood or breast milk. In many cases, people convicted under these laws could face jail time.
Dr. Simon Paul with Community Regional Medical Center specializes treating those with HIV and AIDS in the Central Valley. He says these laws aren't up to date with modern science.
"A lot of these things are crime even if no harm was done," Paul says. "The fact that if you have HIV, and if you sleep with someone you're practically at zero risk if you're on treatment. The way the laws are written now it's just as bad as if the person had HIV in the 80's and had no treatment. That's the part to me seems the craziest."
Today people living with HIV can take a pill on a daily basis to reduce the amount of the virus in their body to minimal levels. Paul says this makes the patient highly unlikely to pass the virus to someone else.
With the current state laws dealing with HIV, a person can only be convicted of charges if they are aware of their status. Paul says this creates unintended consequences.
"These laws make people less likely to get tested and into care which is the way you'll actually get HIV to decrease. I think the laws are passed out of fear and not helpful at this point," he says.
In Fresno County alone, only around half of those living with HIV are linked intro treatment. And there many that don't know their status.
Many advocates like Pulsipher say these laws actually discourage people from getting tested.
"Some of these sites that specifically talk about HIV criminalization laws, one of the pieces of advice they give is: the best way to not be prosecuted under these statutes is to not know their HIV status. So that's the exact opposite of what we would like to do. We want to encourage people to know their status."
The coalition is hosting forums throughout the state and they're working on a bill they plan to introduce next year in Sacramento.