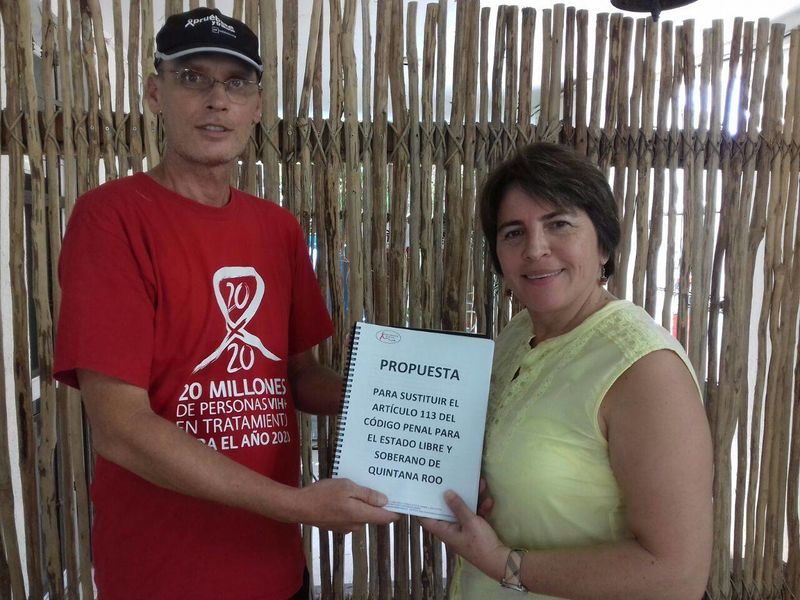 Submission to eliminate the criminalisation of people with HIV (Desplácese hacia abajo para el artículo original)
This initiative has been proposed by the organisation 'Vida Positiva'.
PLAYA DEL CARMEN, Q. Roo
A proposition to eliminate the criminalization and general criminalization of people with HIV having sex, focussing on cases of willful intent by amending Article 113 of the Criminal Code of Quintana Roo, is being put forward.
This initiative has been proposed by the civil association 'Vida Positiva' and delivered to deputy Laura Beristain Navarrete, president of the Commission for Health and Social Welfare of the XV Legislature to be adapted and submitted to the State Congress at the beginning of October.
Rudolf Geers, president of the activist group said that its aims are for the legislation mentioned to be replaced by a new article which sanction the transmission of a chronic or fatal disease deceitfully and when protection methods have not been used.
"What we propose is that the law be changed to only prosecute cases of actual transmission, removing talks of risks, and cases where there was actual deception and where people did not use protection, in order to qualify the intent of the situation. In the case of pregnant women, to only prosecute cases where the mother had the express intention of infecting the baby. There was one prosecution in January this year, "said the leader of Vida Positiva.
On this matter, Deputy Beristain Navarrete said it was an issue that will be analyzed in a responsible manner, which will be reviewed properly to be subsequently pass on to the committee because every project must be adapted for proper submission, especially when concerning such a sensitive issue as health risks.
Background information
Meanwhile, Geers highlighted that looking at the history of the law, this Article has only served to motivate cases of blackmail and extortion, which have threatened to expose people because of their HIV status, even without evidence, and even when cases did not proceed, the name of the person with the condition had been made public.
"This year, we have had  reports of four cases and the advice was to ignore them and just 3 years ago, a lawsuit under this law was recorded. Furthermore this legislation is based on a federal law adopted in 1991; a time when it was a deadly disease with no treatment; It also violates several national and international standards and is counterproductive to an effective response to HIV.
According to CENSIDA, this measure was taken internationally, including in Mexico since the last decade of the last century as a preventive measure against transmission or as a punishment of behaviours that are perceived as 'willful', however, we can state that this has not worked with punitive measures, and without public health policies.
"We need to increase resources and efforts with recommended HIV prevention strategies, improve the quality and comprehensiveness of care and reduce stigma and discrimination towards key populations and people living with HIV and other STIs, considering them as part of the solution and contributiors to a fair, inclusive and democratic Mexico", stated the  National Center for the Prevention and Control of HIV and AIDS on the criminalisation of HIV and other STIs transmission.
Rudolf Geers, president of the civil association Vida Positiva stressed that in these cases the responsibility to prevent further transmission is shared; anyone who has casual sex should use a condom.
—————————————————————————
Proponen eliminar la criminalización de las personas con VIH
Esta iniciativa ha sido propuesta por la asociación civil 'Vida Positiva'.
PLAYA DEL CARMEN, Q. Roo.- Proponen eliminar la criminalización y la penalización general de las personas con VIH por tener relaciones sexuales, especificando casos de intencionalidad consumada, mediante la modificación del artículo 113 del Código Penal de Quintana Roo.
Esta iniciativa ha sido propuesta por la asociación civil 'Vida Positiva' y entregada a la diputada Laura Beristaín Navarrete, presidenta de la Comisión de Salud y Asistencia Social de la XV Legislatura para su adecuación y presentación ante el Congreso del Estado a inicios del mes de octubre.
Rudolf Geers, presidente de dicha agrupación activista explicó que se tiene como objetivo que dicha legislación se sustituya por un nuevo artículo el cual sancione una transmisión de una condición de salud crónica o mortal con engaño y sin usar métodos de protección.
"Lo que nosotros proponemos que se cambie esta ley para que solo se castigue en caso de existir una transmisión, quitar la palabra peligro,  castigando los casos en que hubo engaño y que no usaron protección, para poder calificar la intencionalidad de la situación. En el caso de la mujer embarazada, solo cuando la madre tiene la intención expresa de infectar al bebé sea castigado. De estos tuvimos un caso en enero de este año", dijo el dirigente de Vida Positiva A.C.
Antecedentes registrados
Al respecto la diputada Beristain Navarrete señaló que es un tema que se estará analizando de manera responsable, que se revisará de manera adecuada para posteriormente pasarla a comisión, ya que todo proyecto hay que adecuarlo para su correcta presentación, en especial un tema delicado en referencia a riesgos sanitarios.
Por su parte, Geers aseguro que de acuerdo a los antecedentes registrados, este artículo solo ha servido para motivar casos de chantajes y extorsiones, que han amenazado con exponer a personas por su condición de VIH, incluso sin pruebas y aunque posteriormente no proceda la demanda, pero si haciendo público el nombre de la persona con este padecimiento.
"De estos hemos tenido este año reportes de cuatro casos y el consejo simplemente fue ignorarlos y hace 3 años se registró un caso de una demanda por esta ley. Además esta legislación, está basada en una federal de 1991; época en que era un padecimiento mortal al no haber tratamiento; además viola varias normas nacionales e internacionales y es contraproducente para una respuesta eficiente ante el VIH.
De acuerdo a CENSIDA, esta medida había sido tomada a nivel internacional, incluyendo a México desde la última década del siglo pasado como una medida de prevención de transmisión o castigo de conductas que se perciben como 'dolosas', sin embargo, aseguran que esto no tendrpa éxito con medidas punitivas si no políticas de salud públicas.
Prevención y control
"Es necesario incrementar recursos y esfuerzos en las estrategias recomendadas para prevenir la transmisión del VIH, mejorar la calidad y la integralidad de la atención y disminuir el estigma y la discriminación hacia las poblaciones clave y las personas afectadas por el VIH y otras ITS, considerándolas como parte de la solución y contribuyendo a un México justo, incluyente y democrático", señala sobre la penalización por transmisión del VIH y otras ITS en Centro Nacional para la Prevención y Control del VIH y el Sida.
Rudolf Geers, presidente de la asociación civil Vida Positiva enfatizó que en estos casos la responsabilidad para evitar nuevas transmisiones es compartida; cualquier persona que tenga relaciones sexuales casuales sebe de usar condón.