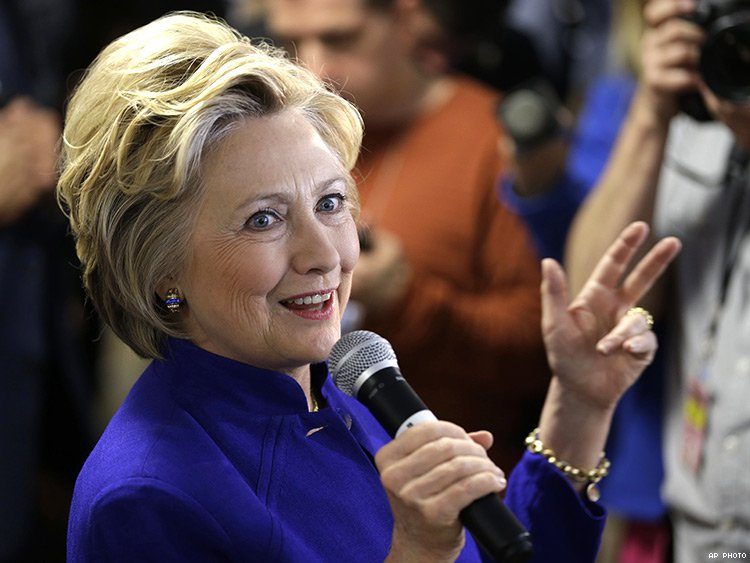 Tonight, speaking via a pre-recorded video to attendees of the HIV is Not a Crime Training Academy, Hilary Clinton says if she wins the Presidential election, she will work to reform outdated, stigmatizing HIV criminalization laws. Clinton thanked attendees for their work, saying that efforts like HIV is Not a Crime "lift us all up."
Saying we have "come a long way" since the early days of the AIDS epidemic, Clinton acknowledged, "We still have long way to go." She spoke about how HIV disproportionately impacts "communities of color, transgender people, gay and bisexual men and young people, around the world."
Prior to Clinton's speech, attendees had the pleasure of hearing from Kerry Thomas, talking via phone from an Idaho correctional center, where he's serving a 30-year sentence. Thomas said he carries a photo with him from the first HIV is Not a Crime conference, held two years ago. Positive and thankful, Thomas nevertheless affirmed that the state court has dismissed his case, but promised "we're appealing down the road." Thomas shared his appreciation for outside support and thanked prison officials for allowing him to participate in events like this and serve on the Sero Project Board.
Bryan Jones (who, like Thomas was featured in our special on HIV in prison) described being open about his HIV status in prison as "somewhat suicidal," and asked if things were different for Thomas.
Thomas replied that it hadn't always been easy, but he'd recently become more vocal about his status, because, "At some point, someone has to say 'That's enough!' and take on these things."
Naina Khanna, Positive Women's Network's executive director, follwed Thomas, remarking how important his involvement was because, "We should be taking leadership from the people most impacted by these laws."
PWN sponsored a post-welcome documentary screening of Consent, in which eight women examine the problems inherent in using sexual assault law to prosecute alleged non-disclosure. Khanna's seemed to hint at that topic when she noted,
"Some of these laws have been put on the books to protect women" She added that sometimes, "women have been complicit in criminalization," which is one reason the Positive Women's Network is determined to be involved in HIV-decriminalization.
Khanna then spoke passionately about America being "a country built on back of people brought here forcibly," arguing, "Our economy is based on people being policed and criminalized," and that people with HIV weren't the only targets: but also trans folks, immigrants, people of color and other marginalized groups.
Following Clinton's televised speech, a panel formed on stage consisting of people who have been prosecuted and parents of several men currently imprisoned under HIV criminalization laws.
The most compelling was a young black man from Oklahoma who told of being arrested and charged with a felony for allegedly sneezing on someone.  When placed into custody, he claims the police put a bag over his head, and — allegedly because he responded, "What the fuck?" — he was charged with disorderly conduct.
Most of his charges have since been dropped, but he goes to court July 1st on the disorderly charge. Since being arrested, he said he has received death threats and has had to move several times. He told the audience that he had gone jogging for the first time in years without being worried he might be harassed.
His voice breaking, he added, "I appreciate you not looking at me like I'm dirty."
Originally published in hivplusmag.com