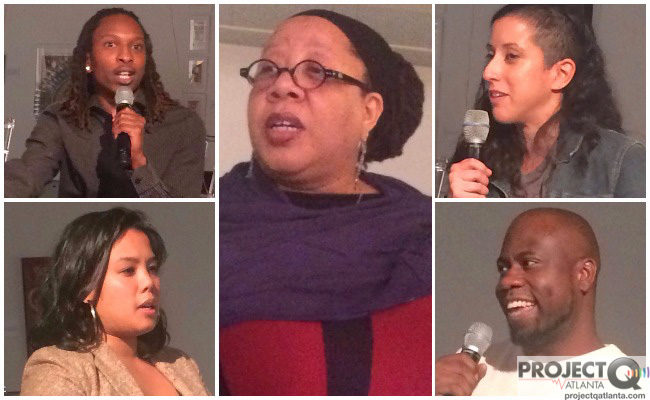 A panel of HIV activists and LGBT organizers took aim at laws in Georgia that criminalize people with HIV and can leave them facing prison sentences of up to 20 years.
The discussion about decriminalizing HIV took center stage at a World AIDS Day panel on Nov. 30. People with HIV in Georgia can face a prison term of up to 10 years for having sex with someone without disclosing their HIV status. Even acts like spitting – which do not transmit HIV – are criminalized when directed towards a law enforcement officer with penalties that include up to 20 years of prison time.
Last year, a gay Atlanta man was charged in South Carolina with exposing a sex partner to HIV. Tyler Orr said he did disclose and as the panelists pointed out during the recent discussion, what counts as disclosure and how to avoid "he said, she said" debates in court is unclear.
"What advocates have tried to encourage folks to do in this really unwinnable situation is to have a notarized document or affidavit before you engage in one of these punishable acts," Mel Medalle of SisterLove told the crowd of about 40 people.
"Which almost never happens, but that is how extreme and absurd this situation is," Medalle added.
Nina Martinez, a member of the Coalition to End HIV Criminalization in Georgia, pointed out that disclosure laws can also create safety risks for people with HIV.
"Every single time, especially as a woman, every single time, it's me risking my personal safety," Martinez said.
Marxavian Jones, who serves as one of Georgia Equality's Youth HIV Policy Advisors, echoed agreed with Martinez.
"Who is going to defend me when I disclose my status to someone and they take it to social media and decide they want to tell everybody," Jones said.
The Center for HIV Law & Policy has pointed to the increased risk of intimate partner violence that can come with disclosure, writing that disclosure can "provide an additional excuse, or cover, for physical violence."
The ongoing stigma of HIV-positive individuals also means that – as Jones pointed out – a disgruntled lover posting a partner's HIV status to social media can have real consequences, including job loss or being outed to family.
During the National HIV Prevention Conference in Atlanta last year, public health experts and HIV activists argued that rather than criminalizing HIV-positive people, and adding to the stigma they face, people with HIV should be pushed to treatment options.
At the recent panel, participants also highlighted legislation being drafted by the Coalition to End HIV Criminalization in Georgia. The coalition is currently reaching out to legislators to find a sponsor for the bill.
"[The legislation is] so we can repeal, which would completely get rid of it," Medalle said. "The other option would be to reform it, so to make changes to it but to ultimately have some semblance of it."
While Medalle said it may seem like a "no brainer that we wouldn't want this [law]," stigma and other means of criminalizing HIV-positive individuals makes the issue more complicated. In Texas and a handful of other states, there are no specific statutes that target people with HIV but they are still prosecuted under other laws including reckless endangerment.
Reforming the law means that advocates can create better standards for prosecutions, and can "craft a law that comports with modern HIV science, what we know about the routes of transmission," Medalle said.
Martinez, who is a member of the coalition, said the HIV criminalization law in Georgia also falls short in other aspects.
"The law in Georgia doesn't require intent to infect, it doesn't require likelihood of transmission because it has things like spit, urine, feces in it. It doesn't require transmission," Martinez said.
The Georgia law also doesn't take into account issues like condom usage or advising a partner to take PEP (post-exposure prophylaxis) after sexual intercourse – acts which reduce the likelihood of transmission. The reforms to the law would change that, the panelists said.
Emily Halden Brown, a Georgia Equality field organizer who organized the panel discussion, said the event highlighted how people with HIV are impacted by it.
"I think the most valuable moment in all of the discussions I've ever been a part of on this, are the moments where people living with HIV share the stories of how they are directly impacted," Brown said. "Anytime someone shares their personal story you can just feel the change in the audience."
The event was hosted by Georgia Equality, SisterLove, and The Counter Narrative Project at Gallery 874. The panel discussion coincided with the "Living With" art exhibit, which featured art about the experiences of living with HIV. A closing reception helped raise funds for Georgia Equality's HIV policy work.
Published in Project Q on Dec 12, 2016