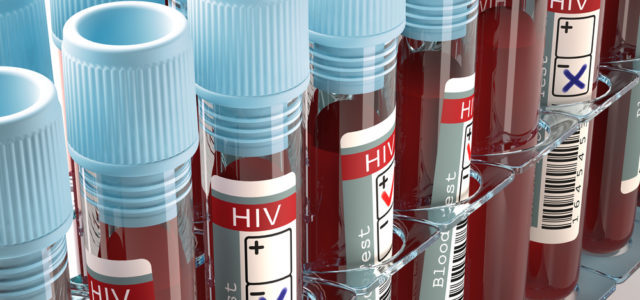 Are state's HIV laws unfair? Activists say it's time for change
Nina Martinez moved to Georgia from Washington, D.C., in 2005. Just a few months after she settled into her new Atlanta home, she learned about Georgia's criminal laws regarding people disclosing their HIV status to others. It personally changed things for her.
"As a person living with HIV, I didn't even form relationships because I didn't want someone who was just mad at me, who said, " 'She didn't tell me she was HIV-positive,' " said Martinez. "I haven't minded being single for the last 12 years or so, but it's not necessarily by choice. I guess."
The Georgia laws that Martinez is referring to are almost 30 years old. They state that people with HIV can serve jail time for not disclosing their HIV status to others in certain situations. Those situations include having sex with someone; sharing a needle; performing paid sex work; or donating blood, body fluids, body organs or body parts. People with HIV can be imprisoned for up to 10 years for any of these violations.
The sentence goes up to 20 years of prison time (and no less than five years) for a person with HIV to put their body fluids on a peace office or a correctional officer, while the officer is on duty. This includes the acts of biting, spitting or throwing bodily fluids such as blood, semen, vaginal secretions, saliva, urine and feces.
Numerous other states also have such laws, and their purpose is obvious: to prevent people from deliberately infecting others with HIV. There have been cases of people doing so.
But with improved understanding of HIV transmission, and scientific strides that have made infection less deadly, critics say the laws are largely outdated..
Martinez says the current Georgia laws are unfair because they allow prosecution of people who did not intend to transmit the disease, and even people who had taken precautions against transmission, like using condoms or taking HIV medication. And she says the disclosure laws create a "he said, she said" situation, because it's hard to prove what people in an intimate relationship communicated to each other.
"This law does not allow me to provide a good defense for myself against cases where somebody might falsely accuse me of not disclosing," said Martinez. "It doesn't require that I actually harm someone for me to be prosecuted. And that's not right."
"I just want the ability to be able to have somebody else be legally responsible for their own health," Martinez continued. "Like why am I legally responsible?"
A movement to change HIV laws has been under way for some time. Martinez is one of the steering members of the Georgia Coalition to End HIV Criminalization, an advocacy group.
The coalition would like to see several changes to Georgia's current code. One of those changes would be a requirement that a person be prosecuted only if there's proof of intent to transmit HIV.
"Another thing that we want to see is to get these laws aligned with science," said Sequoia Ayala, a lawyer and policy fellow at Sister Love, and a member of the Georgia Coalition.
The CDC has stated that the risk of transmission of HIV from biting, spitting or throwing fluids is negligible.  Because of this, the coalition wants to see that section of the law removed. Assaults with bodily fluids would still be illegal, but the offender's HIV status would not be relevant.
The current statute does not consider any measure a person with HIV has taken to prevent the risk of transmission. This includes the use of a condom or adherence to antiretroviral medication regime.
"We know now that if an individual has access to their medication, and they have taken the medication, and have achieved a viral load of less than 200 copies, they're unable to transmit HIV via sex," said Ayala. "And yet the reality is that an individual being adherent to their drugs does not relieve them of any culpability."
After several years of discussion with the coalition, the Georgia Legislature is now considering the issue. In the spring, Rep. Sharon Cooper (R-Marietta), four other House representatives and four members of the medical community formed a study committee focused on addressing barriers to adequate health care in Georgia.
The House study committee met in mid-October to discuss HIV laws, and recently released a final report. Possible changes, in line with the coalition's goals, and best practice recommendations released in 2014 by the U.S. Justice Department were outlined in the final report.
The changes include removing most HIV-specific criminal penalties. But penalties would remain in the following situations: If an HIV-positive person commits a sexual assault where there is a risk of transmission, or when a person is aware of being HIV-positive and intends to transmit the virus, and there is a significant risk of transmission.
The final report said that if people with HIV are taking medication, they should be able to present that as a defense in an HIV criminal case.
Though the committee recommended significant changes to the law, no immediate action was outlined. In fact, Cooper told one of the presenters at the October study committee meeting not to expect any changes in Georgia's HIV criminal law in the next year.
"There is a time for everything," said Cooper. "And next year's session is probably going to be really, really short. Probably not the time to introduce any new legislation on certain things. But certainly this is information to look forward to."
A mixed picture nationally
According to 2017 statistics from a national advocacy organization, the Center for HIV Law and Policy, 34 states have HIV-specific criminal laws. In six of those states, people who are convicted under the law are required to register as sex offenders. Over the past nine years, 303 people with HIV have either been arrested or charged under these laws.
In Georgia, at least 12 people have received lengthy prison sentences for not disclosing their HIV status. Other recent news stories of alleged reckless conduct by people with HIV may add more to that list
The coalition says these cases "required characterizing otherwise normal and legal behavior as criminal for no reason other than the defendant's HIV status."
Several states have been re-evaluating their HIV criminal laws. Texas repealed its statutes in 1994. Illinois revised its laws in 2012, and Iowa passed revisions in 2014.
In 2016, Colorado repealed two of its HIV criminal laws and changed language in other statutes to regard HIV like other sexually transmitted diseases. In October, California changed exposing someone to HIV from a felony to a misdemeanor, treating the virus like other STDs under the law.
Every state in the Southeast except Alabama has criminal laws related to HIV. Right now, Florida and Georgia seem to be the only two states in the region that are looking at changes. In May, the Florida Legislature considered changing HIV-related felonies to misdemeanors. It failed in the Senate, but legislators will likely re-introduce it next year.
And now Georgia has the study committee's recommendations.
Rep. David Dreyer (D-Atlanta), who was not a member of the House study committee, is firmly for changing the HIV laws. But he thinks just as Rep. Cooper predicted, real action may take some time.
"I think these [laws] were enacted when people were afraid of HIV. When the science might not have been in on how HIV gets transmitted. And it was just a reaction out of fear, rather than science," said Dreyer. "But these things do take a few years," said Dreyer. "And this issue is going to be important in policy circles for years to come."
Martinez is determined to keep fighting for reform, even if it takes years.
"Our HIV criminal laws don't even fit the attributes of traditional criminal laws. Criminal law says you have to have intent to harm and you acted in a way that made harm likely," said Martinez. "Our current Georgia law does not require intent to transmit or actual transmission. It literally only requires that you didn't say something you should have said."
Victoria Knight is a graduate student studying health and medical journalism at the University of Georgia. She also works as a health reporter for WUGA-FM, the Athens-area NPR station, and has a bachelor's degree in microbiology from the University of Tennessee. You can follow her on Twitter at: @victoriaregisk
Published in The Pulse on Dec 16, 2017