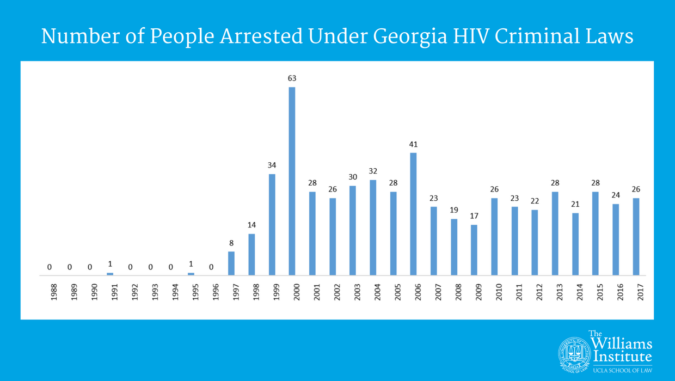 HIV Criminalization in Georgia
January 2018
Georgia laws that criminalize people living with HIV have resulted in 571 arrests from 1988 to September 2017, according to state-level criminal history record information analyzed by the Williams Institute. Analyses show some disparities in enforcement of the laws based on race, sex, geography, and underlying related offenses, including sex work and suspected sex work.
Researchers found that HIV-positive Georgians in rural areas were more likely to be arrested for an HIV-related crime than those living in urban areas. Black men were more likely to be convicted of an HIV-related offense than white men and convictions for HIV arrests were three times as likely when there was a concurrent sex work arrest.
This report provides the first-ever overview of the use and enforcement of HIV-related laws in Georgia.