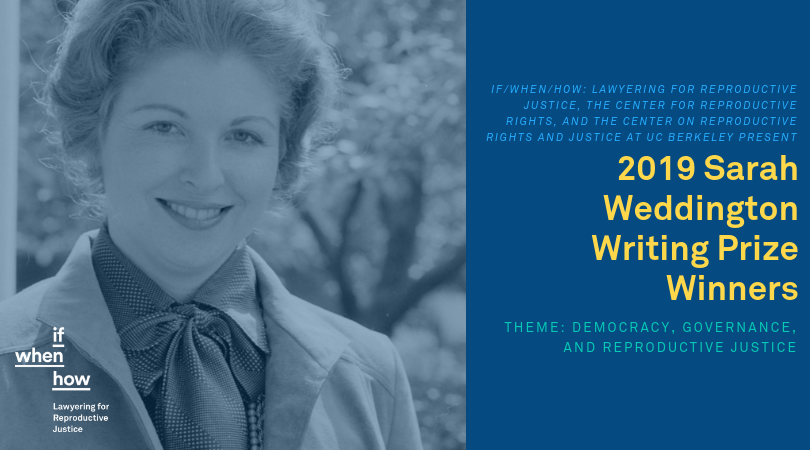 Draconian state law criminalizing HIV exposure subject of winning paper by Tulane Law student
Louisiana is one of more than two dozen states with a law that criminalizes exposure to HIV, charging, prosecuting, jailing and labeling anyone who potentially exposes another to the virus as a sex offender.
An exposition of the broadly-written and punative state law and its impact on women is the subject of a paper written by third-year law student Rachel Brown, and the winner of the 2019 Sarah Weddington Writing Prize for New Student Scholarship in Reproductive Rights Law.
"Your submission, When the Body Is a Weapon: An Intersectional Feminist Analysis of HIV Criminalization in Louisiana, stood out among an impressive showing by other writers," the selection committee wrote to Brown. "We received many excellent papers that demonstrated solid research, innovative ideas, sharp legal analysis, and excellent writing skills – and yours was the most remarkable."
The prize, co-sponsored by If/When/How: Lawyering for Reproductive Justice, the Center for Reproductive Rights (CRR), and the Center on Reproductive Rights and Justice at Berkeley Law (CRRJ), encourages innovative analysis and advocacy in writing about reproductive rights and justice issues. It comes with a $750 award for Brown, plus publication in the Berkeley Journal of Gender, Law & Justice, one of the most prestigious national journals in gender law. Brown's paper also will be adapted for other platforms, including the If/When/How website.
"The law's draconian penalties devastate the lives of women convicted, all while failing to advance any legitimate public health or penological goal – ultimately, putting both HIV negative and positive persons at risk," Brown said.
Brown's paper provided analysis of how HIV criminalization in Louisiana is enforced in a discriminatory pattern, often targeting the populations mostly affected by the virus: women of color, trans women, sex workers and the poor. She initially wrote it for a law course called Feminist Legal Theory, taught by Saru Matambanadzo, the Moise S. Steeg Jr. Associate Professor of Law at Tulane.
"Rachel's paper was a clear standout in our seminar," said Matambanadzo. "She was among the more sophisticated thinkers in the course and her capacity to bridge activism with theory and her commitment to intersectional feminism is rare for a student at this stage. I'm excited that her hard work has been recognized by the Sarah Weddington prize."
Brown, who has a master's in social work from Tulane, said she is passionate about reproductive justice and chose the topic because of its severe adverse impacts on women. A third-year law student, she is the outgoing president of Tulane's chapter of If/When/How: Lawyering for Reproductive Justice. She also is finishing a stint in the Civil Rights and Federal Justice Clinic.
After graduation in May, Brown plans to combine her social work background and new legal training to advance public policy in reproductive justice.