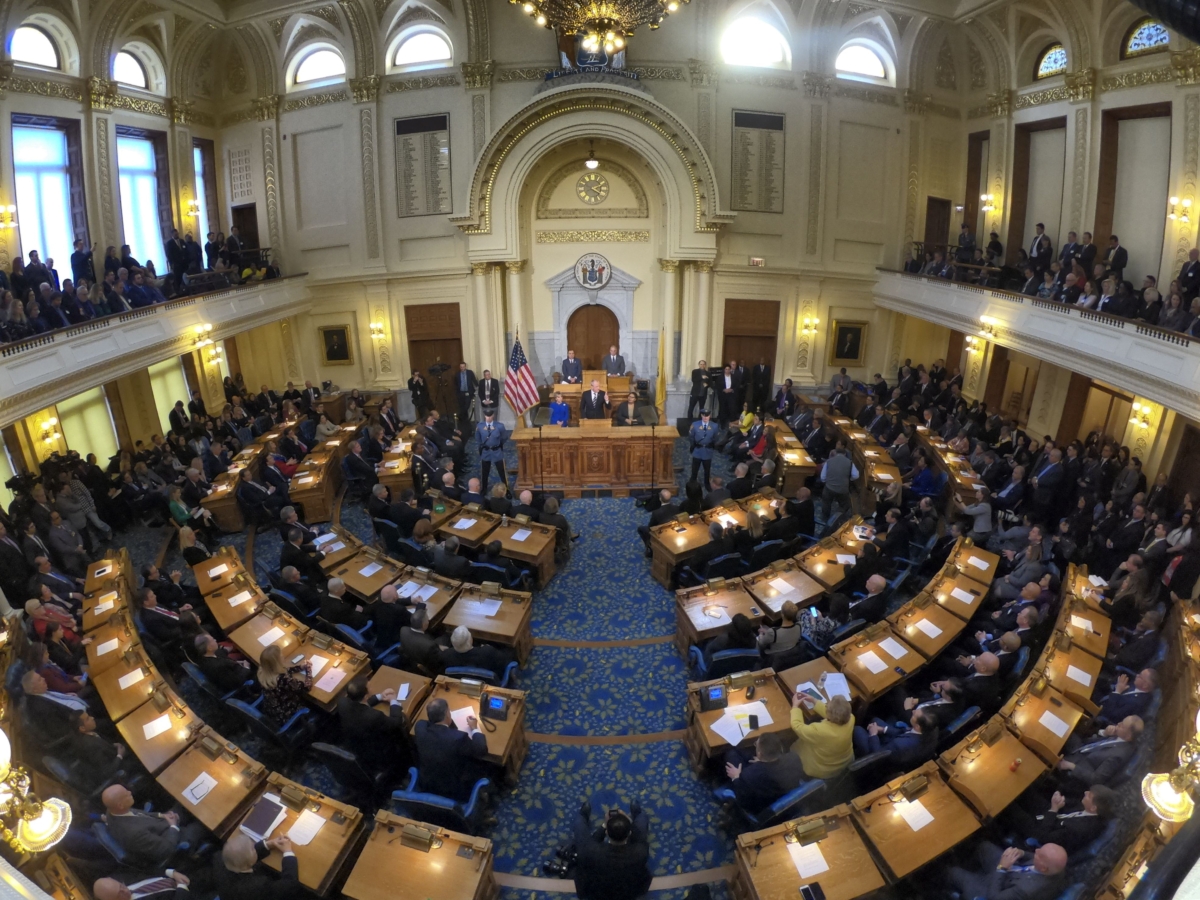 New Jersey Repeals Outdated HIV Crime Laws and Fights Stigma
The new law "is a step in the right direction toward reforming the system" regarding HIV and STI prosecutions in New Jersey.
In January, New Jersey Governor Phil Murphy signed legislation that decriminalizes sexual activity by people living with HIV or a sexually transmitted infection (STI) in specific instances. What's more, the law tackles HIV stigma because it requires that whenever a person is prosecuted under appropriate circumstances, the names of both the accused and the accuser be kept confidential.
The summary of the legislation—S3707/A5673—reads: "Repeals statute criminalizing sexual penetration while infected with venereal disease or HIV under certain circumstances; requires that in prosecutions for endangering another by creating substantial risk of transmitting infectious disease, name of defendant and other person be kept confidential."
The legislation's primary sponsors included Senators Joe Vitale (D–Middlesex) and M. Teresa Ruiz (D–Essex) and Assembly Members Valerie Vainieri Huttle and Joann Downey, according to a press release from Governor Murphy.
"Unfortunately, over the years, there has been a culture of criminally targeting HIV-positive individuals in general, rather than targeting those who intentionally expose others. The criminal code is meant to punish actions that harm others, not discriminate against people living with a chronic health condition," Senator Ruiz said in the press release. "Signing this piece of legislation into law is a step in the right direction toward reforming the system."
HIV criminalization refers to the use of laws to target people who have HIV—notably African-American, Latino and LGBTQ populations—and punishing them because of their HIV status, not because of their actions. Under outdated laws, people with HIV can be sentenced to prison in cases where HIV was not transmitted, simply for allegedly not disclosing their status.
Of note, repealing HIV laws does not mean that people can't be held accountable for intentionally transmitting HIV. Other laws may apply to the situation.
"Hyacinth AIDS Foundation applauds Governor Murphy signing S3707/A-5673, which would repeal New Jersey specific HIV criminalization statute. New Jersey's HIV criminal law was based on stigma and fear, rather than modern science," Axel Torres Marrero, Hyacinth's senior director of public policy and prevention, said in the press release. "In 2022 it no longer reflects the current science of treatment and transmission of HIV. Today we recognize that no one should be singled out and punished solely on the basis of their HIV status. Taken together with the attorney general's recent guidance that only a clear, successful intent to do harm should be punished, today New Jersey acknowledges that health care policy and the fight to end the AIDS epidemic must be anchored in the updated science of treatment and transmission of HIV."
Marrero was referring to HIV-related guidance issued in October by Andrew Buck, who was the acting attorney general at the time. When deciding whether to charge someone under the state's HIV crime laws, Buck directed prosecutors to consider three factors:
Whether the individual forced or coerced their partner to engage in sexual activity;
Whether the individual engaged in sexual activity for the purpose of transmitting HIV to their partner; and/or
Whether the individual was adhering to a medically appropriate HIV treatment plan at the time of the sexual activity.
"It is virtually impossible," the guidance states, "to imagine a scenario where it would be appropriate for a prosecutor to charge an individual…when that person's HIV viral load was undetectable at the time of the sexual activity and no aggravating factors existed."
One of the goals of the new HIV law and the guidance is to base possible prosecutions on updated science, notably that people with HIV who take meds and maintain an undetectable viral load do not transmit HIV sexually, a fact referred to as Undetectable Equals Untransmittable, or U=U.
Another goal is to fight HIV stigma and encourage testing and treatment. "For decades, the HIV epidemic has had devastating effects on New Jersey, particularly in our LGBTQ+ communities and communities of color," the governor said in the press release. "Repealing the outdated law will eliminate the stigma and fear associated with testing for HIV and other sexually transmitted infections, encouraging more individuals to be proactive in learning about their health. This new law, coupled with advances in modern science and medicine, will bolster our efforts to end the HIV/AIDS epidemic in New Jersey."
In related news, New Jersey also passed a series of harm reduction laws. One allows more syringe exchanges to open; another makes it legal to possess a syringe; and a third creates a review panel to study overdoses.
New Jersey isn't the only state to decriminalize HIV. Last year, Illinois became the second state to repeal its discriminatory HIV laws (California did so in 2017). And lawmakers in Missouri, Nevada and Virginia have reformed similar laws. For more, see "Breaking HIV Laws: A Roundup of Efforts to Decriminalize HIV."
---
Published in Insider NJ on 11/01/2022
Legislation to modernise criminalisation law passed by New Jersey Senate
Senate Passes Vitale-Ruiz Bill to Modernize NJ Statutes Related to HIV/AIDS Transmission
Trenton – In an effort to modernize New Jersey's statutes related to the transmission of HIV/AIDS and reduce the stigma suffered by individuals living with HIV/AIDS and other sexually transmitted infections (STI), legislation sponsored by Senators Joe Vitale and M. Teresa Ruiz that would eliminate crimes that are solely applicable to individuals living with HIV/AIDS and STIs was passed by the Senate.
The bill, S-3707, would repeal current statutes that make it a crime for a person to commit an act of sexual penetration under certain circumstances while knowing that he or she is infected with a venereal disease, HIV, or AIDS. The bill maintains and updates the provisions of the statute that criminalizes endangering another person, therefore maintaining an avenue for prosecution in appropriate cases involving the transmission of non-airborne infectious or communicable diseases, without specifically targeting individuals living with HIV/AIDs and sexually transmitted infections.
"While working with advocates to identify areas to improve our harm reduction system of care, they identified updating these statutes to reflect what we now know about the transmission of certain diseases, especially in light in the advances in treatment, as a huge priority," said Senator Joe Vitale (D- Middlesex). "The current law serves only to criminalize some of our most vulnerable populations, primarily those with HIV, dismissing what we know about the treatment of HIV and how it is and can be transmitted. I am thankful to the advocates who brought this issue to our attention, not only for leading the way on solid public health policy, but also in serving those in need in New Jersey."
The current laws in place target individuals based on their HIV/AIDS status, rather than their actions. They disproportionately impact certain communities that are more likely to be living with the virus including members of the LGBTQ+ community, Black and Latinx people and transgender women. The new legislation will work to remove the negative stigma and criminalization that these communities and others currently face.
"This legislation is a step in the right direction of inclusivity and removing the stigmatization that surrounds individuals living with HIV. Over the years, there has been criminalization targeting HIV-positive individuals, rather than those who are intentionally harming others," said Senator Ruiz (D-Essex). "The criminal code is meant to punish actions that harm others, not discriminate against people living with a chronic health condition."
The bill passed the Senate by a vote of (25-11).