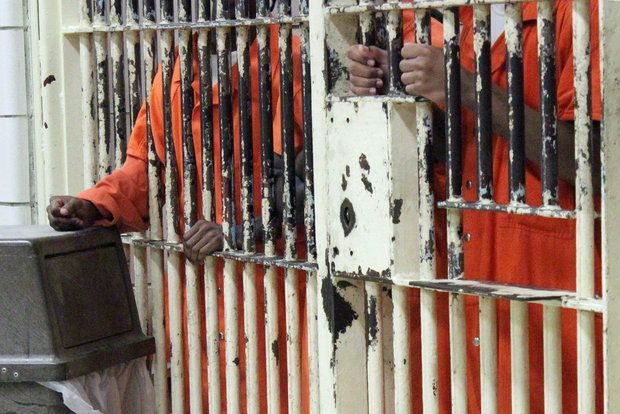 Is Louisiana's 'AIDS exposure' statute outdated? Advocates say it adds to stigma
Richard Covington was accused earlier this year of breaking into the house of someone who apparently owed him money and then fighting the resident. During the scuffle, Covington allegedly bit the man's arm.
In addition to a charge of home invasion, the Baton Rouge Police Department booked 48-year-old Covington on the charge of "intentional exposure to AIDS," a statute added to the books in Louisiana in 1987.
East Baton Rouge Attorney Hillar Moore recently said his office isn't pursuing the AIDS exposure charge against Covington, mostly because it's difficult — if not impossible — to prove if a bite would threaten the transmission of HIV.
Mark Alain Dery, an assistant professor of clinical medicine at Tulane University who runs the school's AIDS clinic in New Orleans, said the chance of a bite exposing someone to the virus that can lead to AIDS is "very, very highly unlikely." The biter would have to have bloody gums and break the skin to affect blood-to-blood exposure.
Moreover, Dery said, the language in the statute Covington was charged with is "scientifically inaccurate," and the law perpetuates harmful stigmas against people living with AIDS.
"You can't transmit AIDS, period," he said. "What's transmitted is a virus."
HIV is the transmittable virus that can spread from person-to-person. Acquired Immune Deficiency Syndrome, or AIDS, is a condition resulting from a low count of T-cells, which is caused by untreated HIV. T-cells are white blood cells that fight disease as part of the body's immune response.
The law was written at a time, Dery said, when the science behind HIV and AIDS was "poorly understood, if understood at all."
ACLU of Louisiana Executive Director Marjorie Esman said laws involving the "criminalization of HIV and AIDS" are problematic, and movements are afoot across the country to address them. In Louisiana, she said, advocates are in the early stages of looking into the best legislative solution.
Esman noted that with advances in medicine, people with AIDS and people who are HIV-positive can "live very long lives" if the virus is properly treated. Dery said patients who treat their HIV with medication sometimes effectively lower their viral loads so they become undetectable, though there is still some risk of transmission.
"At one time, full-blown AIDs was a death sentence," Esman said. "It's not anymore."
AIDS and HIV laws were adopted in the 1980s and early 1990s amidst a fear of the growing, seemingly lethal condition that had limited remedies at the time, Dery said. Now that AIDS is less deadly than once feared, the existing laws are "far more punitive" than they should be.
Moore, who serves as president of the Louisiana District Attorney's Association, said there are potential scenarios in which it might be appropriate to apply the statute, including those when prosecutors can prove someone intentionally and successfully transmitted the virus.
He said, however, that the "vast majority" of cases they've received from police involving the charge "have been non-prosecutable."
"Officers and deputies are just not familiar with the science and what is actually considered (when applying) the statute," Moore said.
Baton Rouge Police Department spokesman Cpl. Don Coppola said in an interview last month that officers will continue to enforce the AIDS exposure law as it's written. He added, though, that the department's legal division is diligent about updating officers regarding changes to or constitutional problems with existing laws.
Another case involving Louisiana's AIDS statute surfaced in August in St. James Parish, where authorities allege 31-year-old Barlon Cammon intentionally exposed a teenage victim to HIV. He was also booked on a charge of carnal knowledge of a juvenile.
In February, A Baton Rouge man was arrested after his girlfriend allegedly told Baton Rouge police her live-in-boyfriend exclaimed during an altercation, "That's why I gave you AIDS." Norris Wyatt, then 38, was charged with intentional exposure to AIDS. He was already on probation at the time for the same charge stemming from a previous incident.
The statute has also been used at least seven times over the 10 or so years in East Baton Rouge Parish when the arrestee was accused of spreading HIV by spitting, according to a 2014 report from The Advocate. Even though the statute specifically defines spitting as a "means of contact," under which the law can apply, Dery — along with the U.S Centers for Disease Control and Prevention — note that HIV is not transmitted through saliva.
Dery noted that police sometimes tack the "AIDS exposure" charge onto a list of other charges, which can drive up jail bonds or grabs news media headlines, even if the charge is never prosecuted.
"The gross lack of confidentiality violates all medical ethics and public health practice standards," he said.
He further noted that criminalizing AIDS and HIV adds to the stigma of shame for those living with the virus or condition. "It drives people from knowing what their status is, from getting HIV tested."
Perpetuating the AIDS stigma, then, could have dangerous consequences: One in five people who have HIV don't know they have it, Dery said. And those 20 percent are believed to be responsible for between 60-to-80 percent of HIV transmissions.
Noting that New Orleans and Baton Rouge populations are among those with the highest rates of AIDS in the country, Esman said the state should shift its focus regarding its treatment of people living with HIV or AIDS.
"Arresting people makes no sense," she said. "What we need to be doing is treating people who are sick."
Moore said the law could possibly "use some tweaking." He indicated the district attorney's association would be open to a proposal amending parts of the statute.
Published on May 17, 2017 in Nola News.