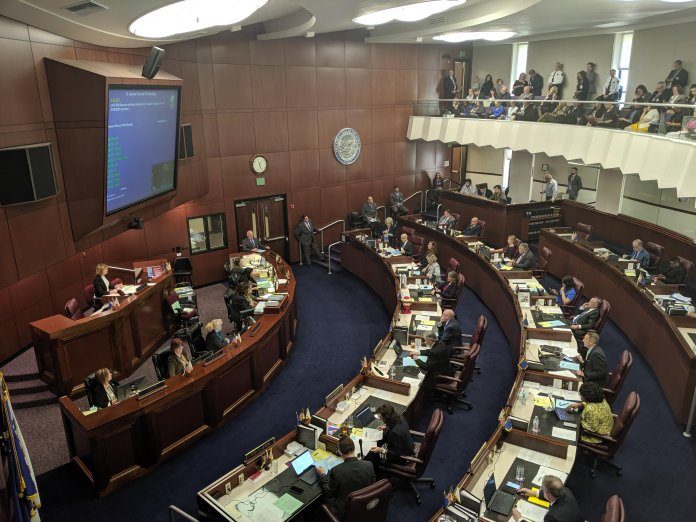 Task force on HIV decriminalization off to slow start
By Michael Lyle
The law establishing the task force authorizes up to 15 appointments. The only three appointments made thus far were made in January. The task force has until Sept. 1 to present its finding to the Legislative Counsel Bureau along with any recommendations on potential legislation.
"As is the case with any other board or commission, the Governor can only make appointments when the application process is complete," said Ryan McInerney, a spokesman for the governor. "There are multiple steps in the application process, and applicants will only be reviewed when all of their paperwork is completed and submitted."
The governor's office said it is working with the Department of Health and Human Services to encourage applicants to apply and has a goal of seven total members by mid-February.
"We are not concerned about meeting the deadline and will be prepared to immediately start work with the task force when appointments are announced," added Shannon Litz, a spokeswoman with Nevada's Department of Health and Human Services.
HIV criminalization laws developed in the late 1980s following the height of the HIV/AIDS epidemic.
Despite three decades of advancements in medicine that have decreased mortality rates and lowered transmission rates, the laws overwhelmingly remain in place across the United States.
Various movements have worked to change those existing laws.
California passed legislation in 2017 that reduces the penalty for those who expose others to HIV without their knowledge.
In a previous interview, state. Sen. David Parks, who sponsored Senate Bill 284, said he had tried for three sessions to bring forth legislation to address HIV criminalization.
The task force, once formed, is expected to review existing HIV exposure laws, research the impact of those laws, review corresponding court decisions and identify disparities of arrest based on indicators such as gender identity or expression, sexual orientation, race or sex.
In its 2017 report HIV Criminalization in the United States, the Center for HIV Law and Policy identified several existing Nevada laws that criminalizes HIV:
People living with HIV are prohibited from engaging in conduct known to transmit HIV, which is a Class B felony that can come with a two to 10 year prison sentence or up to a $10,000 fine.

People living with HIV can't engage in sex work, which also comes with six months in prion and up to a $1,000 fine.

Health authorities have "broad powers to prevent transmission of communicable and infectious diseases, including HIV"
As the report points out, "conduct 'likely to transmit' HIV is not defined."
Like most laws, Nevada's statutes also don't reflect the science advancements behind transmission.
For example, the Centers for Disease Control and Prevention along with other health organizations and scientific studies found that those on medications who achieve an undetectable viral load — when the copies of HIV per milliliter of blood are so low, it can't be detected on a test — have no risk of transmitting the virus.
While speaking in support of SB 284, the Nevada Attorneys for Criminal Justice also noted other Nevada laws targeting people living with HIV.
"NACJ would particularly like to highlight one such law, NRS 212.189, which imposes a life sentence on a person with HIV in lawful custody who exposes another person to their bodily fluids," the group wrote. "This is dramatically overbroad – a person with HIV who spits on a police officer as they are being arrested faces a life sentence, because HIV is sometimes present in saliva even though there is no actual risk of transmission."
There hasn't been any indication when the task force will begin meeting.
The three appointments in January include Stephan Page, Steve Amend and Ruben Murillo.