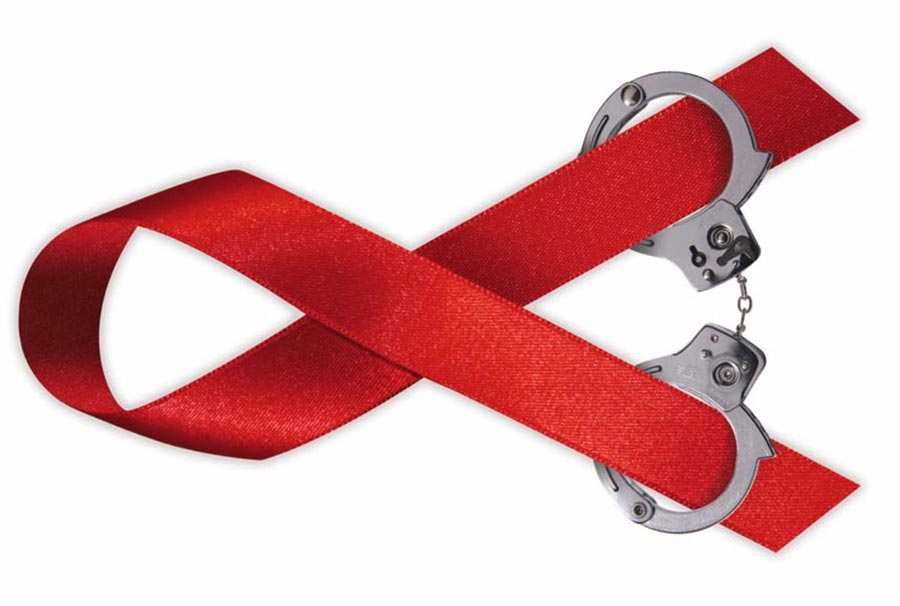 Dayton Man's Arrest Shines Light on Ohio's Outdated Laws on HIV Criminalization
The February arrest of a Dayton man is highlighting Ohio's laws on HIV criminalization and the need for reform.
The 50-year-old Dayton resident faces charges of felony assault after police say he offered an undercover detective oral sex during a sting and didn't reveal he "tested positive for a virus that causes Acquired Immunodeficiency Syndrome."
The man used adult websites and telephone apps to offer free sex at his home, according to a press release issued by Dayton Police.
"[He] did so without disclosing his status as a carrier of AIDS. Investigators are concerned that there may be other persons, over a period of years, whom have interacted sexually with [him]who may also be victims," said Cara Zinksi-Neace, spokeswoman for Dayton Police, in the press release.
In addition to conflating HIV and AIDS in the press release, the Dayton Police also included a clear picture of the man's house and the name of his less-than-a-mile long street.
The arrest, the police press release, and the nature of the charges the man faces are evidence of a climate in Ohio that advocates of HIV decriminalization say desperately need to change.
Eight states, including nearby Michigan and Illinois, have reformed or repealed one or more parts of their HIV-specific criminal laws, but Ohio is one of 32 states that have HIV-specific criminal laws and/or sentence enhancements applicable to people living with HIV.
The Laws
Ohio  currently has 6 separate statutes on the books that criminalize living with HIV, most notably a felony assault charge that specifically calls out the virus. According to Ohio's Revised Code § 2903.11, "No person, with knowledge that the person has tested positive as a carrier of a virus that causes acquired immunodeficiency syndrome, shall knowingly…engage in sexual conduct with another person without disclosing that knowledge to the other person prior to engaging in the sexual conduct."
A conviction under the law can result in up to an 8-year prison sentence.
Additionally, people living with HIV face higher penalties if charged with crimes that involve sex work, including prostitution, solicitation, or loitering to engage in solicitation.
"Ohio's has some of the most backwards and stigmatizing laws in the country," says Dwayne Steward, Director of Prevention for Equitas Health, a regional nonprofit community healthcare system and one of the largest LGBTQ+ and HIV/AIDS serving healthcare organizations in the United States.
Steward said that these laws have been around for decades and feature outdated language stemming from the fear-based public opinion formed during the early part of the AIDS epidemic, as opposed to language derived from modern science.
"For instance, it still says in these laws that someone can be prosecuted for exchanging saliva with another person, even though we know that—scientifically—HIV can not be transmitted in this way," explains Steward.
Kim Welter, Facilitator of the Ohio Health Modernization Movement (OHMM) working to reform the state's statues HIV criminalization, is quick to point out one of the biggest misconceptions about the relationship between these laws and HIV transmission
"The current laws in no way require transmission," says Welter. "You could have a situation where there is no actual harm done, but an individual with HIV could end up serving time, and actually even serve more time than someone who is arrested for the exact same offense who doesn't have HIV."
Dayton Arrest and Press Release
When Bryan C. Jones first heard about the Dayton arrest and read the local news coverage with the accompanying police statement—describing the arrested individual as a "carrier of AIDS"—he experienced a range of emotions. A founding member of OHMM, the news hit close to home for Jones.
"As a person who has been living with AIDS for 37 years, I was scared at first and then I was outraged," says Jones. "A 'carrier of AIDS'? Come on. That sounds like the language from the 80s. Those words shocked me."
When reached by The Buckeye Flame, Zinski-Neace said the Dayton Police department does not issue press releases for every arrest, but did not explain why one was created for this arrest. The department declined to provide further comment for this story beyond what was in the press release.
Welter highlights that it compromises the man's safety to include a photo of the man's house on a short street the police identified and that there are details that were left out of the police report and media coverage that make a real difference with regard to outcomes. She points out that adding the Dayton man's HIV status creates a sensationalized aspect to the story, but does not answer some key questions.
"We don't know if he is on medication, if he is virally suppressed, if he is undetectable, or if he was engaging in activity that is likely to even have a chance of transmitting the virus," says Welter. "We don't know any of that. But then the coverage gives this idea that there are thousands of victims when the chance of transmitting HIV through oral sex is very, very low. It gets people to read a headline, but it's not scientifically accurate."
Jones agrees that the coverage does more harm than good.
"This misinformation goes counter to public health interests," says Jones. "This exacerbates the stigma and perpetuates people living in fear."
Reforming the Laws
The efforts to reform the laws in Ohio that criminalize HIV have been going on for years, with groups like OHMM leading the way. A critical step for their movement: raising awareness that these laws even exist.
"When I speak to people at gay pride, LGBTQ people don't even know about these laws," says Jones. "People living with HIV still have rights and it's important to arm yourself with accurate information, and especially so if you are confronted with this situation."
OHMM, in partnership in the Legal Clinic at Equality Ohio, have published materials to help educate individuals about their rights in the event of a police interaction. Tips include maintaining evidence (documents, screenshots, etc.) proving disclosure, not disclosing HIV status to law enforcement officers without a lawyer present, and not consenting to medical tests should police ask for the individual to submit to tests voluntarily.
For those individuals who may be aware of the statutes criminalizing HIV, the effects of these laws can have a direct relationship with those choosing not to get tested for HIV.
"There are people who believe if they don't know, they can't be prosecuted," explains Steward. "It keeps people from engaging in healthcare and further creates health disparities."
OHMM is hard at work partnering with other organizations hoping to introduce legislative language this Spring aimed at modernizing Ohio's HIV criminalization statutes. All three counties participating in the national End the HIV Epidemic campaign—Cuyahoga, Franklin, and Hamilton—have included modernizing the criminal code as part of their plans. Lawmakers in Virginia recently approved legislation to modernize their HIV criminalization laws, one of 9 states actively engaging with the process of decriminalization.
Until the laws are reformed, advocates stress that knowledge about these statutes is critically important, particularly when a story like the arrest in Dayton grabs the headlines.
"Start a conversation. Tell someone else about these laws," urges Jones. "Everyone needs to know more than they do, because the ignorance in this case can really cause serious damage." 🔥
Ignite Action:
Learn more about Ohio Health Modernization Movement (OHMM) by visiting their website. 
Start a conversation with someone else about HIV decriminalization.