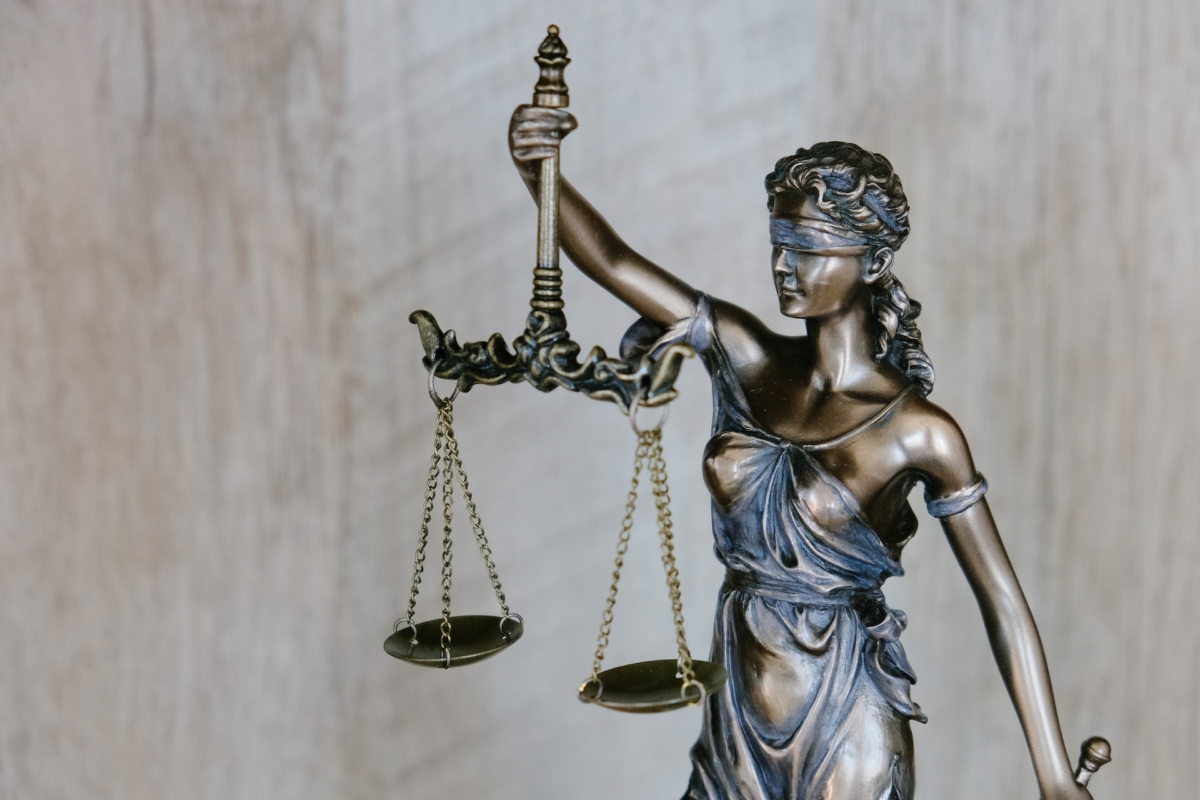 Ending HIV Criminalization Starts With Me
Tiffany Moore had a panic attack at a Tennessee playground. That's how her 2021 ended.
All she'd wanted was to give her 8-year-old daughter the gentle childhood she'd never had. By age 10, Moore had for years been strapped down repeatedly in mental health wards and "pumped full of drugs" in different hospitals. That was in addition to the abuse she'd experienced at home. Half a decade later, she would be on the streets, surviving through work with sex traffickers and pimps. At age 10, she says, she didn't expect to see adulthood. Now, as a mother, she was determined her daughter would grow up enjoying her childhood experiences, including afternoons on swings and slides with her mommy.
But until December 2021, when a change in Tennessee law that she fought for went into effect, Moore was legally forbidden from visiting a playground. That's because at 21, she was convicted of aggravated prostitution—the aggravation being that she'd acquired HIV during a rape. And even though she did not transmit HIV to anyone, Moore spent 20 years on Tennessee's sex offender registry as a result of her status.
Within weeks of her removal from the registry, Moore was at a playground surrounded by children, and every fiber in her body told her to flee, that she was one call to the police away from being separated from her daughter.
"They've instilled for 20 years that you're a danger to children and your child. You can't go here; you can't go there. You can't be here; you can't be there," she says. "I just know—I know I have a lot of pieces to pick up."
She's not alone. Though the public face of HIV criminalization laws has been primarily gay men—particularly gay Black men—recent data show that such legislation also targets Black women.
In particular, research conducted by the Williams Institute at the University of California at Los Angeles has found that in California, for instance, Black women make up 3% of the population and 4% of people living with HIV but 22% of people prosecuted under that state's old HIV criminalization law.
In Georgia, Black women make up 17% of the population and 18% of those living with HIV but fully half of people prosecuted under that state's HIV criminalization laws. In Kentucky, which has a law similar to Tennessee's, 32 people have been arrested on HIV criminalization charges. All but one of those charges was associated with sex work. In that state, those arrested have mostly been white women. According to an article in a Tennessee newspaper, by 2009, 38 people besides Moore had been arrested under the aggravated prostitution charge.
"The image we have around HIV criminalization laws maybe is of a gay cisgender man who doesn't disclose his status to a sex partner," says Nathan Cisneros, MS, the Williams Institute's HIV criminalization analyst and the coauthor of the Kentucky study as well as a forthcoming report on Tennessee's laws.
"What we find in states that have prostitution-specific HIV laws, though, is that sex work ends up taking on a substantial minority, sometimes a majority and sometimes the overwhelming majority of enforcement actions. And those primarily affect women," he says.
Because arrest records reflect someone's assigned gender at birth and not their preferred gender, it's unclear how many of those arrested are women of transgender experience living with HIV, but other data suggest that this group is overrepresented among sex workers nationwide.
Yet women with HIV aren't just the target of these laws—they are also fighting them, forming coalitions, writing legislation and, like Moore, testifying about the science and impact of the laws to effect change.
Today, 30 states have statutes specifically prosecuting people living with HIV for real or imagined crimes related to HIV transmission or exposure, according to The Center for HIV Law and Policy.
The list of potential crimes reads like an HIV stigma fever dream. In some instances, people with HIV can be arrested for allegedly not telling a partner they are living with the virus—even if they are taking HIV medications and are undetectable, which eliminates the risk of transmitting it to a partner.
They can be prosecuted even if they did tell the partner they were living with HIV but their partner tells the police that they didn't. In other instances, people living with HIV can be arrested for exposing others to bodily fluids, including via spitting and biting, acts that don't transmit HIV. Yet other laws prosecute syringe sharing among people living with HIV who inject drugs, and still more criminalize even semen donation by those who are HIV positive and want to become parents.
In addition, nine states have so-called sentence enhancements that can take a preexisting charge unrelated to HIV and increase prison time and penalties for people living with the virus. Six states may require people living with HIV who are found guilty to register as sex offenders.
The states that specifically increase the severity of penalties for people involved in sex work primarily impact women living with HIV. In Tennessee, where Moore lives and served time, a sex work charge alone is a misdemeanor, punishable by a fine. But add in the HIV charge and suddenly a woman is facing a felony, punishable by years in prison. That conviction also requires registration as a sex offender, with the heightened punishment of being classified as a violent offender.
"It makes it difficult to get housing and stable employment, to receive certain benefits, to vote in elections," Cisneros says. "And of course, if you have children, it creates all these other terrible complications. You can't pick your child up from school. You can't visit them at the playground. You can't have your children's friends over for a sleepover."
From the beginning, Moore's experience of living with hiv was intertwined with incarceration. When she was arrested for sex work in March 2002, the state of Tennessee also required her to get an HIV test. That's when she found out she was living with the virus.
But she wasn't allowed a private moment to process it. Instead, when court staff read out the charges at her arraignment, "my status was read out loud in court," she remembers. For her, she says, that was the "initial attack" in a yearslong journey through the court system.
She wasn't offered care or services. She simply left jail and went back to her former life. She evaded the public health workers who were circulating her name and photo among the traffickers who could use it to hurt her. She was 20, not even legally able to drink. To cope, she'd been cutting herself for years. When that failed to stop the terror and flashbacks, she turned to crack.
"That was my Prozac," she says. "My entire left wrist is cut up from my coping skills. [Using drugs] was the way to not cut myself. That was the only way I knew to keep myself safe."
Now that she knew her HIV status, future arrests carried with them the extra weight of the criminalization statute. By August 2002, she'd been arrested again and could either stand trial, which could result in a 15-year prison term, or she could plead guilty to the charges and accept a four-year sentence with no possibility of parole and be added to the sex offender registry as a violent offender. No one had acquired HIV from her. She hadn't even been engaged in sex work when the arrest happened. She'd just been loitering in a prostitution zone while living with HIV.
That began what would eventually total eight and a half years behind bars, off and on—always being released between 11 p.m. and 2 a.m., always finding johns waiting for her and always finding that drug treatment centers couldn't take her because of her HIV diagnosis or her status as a registered sex offender. Halfway houses were out of the question—the sex offender registry again. It was maddening, Moore says now. She wanted to get off the streets, but the criminal code kept her stuck.
One thing did change during this time. She started on HIV meds in prison, at first on drugs that made her sick every day. About three years into her first term, she had an undetectable viral load, which means she couldn't transmit the virus. But that didn't stop the arrests from coming.
"I was always arrested before the medication ran out," she says, so her treatment wasn't interrupted.
In the Kentucky report from the Williams Institute, Cisneros and colleagues found that most of the arrests were made on the streets or in parking garages. At least 15% of arrests were "almost certainly for conduct that did not involve sex work. Indeed, arrests for allegations of sex work do not need to include actual sex acts."
In 2011, Moore left prison for the last time. She finally found a treatment center that would accept her despite her status on the sex offender registry. She quit drugs. She started working with an HIV service organization and for the first time began addressing her posttraumatic stress disorder. Importantly, she finally connected with others living with HIV through the Sero Project, a group of people with the virus who are working to change criminalization laws.
And, almost as quickly, she started working to modernize Tennessee's HIV laws. By 2015, she was also a new mom. What's more, for the first time, she had her own apartment, a car and a job.
"I started to realize," Moore says, "that what was done to me wasn't right."
Again, moore wasn't alone. women and nonbinary people living with HIV have been working along with gay men to guide the decades-long effort to reform HIV criminalization laws.
Whether it's Tami Haught, who was key to getting Iowa to remove people living with HIV from the sex offender registry in 2014, or Barb Cardell, who advocated successfully in Colorado for the elimination of mandatory HIV testing for people arrested for sex work and the removal of felony charges from someone living with HIV convicted of sex work, or Naina Khanna and other members of Positive Women's Network–USA, who worked to reduce sex work charges for women with HIV from felonies to misdemeanors, women living with HIV have been guiding the movement against HIV criminalization for years.
And that doesn't even include advocates living in states that have yet to reform their laws, like Indiana, Georgia and Ohio.
So in 2015, when Moore testified before the Tennessee Statehouse to advocate for people placed on the sex offender registry to be able to have themselves removed if they had been sex trafficked, raped or abused, she was part of a bigger sisterhood. But it came at a price. She went back to her old coping mechanism. She relapsed. It was the first time, she says, that she knew what it was like to lose everything because "before, I had nothing."
In the last seven years, though, Moore has held on to her recovery with both hands.
"I grew up," she says. "It was like, literally, wisdom overnight."
Now, she's stepping into advocacy again. She is part of a complaint filed by The Center for HIV Law and Policy asking the Department of Justice to investigate HIV criminal statutes in Tennessee and Ohio. And it looks like the tide is turning.
In 2016, the Association of Nurses in AIDS Care released the first clinical guidelines on addressing HIV criminalization, and the American Psychological Association officially came out against HIV criminalization laws. This was followed by a consensus statement issued in 2018 by the world's premier HIV scientists and clinicians arguing that laws should be revised to reflect the actual science of HIV transmission.
The following year, the American Medical Association came out against the laws. Now, the Centers for Disease Control and Prevention's website has a page dedicated to how HIV criminalization laws are inconsistent with the national effort to reduce new HIV transmissions by 90% by 2030.
For Moore, being removed from the sex offender registry at the end of 2021 was bittersweet. The aftereffects linger, she says, and she still thinks about how Tennessee's law might be different had she been able to tolerate "the uncomfortable second" that comes with the overwhelming urge to hide in just one more inhalation on a crack pipe.
As written, the law requires people seeking removal from the list to prove that they were abused, raped or otherwise sex trafficked in order to gain their freedom. Courts can require trials that force women to come up with proof of the abuse.
Now, Moore says she's on a new healing journey, with the registry behind her. She will continue to pick through the traumatic effects of surviving her childhood and living with the stigma of the registry. Still, when she sees her daughter playing in her own room, surrounded by all the things she didn't have growing up, in an apartment Moore pays for with a job she selected, with a car she owns parked outside, she says a sense of peace and happiness comes over her.
"I just want her to be a kid," she says. "There's so much time for her heart to be broken by the world we live in right now. I just want her to play with slime and dolls."