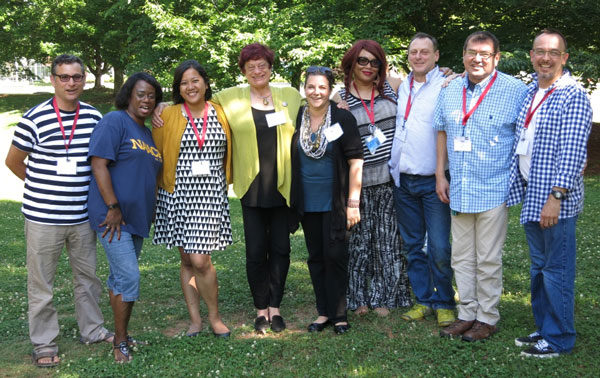 Jennie Smith-Camejo, the communications director of Positive Women's Network – USA, stood at the podium at the second HIV Is Not a Crime conference on HIV criminalization in May. Behind her was a PowerPoint presentation with several examples of recent egregious headlines about people living with HIV.
"Woman With HIV Convicted of Biting Sister During Fight," screamed one. "Man With HIV Assaults Hospital Employee," read another. "Suspect Threatens to Transmit HIV to Police Officer," announced a third.
"You don't really hear [much] about HIV in the news anymore," Smith-Camejo noted as she flipped through these headlines. "So, if these are what you're seeing and hearing, what would you think?"
That is the challenge for people fighting HIV criminalization laws. How do you push past the fear and panic around HIV transmission when click-bait headlines dominate media coverage?
There's no one opinion about what kind of messaging is most effective. For some, using language that appeals to their audience's core values has been effective. Others reject that strategy, instead demanding more inclusive, intersectional messages that do not leave out the most vulnerable, such as sex workers and trans people.
"When you're talking to people outside the HIV community, you have to think about what they're thinking and hearing," stated Jennie Smith-Camejo, the communications director of Positive Women's Network – USA, an advocacy network of women living with HIV. "People's views on policies and issues are more shaped by emotion than reason," Camejo-Smith noted. But advocates have the power to appeal to these emotions. Using stories can change hearts and minds in ways that cold hard facts often do not, she said.
Jennie Smith-Camejo gives one example of messaging that appeals to a more conservative audience. When talking to people who may not care about the injustices of police profiling of trans women or HIV criminalization, she points to the way in which Cyd Nova, the harm reduction coordinator at the Saint James Infirmary, a clinic for current and former sex workers, frames the issue of policing as one that interferes with personal responsibility and protecting public health:
Trans women are disproportionately profiled and targeted by law enforcement for harassment and arrest. And because of policies like [using] condoms as evidence, trans women often face a choice between protecting themselves and their partners from HIV and risking arrest.
Effective messaging can sometimes prevent a harmful legislative amendment from even reaching the floor.LaTrischa Miles is a board member of Positive Women's Network – USA, as well as the founder and president of Grace, a faith-based support group in in Kansas City for women affected by and living with HIV. When she learned that Missouri legislators planned to introduce a bill that would make it a crime for a person with HIV to spit at someone, she and other activists sprang into action. They contacted legislators and debunked the myths about saliva and HIV transmission. "Because they heard from us in the community, they didn't even bring it forward for the hearing," Miles recalled.
In Colorado, members of the Mod Squad and Senator Pat Steadman utilized language that appealed to a broader political spectrum as they pushed SB 146, a bill that repealed two criminalization statutes and reformed another. Instead of talking about criminalization as an injustice that needed to be eliminated, Steadman appealed to conservative values, such as personal responsibility. "We talked about barriers that criminalization poses to testing, treatment and public health," Steadman stated in a celebratory address. "The biggest thing to take on is people's fear and ignorance."
To combat stigma and hammer home the importance of changing the law, Steadman's talking point became: "The criminal law is a clumsy and ineffective tool for protecting public health."
Advocates also shifted their messaging. Barb Cardell, a long-time HIV activist and member of the Colorado Mod Squad ("Mod" is short for modernization), recalled that the group had initially called themselves the HIV Decriminalization Task Force, then the STI Grassroots Modernization Alliance.
"We didn't change anything else we were doing," recalled John Tenorio, a rural Mod Squad member. Simply changing their name brought them more respect and support.
In Colorado, it appears that the shift worked. Steadman and the Mod Squad faced little opposition to repealing and reforming the criminalization statutes. (Instead, Steadman noted, the sticking point was the provision allowing minors to be tested and treated for HIV without parental consent.) SB 146 passed in both houses of the legislature and is now awaiting the governor's signature.
But not everyone agrees with shifting the message to appeal to more conservative audiences. "You have to think about decriminalization — true repeal of these outrageous laws. Don't talk to me about modernizing things to make them sound better. I am not here to wait years and years and years for this to happen," said Maxx Boykin, an organizing co-chair of the Chicago chapter of Black Youth Project 100 (BYP100), a national organization of 18- to 35-year-old black activists, and a community organizer at AIDS Chicago. He tied HIV criminalization to the pervasive state violence against black people, particularly black youth. "You have to stop criminalizing who I am, who my friends are."
Appeals to modernize laws will not stop the collision of criminalization faced by those marginalized by race, gender identity and poverty, he explained. "I have to talk about how [criminalization] disproportionately affects black people," Boykin told TheBody.com. He draws parallels between HIV criminalization laws and the disparities in crack-cocaine sentencing. It's a parallel that those already organizing against police and state violence understand all too well.
He also challenges people to think about criminalization as a whole, tying HIV criminalization to issues of racism and mass incarceration as well as explaining how people living with HIV are treated in prison and what HIV criminalization actually looks like.
Marco Castro-Bojorquez, a documentary filmmaker, community organizer and member of the steering committee for the U.S. People Living With HIV Caucus, arrived in the United States from Mexico 20 years ago. For him, an intersectional analysis needs to be present in every discussion.
"It's difficult to talk to people about race and class," he told The Body.com. "But you need to do it when talking about any injustice." These conversations can be difficult, he acknowledged. "White people get offended or angry or sad," he said. For them, he said, "it's important to check your privilege and make sure you are not making us [people of color] responsible for your feelings. People don't understand the amount of energy it requires for us [to explain racism and other injustices we face]."
He concentrates his energies on working with people who feel the brunt of marginalization the most — people of color, immigrants and trans people. In 2015 he helped launch Venas Abiertas: Una Red de Inmigrantes Latinxs Viviendo con el VIH/Sida (Open Veins: A Network of Latinx Immigrants Living With HIV/AIDS) for HIV-positive Latino immigrants to advocate for their needs and work with allies.
When Castro-Bojorquez talks about HIV criminalization, he's often met with shock that such laws even exist. He recalls repeated conversations with his best friend. "He could not believe you could have sex with someone, use a condom, not transmit anything and still be thrown in jail," he recounted. The two continued to have conversations about criminalization — and Castro-Bojorquez's work to end it. "Now he's super-knowledgeable about it," he said.
Castro-Bojorquez also cautions against the tendency to characterize certain statutes as "not so bad," explaining that "any law that criminalizes HIV is bad."
Regardless of the words they choose, advocates say the message needs to be clear and not veer into other topics. Mark King, the blogger behind My Fabulous Disease, learned this firsthand.
In 1992, when Magic Johnson first announced that he was living with HIV, King was the newly appointed communications person for the Los Angeles Shanti Foundation, which provided emotional support for people dying from AIDS-related complications. Johnson's announcement inevitably sparked office gossip, including speculation about which AIDS organization Johnson might endorse as well as the fact that Elizabeth Taylor had sent Johnson flowers, King recalled. That gossip was still buzzing when the phone began ringing with press requests. "I was young and stupid," King recounted and, when he spoke with a reporter from the Los Angeles Times, he began chattering away, repeating the office gossip.
The next day, the Los Angeles Times ran King's statements about Elizabeth Taylor and the rivalry for Johnson's support among AIDS organizations. "I gave the reporter the story he wanted to write — about the competition among agencies — rather than the message I was supposed to deliver," King recalled 24 years later. The lesson? "Hold on tight to your message and repeat it over and over so they can't put in some stupid quote about Elizabeth Taylor."
Victoria Law is a freelance writer and editor. Her work focuses on the intersections of incarceration, gender and resistance. She is the author of Resistance Behind Bars: The Struggles of Incarcerated Women.
Originally published in The Body