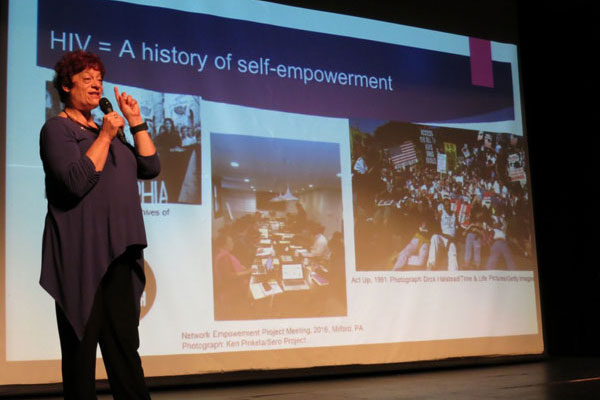 "Thirty-three years ago, a group of activists, tired of how they were being treated, drafted the Denver Principles," Barb Cardell said to the sleepy but energized audience at an early morning session of the second HIV is Not a Crime conference. Cardell, a long-time HIV activist, is co-chair of the Colorado chapter of Positive Women's Network, an advocacy network of women living with HIV.
In essence, recalled Cardell, activists were declaring, "Nothing is determined about us without us. … In 1983, we refused to let other people set the agenda. These are the shoes we walk in today."
The Denver Principles opened with these words: "We condemn attempts to label us as 'victims,' a term which implies defeat, and we are only occasionally 'patients,' a term which implies passivity, helplessness and dependence upon the care of others. We are 'People with AIDS.'"
This spring, nearly 300 activists from 34 different states and four countries (Canada, Germany, Mexico and the United States) gathered on the campus of Huntsville, Alabama, to continue that work. Many have been involved in advocacy for years, if not decades, and are determined that the fight for HIV decriminalization be led by those who are living with HIV. They are committed to fostering the meaningful involvement of people living with HIV and AIDS (commonly known as MIPA) in the discussions about policies that affect them.
Khafre K. Abif was diagnosed with HIV 27 years ago. Now, Abif is a community organizer with the Southern AIDS Coalition. "This is my first time working — and by working, I mean getting a salary — in HIV," he said. Though this is his first paid job in the field, Abif has been advocating around HIV for nearly three decades, always as a volunteer determined to make sure that the voices of those with HIV were not left out of the discussions. "I always brought my table to the table," he said. "I wasn't waiting to be invited to the table."
He doesn't feel that his outspokenness is exceptional. "There's a willingness [for people to speak up]," he pointed out. "But people need the support to do it. Once they know that someone will be standing beside and behind them when they speak out, they'll do it."
Such support has even reached behind bars to empower those traditionally silenced by prison walls. Kerry Thomas is on the board of the Sero Project. When he speaks at conferences across the country about the effects of HIV criminalization, he does so from the Idaho State Correctional Center, where he is serving a 30-year sentence under a state law criminalizing non-disclosure. Inside prison, he's been active in combatting fear and ignorance about HIV and has been working to develop a network of imprisoned people living with HIV and other illnesses. He also reaches outside to educate people about the very real effects of criminalization laws. At 7:15 on Tuesday night, he called into the opening plenary to share his thoughts and experiences.
"A few months ago, I was sent a photo of the first HIV is Not a Crime conference," he told the audience, his voice crackling through the cell phone set beside a microphone. He carries that photo with him at all times to remind himself that he is part of a larger movement. It's a reminder that gets him through some of the isolation of being in prison. "There are times I may feel lonely, and that's when the support from you guys means a lot." At the same time, he acknowledges that the support and opportunities he has are exceptional. "I'm one of the lucky ones that has this community and has the opportunity to speak at these conferences," he said. "But across the country, there are people who don't."
Naina Khanna, the executive director of the Positive Women's Network USA, points to Thomas as an example of meaningful involvement by those most impacted by criminalization. "If you can figure out a way to have an incarcerated person regularly participate in these board meetings, then we should be able to eliminate barriers to meaningful participation," she stated. But, she said, doing so involves creating spaces that are trauma-informed and healing as well as understanding — and that address the multiple barriers to participation. For some, physically attending a conference presents numerous challenges, including paying for travel and being targeted at airports for invasive and demeaning search procedures.
For some, having HIV is one of many identities to navigate. Ashton P. Woods refuses to compartmentalize his multiple identities as a black person, a person living with HIV, a gay man and a formerly homeless youth. "To people who say, 'Pick an issue,' I say, 'That's bullshit,'" he declared. Standing at the podium during a morning plenary, he reminded the audience of the need for solidarity and support for those even more in the crosshairs of intersecting oppressions. "We have to step up as people living with HIV because our trans sisters are at risk."
Tommy Luckett is a black trans woman. She is also living with HIV in Arkansas, where it is a felony for people who know that they have HIV to engage in any form of sexual intercourse without disclosing their status. Spitting, biting and receiving medical and dental care are also criminalized for people who do not disclose their status.
The fear of prosecution looms over Tommy's daily life, compounded by the fact that she is both black and trans. "All of these [identities] paint me as a target in my own home state," she told TheBody.com. The threat of violence is ever present whenever she leaves her house. Across the country, trans women aredisproportionately targeted in hate-motivated attacks and murders. In 2015, it was reported that at least22 trans and gender non-conforming people were murdered in the U.S. This number reflects only the murders that were reported and investigated and whose victims were recognized as trans or gender non-conforming.
But despite the constant risks, Luckett is also an outspoken advocate for HIV and trans issues. She knows the importance of bringing the experiences of trans women of color living with HIV to the table so that their issues are not left out of the conversation. She often finds herself to be the only trans person around, which means having to be both cautious about her behavior and wary of her surroundings. That vigilance can be exhausting and discouraging. (There were at least eight people who identified as trans among the 300 attendees at the HIV is Not a Crime conference.)
"You want to know how to help trans women? Put them in your organization." Luckett points to Positive Women's Network USA and the Well Project as models. "They brought me to the table and listen to what I have to say," she said. She also noted that, as one person, she cannot be everywhere at once — nor should she be expected to be. "When I can't get to places, that's where I need my allies to be and to carry my message," she said.
Andy Spieldenner is an assistant professor at Hofstra University (where he was recently awarded the 2016 Distinguished Teacher of the Year award) and an officer of the U.S. People Living With AIDS Caucus. "Part of MIPA is making sure you're not the only person in the room," he noted. To expand meaningful participation — and to avoid burnout — he encouraged attendees to bring their peers along and help develop their leadership. "Ask if you can bring someone. Or just bring someone," he recommended. Tell that person about the history of the organization, what happened at the last meeting or gathering, and anything else you know.
People living with HIV, particularly those most marginalized, are not waiting to be invited to the table. Some, like Abif, are bringing their own table to the table. Others are creating their own table, conducting research on the issues that impact them most. In 2015, sex workers and trans people published Nothing About Us Without Us: Sex Work, HIV Policy Organizing, Transgender Empowerment. The report is the first of a series and explores the ways in which HIV policies impact trans people who are sex workers or are profiled as sex workers.
That same year, the Transgender Law Center launched Positively Trans, a project to develop self-empowerment and advocacy by and for trans people living with HIV. The project conducted its own research about the experiences and challenges facing trans women living with HIV. Researchers were the trans people directly impacted; they reached out to hundreds of people, gathering partial responses from more than 400 trans people and complete responses from 157. In March 2016, Positively Trans published its first report, finding economic and systemic disparities for trans people, including the fact that the majority of trans women who are U.S. citizens earned less than $23,000 a year, more than 40% had been incarcerated in their lives and 69% had experienced HIV-related discrimination. The Center is also offeringdigital storytelling sessions, allowing people with HIV to tell their own stories instead of having them mediated by a third party.
"We need to prioritize the most impacted people," declared Maxx Boykin, an organizer at AIDS Chicago and an organizing co-chair of the Chicago chapter of Black Youth Project 100, a national organization of young black activists. "Don't tell them what they need. Listen — so they can tell you."
Victoria Law is a freelance writer and editor. Her work focuses on the intersections of incarceration, gender and resistance. She is the author of Resistance Behind Bars: The Struggles of Incarcerated Women.