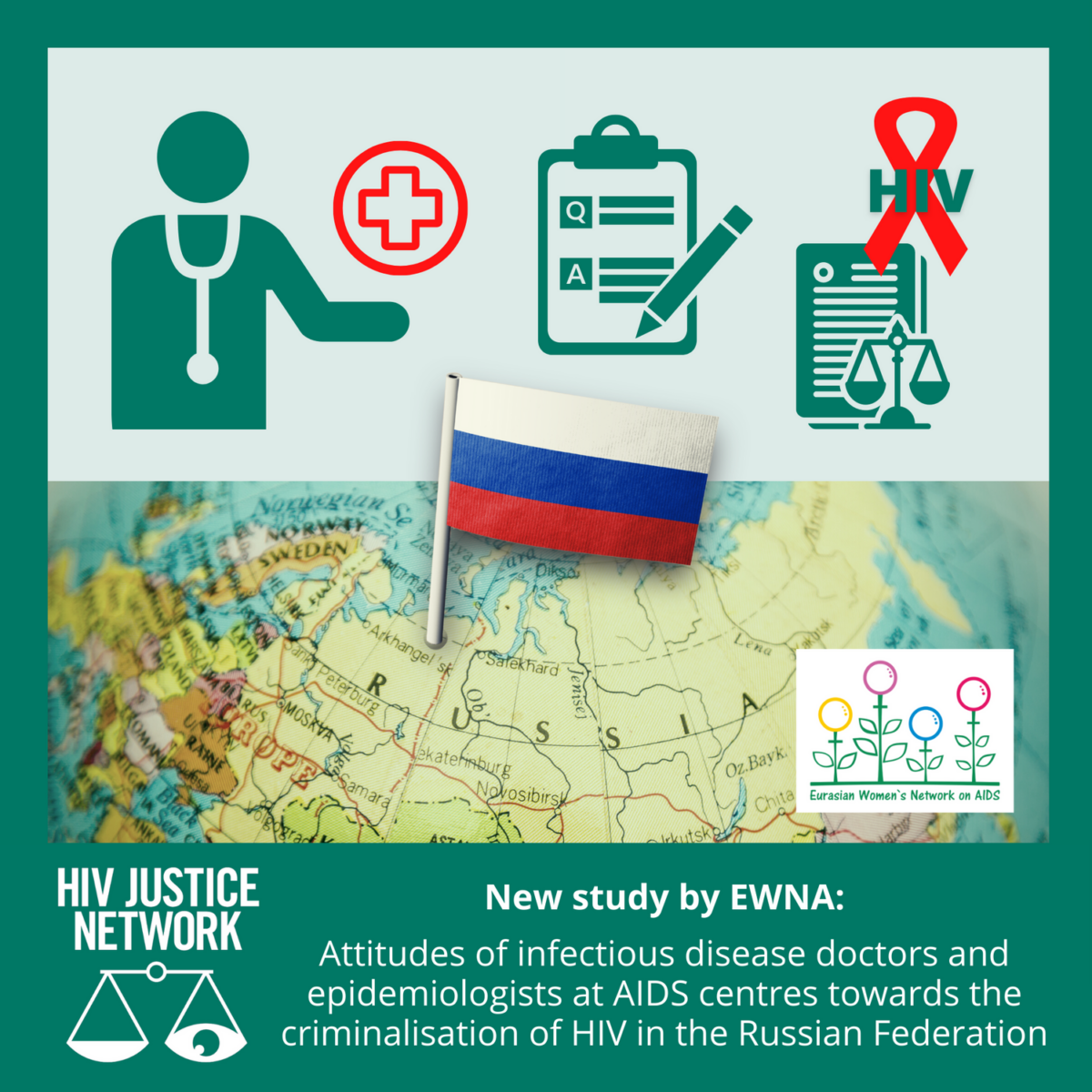 A sobering new study from Russia undertaken by the Eurasian Women's Network on AIDS (EWNA) has found that the majority of HIV clinicians surveyed support HIV criminalisation, with some even believing the current law should be stricter. Those who said they support decriminalisation tended to work at private clinics and were more likely not to question the HIV prevention benefit of antiretroviral therapy.
The study, Attitudes of infectious disease doctors and epidemiologists at AIDS centres towards the criminalization of HIV in the Russian Federation was published in Russian this week by EWNA with financial support from the Robert Carr Fund.
Last year, EWNA undertook an online survey to examine the attitudes of infectious disease specialists and epidemiologists working at state-run AIDS prevention and control centres, as well as other HIV clinicians, towards HIV criminalisation in Russia. They received 186 responses, of which 22 were excluded due the respondents not being HIV clinicians, and 164 responses were analysed.
Of all respondents, 50 (30.5%) worked in AIDS centres, 46 (28%) in hospitals, 34 (27%) in polyclinics, 33 (20.1%) in private clinics and 1 (0.6%) in a clinical diagnostic department. The doctors had been qualified for an average of 13.5 years, with an average 5 years' experience in the HIV field, and saw, on average, 16 HIV patients a day. The majority worked in cities with a population of more than a million people.
A total of 115 (70.1%) respondents were aware of the content of Russia's HIV-specific criminal law – 'Article 122: Infection with HIV'. Infectious disease doctors and epidemiologists were more familiar with the law than doctors in other specialties, and the same was true of AIDS centre staff compared with staff at other medical institutions.
Those who were unaware of the law were provided with a brief overview of its contents before continuing the survey. You can read the full text of the law, and our analysis of its impact, at HJN's Global HIV Criminalisation Database.
Of all the doctors surveyed, 23 (14%) reported that their patients had been prosecuted under the law, and eleven (6.7%) respondents had given evidence in court.
Most HIV clinicians surveyed supported HIV criminalisation with only a minority agreeing that the law should be completely repealed (23%), reclassified as an administrative offence (15%) or remain as is but with reduced penalties (7%).
Those working in infectious diseases or epidemiology and/or employees of state-run AIDS centres were more likely than doctors of other professions or working in private clinics to argue for a stricter law. Conversely, employees of private fee-paying clinics were more likely to be in favour of reclassifying the law as an administrative offence or abolishing the law altogether.
Notably, respondents in favour of decriminalisation were more likely to say that they were open to having a relationship with a person living with HIV.
The clinicians were also asked about their understanding of the concept of 'Undetectable equals untransmittable' (U=U). Only 37% wholeheartedly agreed with the concept, with another 35% agreeing but with certain caveats. Respondents opposing HIV decriminalisation more often than others considered the U=U principle to be wrong, or considered it to be generally correct, but with caveats. Of note, a recently published study found that across Russia only 45% of people with HIV currently receive antiretroviral therapy.
Russia continues to be one of most aggressive enforcers of HIV criminalisation globally with a very high number of unjust arrests, investigations and prosecutions reported each year. The study results suggest that much more work needs to be done to educate HIV clinicians about the harms of HIV criminalisation to both public health and human rights, as well as the unequivocable benefits of HIV treatment on both health and prevention.
The original Russian-language report and the machine translated English version can be found in the Resource Library of the HIV Justice Academy.