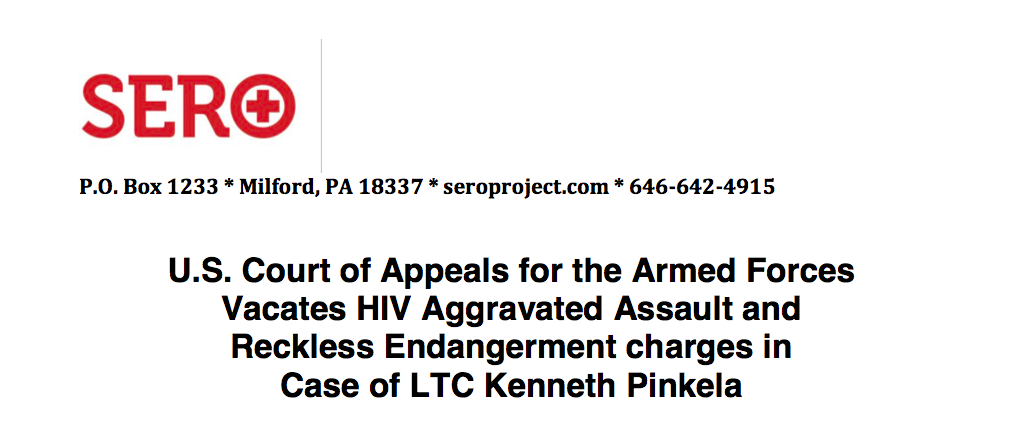 Press Release from The Sero Project
Ken Pinkela serves as a member of Sero's Advisory Board.
New York, NY April 24, 2015:
The United States Court of Appeals for the Armed Forces (CAAF) has vacated HIV-related Aggravated Assault and Reckless Endangerment charges in a U.S. Army case involving LTC Kenneth Pinkela.
In the official CAAF announcement released on April 22, 2015, the high court said:
That said petition is hereby granted on the following
issue:
WHETHER THE EVIDENCE WAS LEGALLY SUFFICIENT TO FIND BEYOND
A REASONABLE DOUBT THAT APPELLANT COMMITTED AGGRAVATED
ASSAULT AND RECKLESS ENDANGERMENT IN VIOLATION OF ARTICLES
128 AND 134, UCMJ, BY ENGAGING IN UNPROTECTED SEX WHILE
HIV-POSITIVE.
That the decision of the Army Court of Criminal Appeals is
vacated and the record of trial is returned to the Judge
Advocate General of the Army for remand to that court for
reconsideration in light of United States v. Gutierrez, 74
M.J. 61 (C.A.A.F. 2015)
In February of this year, the CAAF ruled that Air Force Technical Sergeant David Gutierrez, who was accused of not disclosing his HIV positive status to sexual partners, was not guilty of Aggravated Assault and reduced charges against him to Assault and Battery. At the time of the alleged sexual contacts, Gutierrez was on antiretroviral medication, had an undetectable viral load and was not accused of transmitting HIV.
The Sero Project, a national network of people living with HIV, applauds the CAAF for its rulings in both the Gutierrez case as well as the more recent ruling in the Pinkela case, but noted the military still is out of step with contemporary science and other arms of the U.S. government.
"While the Centers for Disease Control, the U.S. Congress, the National Institutes of Health and other government agencies categorize HIV as a chronic manageable illness, military lawyers and military court decisions still explicitly label HIV as a 'death sentence.' They can't have it both ways. While we applaud CAAF's recent decisions, it is time for the entire Department of Defense to address HIV for the reality it is today, based on science not stigma," said Sean Strub, Sero's executive director.
The Sero Project called on the U.S. Army to re-evaluate its prosecution against Pinkela, who also serves as the volunteer director of Sero's Military Policy Project. "There's no rational basis for continuing to prosecute Ken," said Strub.
Pinkela's military legal counsel has accused the Army of inadequately investigating the charges against Pinkela and of refusing to allow critical evidence to be presented at trial. Pinkela has volunteered to undergo phylogenetic testing, which could prove the complaining witness acquired HIV from another party, but the prosecutors declined to order such a test.
In the National Defense Authorization Act (NDAA) of 2014, Congress included specific direction to the Secretary of Defense to review and report back to Congress on all HIV- related personnel and disciplinary policies and procedures, to make sure they are consistent with contemporary science. That report has not yet been released.
H.R. 1586: Repeal Existing Policies that Encourage and Allow Legal HIV Discrimination Act of 2015, introduced by Rep. Barbara Lee (D–Cal.) and Rep. Ileana Ros-Lehtinen (R–Fla.), seeks to help end the criminalization of HIV by providing guidance to the states and military to modernize their statutes to make them reflect contemporary science and not unduly stigmatize people with HIV.
The Sero Project is a network of people with HIV and allies fighting for freedom from stigma and injustice. Founded in 2012, Sero raises awareness, conducts research and mobilizes grassroots communities, policy leaders and advocates to address HIV criminalization.
U.S. Court of Appeals for the Armed Forces Vacates HIV Aggravated Assault and Reckless Endangerment charges…