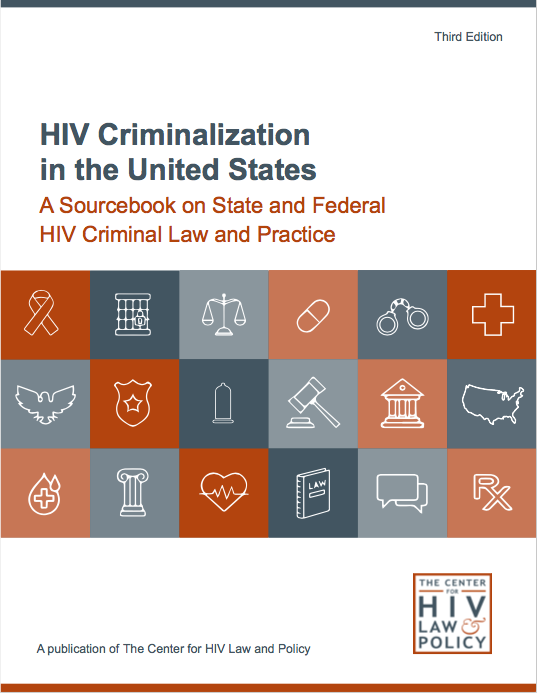 Today, the Center for HIV Law and Policy (CHLP) has released a third, updated version of their 'Ending and Defending Against HIV Criminalization: State and Federal Laws and Prosecutions' series, first published in 2010.
The renamed HIV Criminalization in the United States: A Sourcebook on State and Federal HIV Criminal Law and Practice updates and expands upon the previous versions with the inclusion of new reporting and analysis of laws and regulations allowing for quarantine, isolation and civil commitment of people living with sexually transmitted infections (STIs), including HIV, in each jurisdiction.
This resource for lawyers and community advocates outlines punitive laws, policies, and cases affecting people living with HIV (PLHIV) and other communicable diseases in all fifty states, the military, federal prisons, and U.S. territories. It may be used as an aid for attorneys of people living with HIV prosecuted for "HIV exposure" or non-disclosure of HIV status, as well as for advocates who want to reform HIV-related criminal laws in their state.
The 'HIV Criminalization Sourcebook' catalogues and analyses state and federal HIV criminal laws in the United States, providing examples of recent prosecutions and explanations of the major cases applying these laws, along with text and analysis of state laws on other sexually transmitted diseases that involve criminal penalties or other restrictions for exposing another person to possible infection.
Specifically, it covers laws that:
1. criminalize non-disclosure of HIV status or exposure of a third party to HIV;
2. make exceptions to confidentiality and privacy rights of people living with HIV;
3. provide for sentence enhancements for people living with HIV convicted of underlying crimes such as 'prostitution' and 'solicitation'; and
4. require sex offender registration for people living with HIV convicted of these 'crimes'.
The Sourcebook is part of CHLP's campaign to support state advocates through tools that expand legal literacy on HIV criminalization. In addition to the Sourcebook, CHLP's website includes a separate page for each state summarizing relevant HIV and STI criminal law sections, so that users can download everything they need just for their state in addition to accessing the entire Sourcebook.
The Center for HIV Law and Policy will be co-hosting a webinar on October 11, 2017 to review ways to use the Sourcebook in HIV criminal reform efforts. The webinar also will explore some of the different strategic pathways to reform, along with benefits and drawbacks to those different options. The discussion will cover some of the key factors and questions to consider in deciding on what reform strategy makes the most sense in a given jurisdiction.
Read the full press release here
Download the HIV Criminalization Sourcebook here