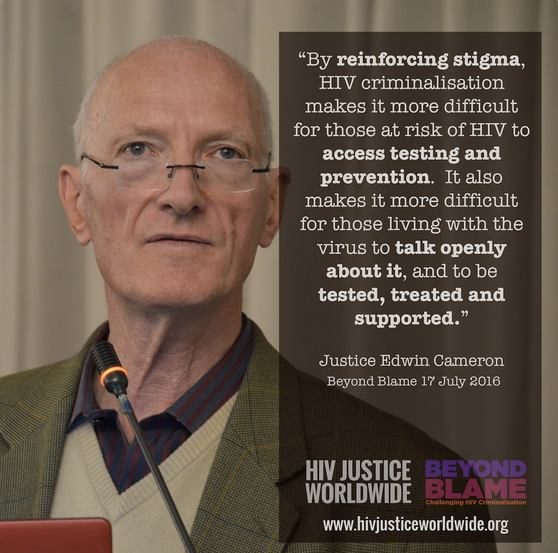 On 17 July 2016, approximately 150 advocates, activists, researchers, and community leaders met in Durban, South Africa, for Beyond Blame: Challenging HIV Criminalisation – a full-day pre-conference meeting preceding the 21st International AIDS Conference (AIDS 2016) to discuss progress on the global effort to combat the unjust use of the criminal law against people living with HIV. Attendees at the convening hailed from at least 36 countries on six continents (Africa, Asia, Europe, North America, Oceania, and South America).
Beyond Blame was convened by HIV Justice Worldwide, an initiative made up of global, regional, and national civil society organisations – most of them led by people living with HIV – who are working together to build a worldwide movement to end HIV criminalisation.
The meeting was opened by the Honourable Dr Patrick Herminie, Speaker of Parliament of the Seychelles, and closed by Justice Edwin Cameron, both of whom gave powerful, inspiring speeches. In between the two addresses, moderated panels and more intimate, focused breakout sessions catalysed passionate and illuminating conversations amongst dedicated, knowledgeable advocates.
WATCH THE VIDEO OF THE MEETING BELOW
A tremendous energising force at the meeting was the presence, voices, and stories of individuals who have experienced HIV criminalisation first-hand. "[They are the] folks who are at the frontlines and are really the heart of this movement," said Naina Khanna, Executive Director of PWN-USA, from her position as moderator of the panel of HIV criminalisation survivors; "and who I think our work should be most accountable to, and who we should be led by."
Three survivors – Kerry Thomas and Lieutenant Colonel Ken Pinkela, from the United States; and Rosemary Namubiru, of Uganda – recounted their harrowing experiences during the morning session.
Thomas joined the gathering via phone, giving his remarks from behind the walls of the Idaho prison where he is serving two consecutive 15-year sentences for having consensual sex, with condoms and an undetectable viral load, with a female partner.
Namubiru, a nurse for more than 30 years, was arrested, jailed, called a monster and a killer in an egregious media circus in her country, following unfounded allegations that she exposed a young patient to HIV as the result of a needlestick injury.
Lt. Col. Pinkela's decades of service in the United States Army have effectively been erased after his prosecution in a case in which there was "no means likely whatsoever to expose a person to any disease, [and definitely not] HIV."
At the end of the brief question-and-answer period following the often-times emotional panel, Lilian Mworeko of ICW East Africa, in Uganda, took to the microphone with distress in her voice that echoed what most people in the room were likely feeling.
"We are being so polite. I wish we could carry what we are saying here [into] the plenary session of the main conference."
With that, a call was put to the floor that would reverberate throughout the day, and carry through the week of advocacy and action in Durban.
---
This excerpt is from the opening of our newly published report, Challenging HIV Criminalisation at the 21st International AIDS Conference, Durban, South Africa, July 2016, written by the meeting's lead rapporteur, Olivia G Ford, and published by the HIV Justice Worldwide partners.
The report presents an overview of key highlights and takeaways from the convening grouped by the following recurring themes:
Key Strategies
Advocacy Tools
Partnerships and Collaborations
Adopting an Intersectional Approach
Avoiding Pitfalls and Unintended Consequences
Supplemental Materials include transcripts of the opening and closing addresses; summaries of relevant sessions at the main conference, AIDS 2016; complete data from the post-meeting evaluation survey; and the full day's agenda.
Beyond Blame: Challenging HIV Criminalisation at AIDS 2016 by HIV Justice Network on Scribd