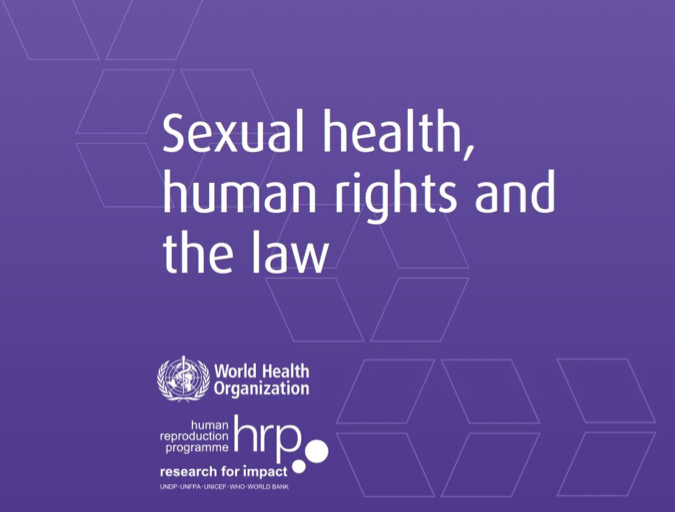 A new report from the World Health Organization, Sexual Health, Human Rights and the Law, adds futher weight to the body of evidence supporting arguments that overly broad HIV criminalisation does more harm than good to the HIV response.
Drawing from a review of public health evidence and extensive research into human rights law at international, regional and national levels, the report shows how each country's laws and policies can either support or deter good sexual health, and that those that support the best public health outcomes "are [also] consistent with human rights standards and their own human rights obligations."
The report covers eight broad areas relating to sexual health, human rights and the law, including: non-discrimination; criminalisation; state regulation of marriage and family; gender identity/expression; sexual and intimate partner violence; quality of sexual health services; sexuality and sexual health information; and sex work.
The authors of the report note that it provides "a unique and innovative piece of research and analysis. Other UN organizations are examining the links between health, human rights and the law: the United Nations Development Programme's (UNDP's) Global Commission on HIV and the Law published its report in 2012, and the Office of the High Commissioner for Human Rights (OHCHR) and United Nations Special Rapporteurs regularly report to the Human Rights Council on the impact of laws and policies on various aspects of sexual health. Nevertheless, this is the first report that combines these aspects, specifically with a public health emphasis."
The points and recommendations made relating to overly broad HIV criminalisation (italicised for ease of reference) are included in full below.
Executive Summary: The use of criminal law (page 3)
All legal systems use criminal law to deter, prosecute and punish harmful behaviour, and to protect individuals from harm. However, criminal law is also applied in many countries to prohibit access to and provision of certain sexual and reproductive health information and services, to punish HIV transmission and a wide range of consensual sexual conduct occurring between competent persons, including sexual relations outside marriage, same-sex sexual behaviour and consensual sex work. The criminalization of these behaviours and actions has many negative consequences for health, including sexual health. Persons whose consensual sexual behaviour is deemed a criminal offence may try to hide it from health workers and others, for fear of being stigmatized, arrested and prosecuted. This may deter people from using health services, resulting in serious health problems such as untreated STIs and unsafe abortions, for fear of negative reactions to their behaviour or health status. In many circumstances, those who do access health services report discrimination and ill treatment by health-care providers.
International human rights bodies have increasingly called for decriminalization of access to and provision of certain sexual and reproductive health information and services, and for removal of punishments for HIV transmission and a wide range of consensual sexual conduct occurring between competent persons. National courts in different parts of the world have played an important role in striking down discriminatory criminal laws, including recognizing the potentially negative health effects.
3.4.5 HIV status (pages 22-23)
Although being HIV-positive is not itself indicative of sexual transmission of the infection, individuals are often discriminated against for their HIV-positive status based on a presumption of sexual activity that is often considered socially unacceptable.
In addition, in response to the fact that most HIV infections are due to sexual transmission, a number of countries criminalized transmission of, or exposure to, HIV, fuelling stigma, discrimination and fear, and discouraging people from getting tested for HIV, thus undermining public health interventions to address the epidemic.
Even where persons living with HIV/AIDS may be able, in principle, to access health services and information in the same way as others, fear of discrimination, stigma and violence may prevent them from doing so. Discrimination against people living with HIV is widespread, and is associated with higher levels of stress, depression, suicidal ideation, low self-esteem and poorer quality of life, as well as a lower likelihood of seeking HIV services and a higher likelihood of reporting poor access to care.
HIV transmission has been criminalized in various ways. In some countries criminal laws have been applied through a specific provision in the criminal code and/or a provision that allows for a charge of rape to be escalated to "aggravated rape" if the victim is thought to have been infected with HIV as a result. In some cases, HIV transmission is included under generic crimes related to public health, which punish the propagation of disease or epidemics, and/or the infliction of "personal injury" or "grievous bodily harm".
Contrary to the HIV-prevention rationale that such laws will act as a deterrent and provide retribution, there is no evidence to show that broad application of the criminal law to HIV transmission achieves either criminal justice or public health goals. On the contrary, such laws fuel stigma, discrimination and fear, discouraging people from being tested to find out their HIV status, and undermining public health interventions to address the epidemic. Thus, such laws may actually increase rather decrease HIV transmission.
Women are particularly affected by these laws since they often learn that they are HIV-positive before their male partners do, since they are more likely to access health services. Furthermore, for many women it is either difficult or impossible to negotiate safer sex or to disclose their status to a partner for fear of violence, abandonment or other negative consequences, and they may therefore face prosecution as a result of their failure to disclose their status. Criminal laws have also been used against women who transmit HIV to their infants if they have not taken the necessary steps to prevent transmission. Such use of criminal law has been strongly condemned by human rights bodies.
Various human rights and political bodies have expressed concern about the harmful effects of broadly criminalizing the transmission of HIV. International policy guidance recommends against specific criminalization of HIV transmission. Human rights bodies as well as United Nations' specialized agencies, such as UNAIDS, have stated that the criminalization of HIV transmission in the instance of intentional, malicious transmission is the only circumstance in which the use of criminal law may be appropriate in relation to HIV. States are urged to limit criminalization to those rare cases of intentional transmission, where a person knows his or her HIV-positive status, acts with the intent to transmit HIV, and does in fact transmit it.
Human rights bodies have called on states to ensure that a person's actual or perceived health status, including HIV status, is not a barrier to realizing human rights. When HIV status is used as the basis for differential treatment with regard to access to health care, education, employment, travel, social security, housing and asylum, this amounts to restricting human rights and it constitutes discrimination. International human rights standards affirm that the right to non-discrimination includes protection of children living with HIV and people with presumed same-sex conduct. Human rights standards also disallow the restriction of movement or incarceration of people with transmissible diseases (e.g. HIV/AIDS) on grounds of national security or the preservation of public order, unless such serious measures can be justified.
To protect the human rights of people living with HIV, states have been called on to implement laws that help to ensure that persons living with HIV/AIDS can access health services, including antiretroviral therapy. This might mean, as in the case of the Philippines, for example, explicitly prohibiting hospitals and health institutions from denying a person with HIV/AIDS access to health services or charging them more for those services than a person without HIV/AIDS (167).
International guidance also suggests that such laws should be consistent with states' international human rights obligations and that instead of applying criminal law to HIV transmission, governments should expand programmes that have been proven to reduce HIV transmission while protecting the human rights both of people living with HIV and those who are HIV-negative.
3.6 Legal and policy implications (pages 29-30)
5. Does the state consider that establishing and applying specific criminal provisions on HIV transmission can be counter-productive for health and the respect, protection and fulfilment of human rights, and that general criminal law should be used strictly for intentional transmission of HIV?
The full report can be downloaded from the WHO's Sexual and Reproductive Health website.