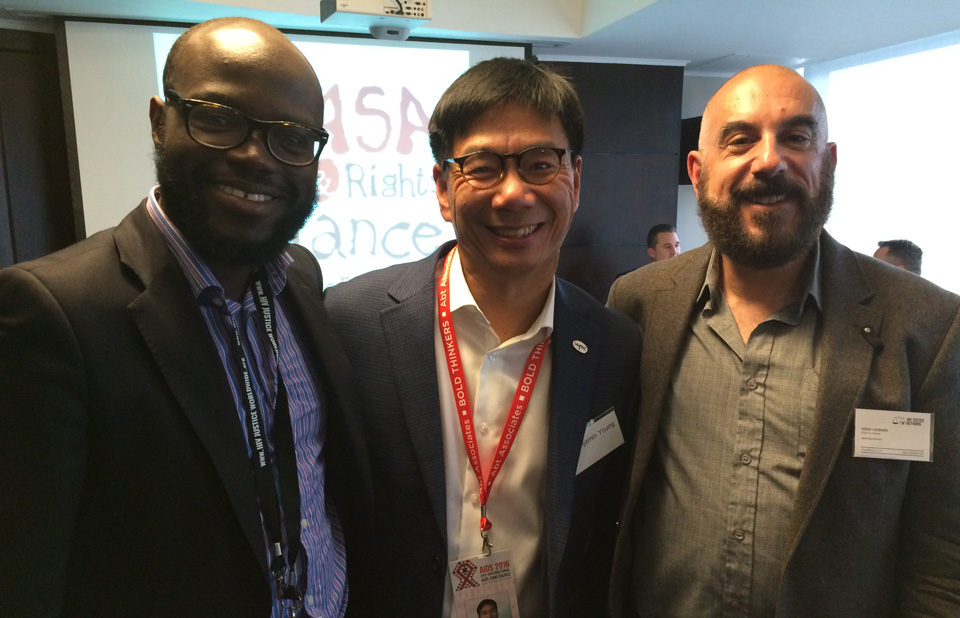 On 17 July, some 200 people living with HIV, human rights activists and representatives of key populations gathered for a one-day meeting on challenging HIV criminalization under the title "Beyond blame: challenging HIV criminalization." The event, a preconference meeting before the 21st International AIDS Conference, being held in Durban, South Africa, was organized by HIV Justice Worldwide, an international partnership of organizations, including the AIDS and Rights Alliance for Southern Africa, the Canadian HIV/AIDS Legal Network, the Global Network of People Living with HIV, the HIV Justice Network, the International Community of Women Living with HIV, the Positive Women's Network USA and the Sero Project.
The event was an opportunity for people working to end unjust HIV criminalization in all regions of the world to share recent developments, successful approaches and challenges. It also mobilized participants on the urgency to address unjust HIV criminalization as a violation of human rights and serious barrier to efforts to scale up HIV prevention, treatment and care services.
The meeting heard individuals who have face HIV criminalization recount the far-reaching personal, social and legal impacts of unjust prosecution on their lives and that of their families. Lawyers and civil society activists who have led successful efforts against HIV criminalization, including in Australia, Canada, Kenya, Sweden and the United States of America, shared their experiences and approaches. HIV scientists and clinicians were called upon to become more involved in efforts to ensure that the application of the criminal law is consistent with best available evidence relating to risk, harm and proof in the context of HIV. Similarly, members of parliament and the judiciary were highlighted as key stakeholders whose understanding and engagement is central to efforts to end unjust HIV criminalization.
QUOTES
"HIV-RELATED PROSECUTIONS ARE BECOMING INCREASINGLY COMMONPLACE. THE EVIDENCE THAT CRIMINALIZATION AS A PUBLIC HEALTH STRATEGY DOES NOT WORK IS TOO PLAIN TO CONTEST. IT IS OUR RESPONSIBILITY TO END IT."
"HIV CRIMINALIZATION IS PROFOUNDLY BAD POLICY. IT IS BASED ON FEAR AND OUTDATED UNDERSTANDING OF HIV RISK AND HARM. CRIMINALIZATION MAGNIFIES STIGMA AND DISCRIMINATION TOWARDS PEOPLE LIVING WITH HIV. PEOPLE LIVING WITH HIV HAVE BEEN AT THE FOREFRONT OF EFFORTS TO END UNJUST CRIMINALIZATION AND SHOULD BE COMMENDED FOR THEIR COURAGE AND COMMITMENT TO JUSTICE." 
"MY LIFE WILL NOT BE THE SAME AFTER FACING HIV CRIMINALIZATION. MY 30 YEARS WORKING AS A NURSE AND DEDICATED TO SAVING LIVES HAVE BEEN ERASED. I HAVE SPENT ALMOST A YEAR IN PRISON. I HAVE BEEN BRANDED A CRIMINAL AND A KILLER EVEN THOUGH I HAVE HARMED NO ONE."
Originally published by UNAIDS