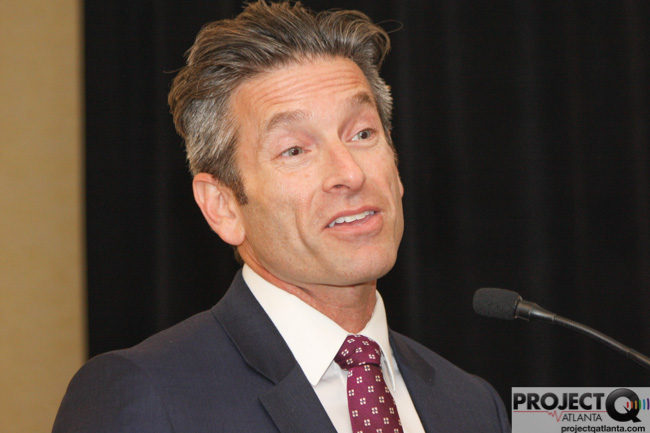 A panel of health experts blasted HIV criminalization laws in nearly three-dozen states as a failure, criticizing the statues for adding stigma to HIV, keeping people from getting tested, and oppressing already marginalized populations such as LGBT people.
And the laws – in place in Georgia and states across the South – or prosecuting people for HIV exposure using other criminal statues – which happens in Texas and four other states – also ignore that partners in consensual sex acts share responsibility for their sexual health, according to Scott Schoettes, a senior attorney and HIV Project Director at Lambda Legal.
"The story is about the AIDS monster out there trying to infect everyone and that is not the case," Schoettes said (top photo). "Sexual health is a shared responsibility. It creates a sense of false security for the person who is negative – 'There is this law in place and I can sit back and wait for someone to tell me.'"
He said the laws keep people with HIV from getting tested and few, if any, of the laws require prosecutors to show that an HIV-positive person had any intent to infect a sex partner. Nevermind, he adds, that it's difficult to prove that someone did disclose their HIV status before sex and once convicted, some state laws call for them to be labeled as sex offenders.
"It becomes a he said, he said and the person with HIV, when you get into that courtroom, is naturally at a disadvantage. A lot of people think that when you have HIV, you have done something wrong. We are still fighting that misperception," Schoettes said. "When you have a jury that is deciding the fate of someone, they are disconnected from the culture of the folks that they may be actually adjudicating."
And that can mean steep sentences for people convicted under HIV criminalization laws. In July, Michael Johnson – a black, gay, HIV-positive college wrestler in Missouri – was sentenced to 30 years in prison for infecting a sex partner and putting four others at risk, though prosecutors didn't show in court that Johnson was the man who infected him. In South Carolina, former gay Atlanta man Tyler Orr faces two counts of exposing another person to HIV and up to 20 years in prison – though he says he did disclose his HIV status to his sex partner.
Schoettes' comments came during a panel discussion during the 2015 National HIV Prevention Conference in downtown Atlanta earlier this month. He was joined by Randy Mayer, chief of the HIV, STD and Hepatitis Bureau of the Iowa Department of Public Health; Tami Haught, an activist who led efforts in Iowa to reform its HIV criminalization law; David Knight, a trial attorney with the Civil Rights Division of the U.S. Department of Justice; and Terrance Moore, deputy executive director with the National Alliance of State & Territorial AIDS Directors.
'It's not a slam dunk'
Knight said the HIV criminalization laws don't reflect the current state of science and risk surrounding HIV and pointed to a document released earlier this year by the Justice Department calling on states to reform their HIV criminalization laws.
"Two things that we really want to think about is that intentional transmission is atypical and uncommon, and HIV stigma hampers prevention," Knight said.
The Justice Department document calls on states to tighten their HIV criminalization laws to scrap HIV-specific criminal penalties with two exceptions – when an HIV-positive person commits a sex crime where there is risk of transmission and when there is clear evidence that an HIV-positive person intended to infect another person and engaged in risky behaviors to do so.
But changing HIV criminalization laws in the three-dozen states that have them is a tough haul, Mayer (second photo) and Haught said. They built coalitions across groups and enlisted public health experts to help revise the law in Iowa, a measure passed in 1998 that carried harsh penalties and 25-year prison terms that were often doled out to those convicted.
"In my experience, almost everyone got the 25 years even though that was the maximum," Mayer said. "It's not a slam dunk. It's not an easy sell. Many people, even people living with HIV find themselves on both sides of this issue."
Iowa lawmakers revised the state's HIV criminalization law in 2014 to treat HIV like other communicable diseases such as hepatitis and tuberculosis. The law also requires that prosecutors prove intent to transmit, Mayer said.
"We had to bring in the different coalitions and bring in partners. Lawmakers don't care what is fair and what is right. But they will listen to the public health side of the law," Haught said. "Iowa's law was significantly modernized and everyone is better for it."
The panelists argued that rather than criminalizing HIV-positive people, and adding to the stigma they face, they should be pushed to treatment options. The Centers for Disease Control & Prevention has said getting HIV-positive people tested and connected to care and treatment is key to controlling the disease. Undiagnosed HIV infections fuel the HIV epidemic, Eugene McCray, director of CDC's Division of HIV/AIDS Prevention, said during the Atlanta conference.
"Getting people into care is a better way to reduce transmission than these laws," Mayer said.
Originally published in Project Q