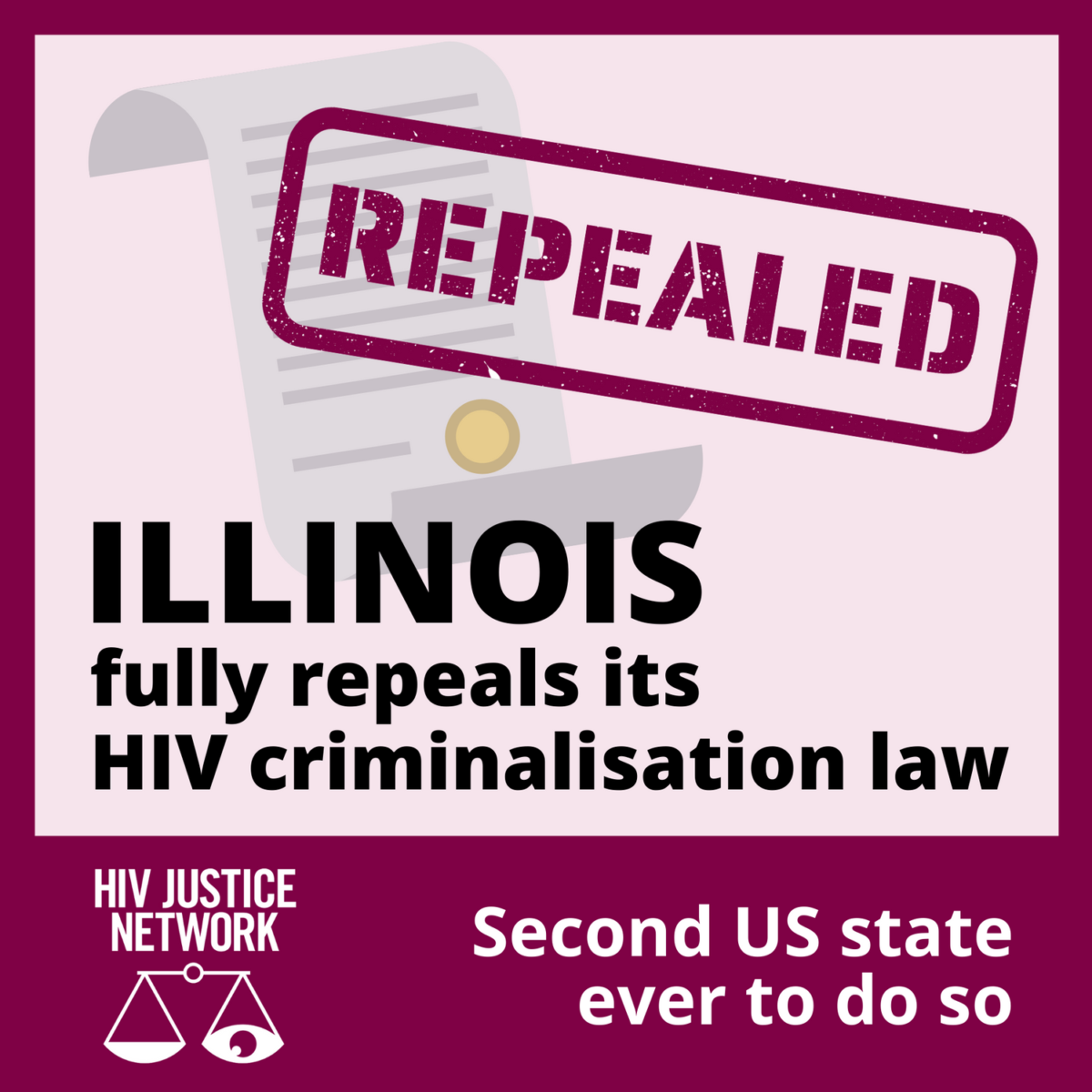 This week, the Governor of the US state of Illinois signed a bill that fully repeals its HIV criminalisation law, becoming only the second US state ever to do so.
Illinois' HIV-specific criminal law was first enacted in 1989, and then "modernized" in 2012. An in-depth investigational analysis examining the history of the law and how it has been applied, published in June by Injustice Watch and the Chicago Reader, found that the law had been used at least 80 times since 1989.
Even after the law was amended in 2012 to include "intent to transmit" as an element of the 'crime', it appears to have been (ab)used in 22 criminal cases over the past nine years.
That's why the Illinois HIV Action Alliance was formed in 2019 with the lofty goal of completely repealing the law. This coalition of more than 25 state and national organisations – including our HIV JUSTICE WORLDWIDE partners, Positive Women's Network-USA and the Sero Project – undertook a huge amount of awareness, education, and outreach.
Read this excellent article published by The Body in June to learn exactly what they did, and how.
Key to their surprisingly rapid success were two political champions, State Senator Robert Peters, and State Representative Carol Ammons.
"Illinois' HIV criminalisation law was rooted in fear and racial biases," Senator Peters noted in an Illinois HIV Action Alliance press release. "It was used to abuse people in our state, targeting people living with HIV and disproportionately affecting LGBTQ+ people, women, and Black and Brown communities."
"Not a single study throughout the country shows HIV criminalisation has reduced HIV transmission in any jurisdiction where it exists," added Representative Ammons. "It was far past time to get rid of this harmful law, and we thank Governor Pritzker for repealing it once and for all."
Illinois Governor J.B. Pritzker's Facebook page live-streamed the bill signing event, held at the LGBTQ Center on Halsted in Chicago's 'Boystown' on Wednesday. The repeal of the HIV criminalisation law was part of a package of legislation that also included measures to make it easier for couples to receive marriage certificates with gender-neutral language, and to get new certificates if one or both legally change their names subsequent to the initial document being issued.
At the signing, Governor Pritzker called HIV criminalisation laws archaic: "They don't decrease infection rates, but they do increase stigma," he said. "It's high time we treat HIV as we do other treatable transmissible diseases."
The law's repeal was effective immediately on signing, but the advocacy doesn't stop there.
First, the bill does not expunge the records of those who've already been prosecuted under the original or updated law.
And second, the first US state to repeal its HIV criminalisation law was Texas, in 1994. However, since then, there have been many unjust prosecutions under general laws, including that of a homeless man whose saliva was considered to be a 'deadly weapon' when he spit on a policeman who was arrested him for vagrancy, resulting in a 35 year prison sentence.
Consequently, advocacy is still required to ensure that police and prosecutors implement guidance to limit the overly broad and unjust use of other kinds of criminal laws when dealing with HIV-related cases.
Watch a special 4-minute 30-second edit, produced by HJN, of the bill signing ceremony that features Timothy Jackson of AIDS Foundation Chicago, who led the Illinois HIV Action Alliance, along with Senator Peters, Representative Ammons, and Governor Pritzker.