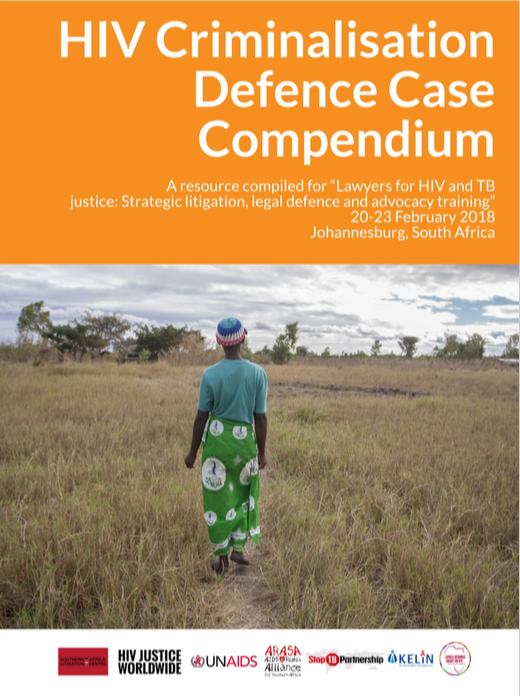 An important new resource for lawyers defending clients and working on strategic litigation was published by the Southern Africa Litigation Centre (SALC) this week. SALC is one of the newest members of HIV JUSTICE WORLDWIDE Steering Committee.
The HIV Criminalisation Defence Case Compendium was developed to accompany a four-day training for lawyers on HIV and TB criminalisation, due to take place in Johannesburg, South Africa, later this month.
The Compendium aims to provide lawyers with a tool to successfully defend people living with HIV who are being prosecuted for alleged HIV non-disclosure, exposure, or transmission. It catalogues and analyses criminal cases from across the world where "strong defence arguments have resulted in an acquittal or reduced penalty".
Cases range from prosecutions for spitting or biting to the landmark 2016 Malawi case of a woman successfully released on appeal after having been sentenced for breastfeeding.
To find pertinent cases quickly and effectively, the Compendium is split into three parts:
The first section outlines the key issues raised in the judgement, such as proof of intent, and classifies the cases accordingly in an easy to navigate table format.
The second section, organised by country, catalogues the categories of argument raised by the defence.
The third section summarises the facts of each case and the Court decisions, highlighting the key points.
The Lawyers for HIV and TB Justice: Strategic Litigation, Legal Defence and Advocacy Training will be streamed live on The Southern Africa Litigation Centre Facebook Page between 20-22 February.
The Compendium can be downloaded from the SALC website and is included as the newest resource in the HIV JUSTICE WORLDWIDE toolkit.