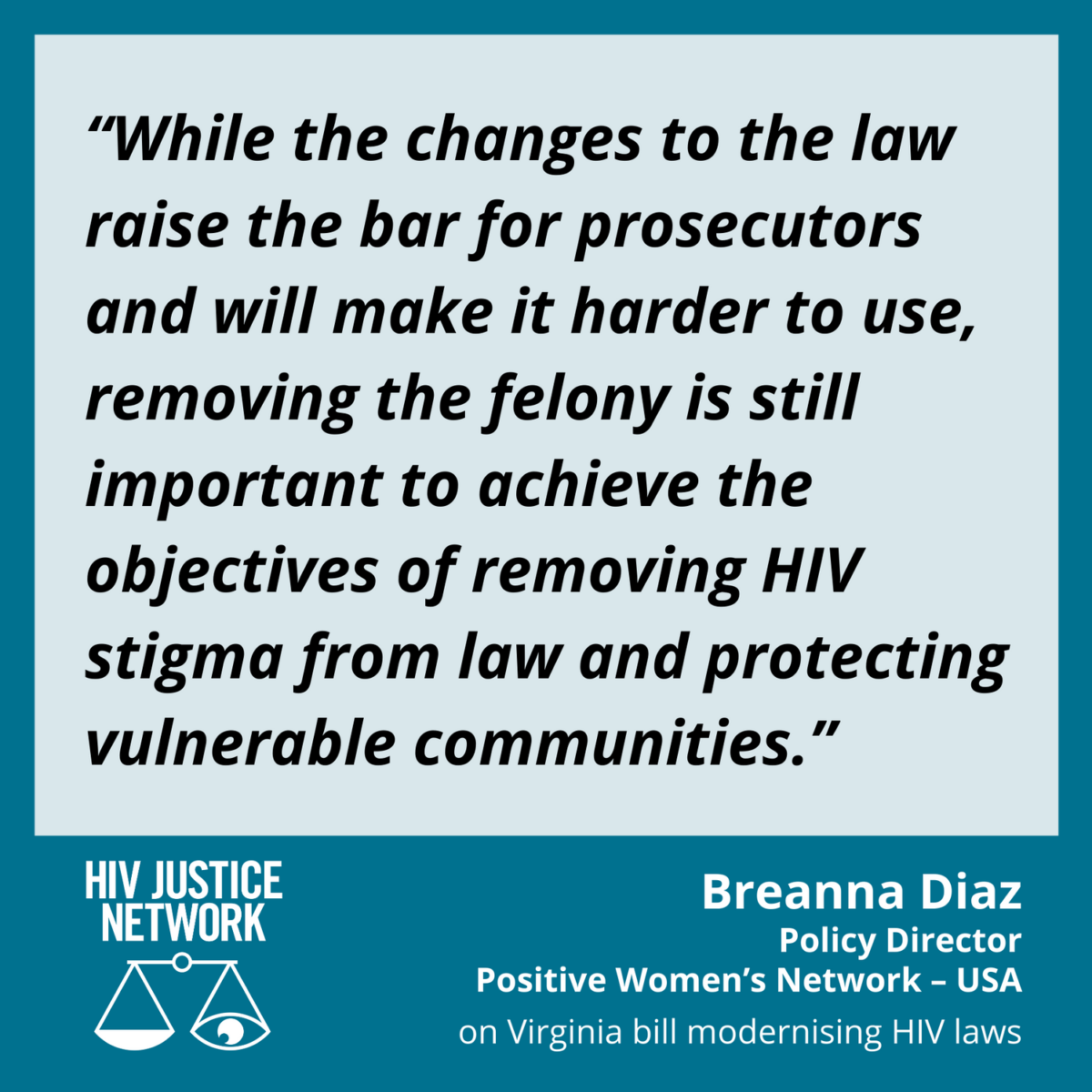 Even as Virginia's Governor, Ralph Northam, signed legislation late last month to modernise the US state's HIV criminalisation laws, advocates noted that the inclusion of a felony penalty means that more work needs to be done to ensure that HIV criminalisation is finally ended in the state.
As the first US state in the South to modernise its laws (after Illinois, Iowa, Colorado, California, North Carolina, Michigan and Washington), Virginia's Senate Bill 1138 removes a number of discriminatory laws that are often used against marginalised populations, like sex workers and people who use drugs, and helps bring HIV in line with other sexually transmitted infections for which there is preventative care and treatment.
According to NBC News, the legislation repeals the felony criminal ban on blood, tissue or organ donation by people with HIV and other sexually transmitted infections; makes HIV testing optional (rather than mandatory) for people convicted of certain 'crimes', including sex work and drug charges; and strikes down a statute making failure to disclose HIV-positive status before sex a crime.
HIV JUSTICE WORLDWIDE partners, Positive Women Network-USA (PWN) and the Sero Project (Sero), said the signing was a "culmination of over two years of organizing and advocacy led by ECHO VA–the coalition founded by Positive Women's Network – USA Virginia State Lead Deirdre Johnson and Dr. Cedric Pulliam–with the collaboration of PWN, Equality Virginia, and the Sero Project."
They said the signing into law is the latest achievement of the movement to end HIV criminalisation in the United States. "And it's great news for people living with HIV and who care about ending the HIV epidemic in Virginia," they added.
However, even as the advocates celebrated this milestone, the new law's "intentional transmission of HIV", or "infected sexual battery," remains a felony in Virginia, rather than a misdemeanor, as proponents had hoped. However, the new legislation now requires proof of actual infection, rather than just an allegation of potential or perceived exposure.
This is something PWN, Sero, and their partners hope to change in the near future. "Our next steps are to continue to work with our partners… to change the felony penalty to a misdemeanor. We are also working on making sure that the news of this historical change reaches communities impacted by these changes."
Currently, 32 US states still have laws that criminalise HIV non-disclosure and/or potential or perceived HIV exposure, but efforts are currently underway across the US, many of them supported by PWN and Sero, to modernise or repeal these outdated and unjust laws.