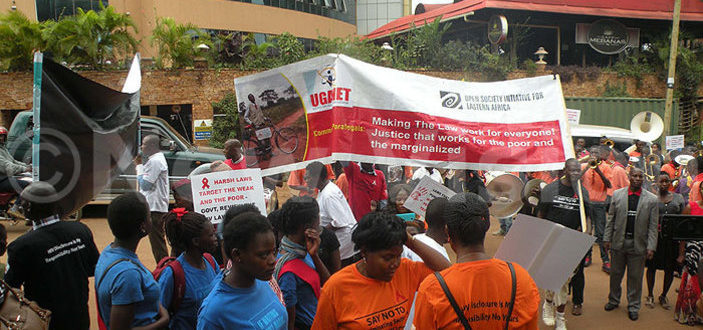 Uganda: Activists Go to Court As Call Raises for Equal Rights for People With HIV/Aids
By Mercy Nalugo
HIV/Aids activists delegations comprising policy makers, medical practitioners, researchers, sex workers and other key stakeholders converged in Durban, South Africa, last month for this year's International Aids Conference.
The conference was geared towards forging ways and sharing knowledge on new developments and what ought to be done to reduce new infections as well as sharing experiences and analysing statistics related to the HIV/Aids trend.
The five-day conference, which kicked off on July 18, was marked under the theme "Access Equity Rights Now".
Back in the country, in a bid to step up activism and rhyme with this year's theme, HIV/Aids activists called on the government to implement the right to equity.
Taking to court
More than 100 civil society groups led by the Uganda Network on Law, Ethics, and HIV (UGANET) reiterated calls to have some of the clauses in the controversial HIV/Aids Prevention and Control law repealed saying they are discriminatory and unconstitutional.
This time they did not petition President Museveni, or other implementing agencies having been frustrated several times before, but the Constitutional Court.
They are asking the court to quash some provisions in the HIV/Aids law they say are unconstitutional and promote discrimination and stigmatisation of those with the disease.
One of the contested clauses allows medical practitioners to disclose a client's HIV status to others.
The law would according to activists contravene the right for HIV positive people to keep their status confidential and would in essence promote stigma while criminalisation of the spread would keep away people from testing.
The same activists in May 2014 strongly opposed certain sections days after Parliament had passed the Bill into law.
They included the Human Rights Watch, Health Global Advocacy Project and the Uganda Network on Law and Ethics and HIV/Aids (UGANET) who said it is "deeply flawed" and promotes "discrimination".
They later sought the attention of President Museveni asking him not to assent to the law although this did not stop him from doing so. However, the President assented to the law on July 31, 2014.
According to statistics released by the ministry of Health last year, the number of people starting anti-retroviral treatment (ART) in Uganda stood at 713,744.
In just three months, between June and September 2014, a total of 33,744 people enrolled for HIV/Aids treatment, raising the overall number from the previous 680,000 to the above-mentioned number (713,744).
The drugs suppress HIV multiplication in the body.
Activists, however, say that the hardline approach to prevention of HIV/Aids spread has instead discouraged those living with HIV from voluntary testing for fear of victimisation.
Infringment on rights
According to the activists, some clauses were passed without the amendments sought by an all-encompassing network.
Prosper Byonanebye, UGANET head of programmes, says: "The petition among others challenges section 18 (e), on 'Disclosure of one's HIV status to undisclosed parties. This is overly-broad, vaguely worded and thus unclear.
It also raises legality questions and infringes on the right to privacy. Same as Section 41 of the HIV prevention and Control Act on attempted transmission which is subject to misuse and can be a ticket to punish innocent Ugandans by self-seekers because it is not specific and it's difficult to define.
According to Byonanebye, some of the clauses infringe on the right to equality and right to dignity and worsens discrimination hence pushing people living with HIV into hiding instead of the intended policy objective of supporting more of them to disclose as has been the case.
Chapter four of the Constitution emphasises the promotion and protection of several human rights and freedoms by the state including equality and freedom from discrimination (Article 21), right to dignity (Article 24) and right to privacy ( Article 27) among others.
Arguments for the Act
On disclosure of one's status to other people, Maj (Rtd) Rubaramira Ruranga, a leading HIV/Aids advocate, however tows a different line.
He stresses the need for HIV positive people to open up about their status if solutions are to be found.
"Methodology is what we need to look into to find solutions to the wide spread of HIV/Aids and stigma, which is closely related to HIV/Aids. If we had a method of going house to house and educate the masses about the dangers of HIV and the need to know their status, the infection rate would be reduced. If we test from house to house, we would get rid of stigma," he says.
"I no longer believe in confidentiality because people have continued to sleep with each other without bothering about the need to test. We should stop hiding something which can be served better Let us fight the conspiracy of the unknown."
Commenting about the intentional spread of HIV/Aids, Maj Ruranga backs the proposal saying it will go a long way in protecting innocent Ugandans from selfish offenders who knowingly conceal their results away from their partners and infect them with HIV/Aids.
He noted: "Not everybody is bad but there are those spreading HIV intentionally. We do work with a team of young people but we have discovered that some health workers are giving false results at a request.
People know that they are reactive but ask for non-reactive results. I have arrested some and we are still arresting many. What other method is workable other than the law? Let the activists prove beyond reasonable doubt that this law will not work."
Maj Ruranga adds that the country has lived with the deadly disease for over two decades and it has continued to spread.
"We have become so negligent as a result of pampering certain things. Why should the virus continue spreading? My coming out helped so many. Why do people continue hiding? We need to get out of this and find a solution."
He emphasises the use of condoms as a preventive measure to guard against HIV/Aids as he opposed calls from the South African conference pushing for PEP to be given to the youth free of charge as a way of guarding against the spread of HIV.