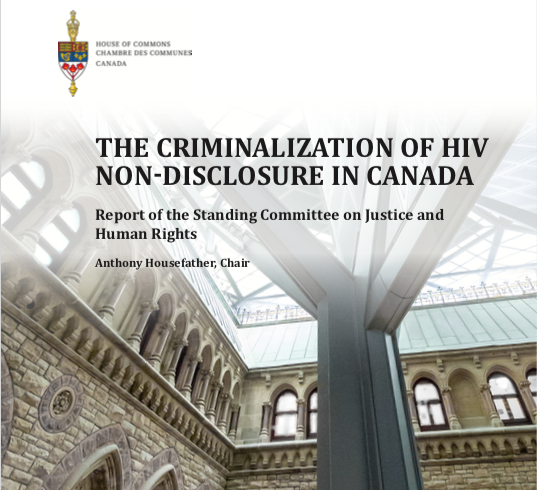 Yesterday, the House of Commons Standing Committee of Justice and Human Rights released a ground-breaking report "The Criminalization of HIV Non-Disclosure in Canada" recommending that the Government of Canada works with each of the Canadian provinces and territories to end the use of sexual assault law to prosecute allegations of HIV non-disclosure.

According to a press release issued by our HIV JUSTICE WORLDWIDE partners, the Canadian HIV/AIDS Legal Network:
People living with HIV currently face imprisonment for aggravated sexual assault and a lifetime designation as a sex offender for not disclosing their HIV status to sexual partners, even in cases where there is little or even zero risk of transmission. This means a person engaging in consensual sex that causes no harm, and poses little or no risk of harm, can be prosecuted and convicted like a violent rapist. We welcome the Committee's recognition of this unjust reality and their call to end the use of sexual assault laws. We and our allies have spent many years advocating for this critical change.
The report also recommends that Canada limits HIV criminalisation to actual transmission only. The Legal Network notes:
But we must go further: criminal prosecution should be limited to cases of intentional transmission as recommended by the UN's expert health and human rights bodies. Parliament should heed such guidance. Criminal charges and punishments are the most serious of society's tools; their use should be limited and a measure of last resort.
However, one of the recommendations that the Legal Network takes issue with is the recommendation to broaden any new law to include other infectious diseases.
Infectious diseases are a public health issue and should be treated as such. We strongly disagree with the recommendation to extend the criminal law to other infectious diseases. We will not solve the inappropriate use of the criminal law against people living with HIV by punishing more people and more health conditions.
Currently, there is a patchwork of inconsistent approaches across each province and territory. Only three provinces — Ontario, British Columbia and Alberta — have a formal policy in place or have directed Crown prosecutors to limit prosecutions of HIV non-disclosure, and they all fall short of putting an end to unjust prosecutions.
A December 2018 federal directive to limit HIV criminalisation, which solely applies to Canada's territories, is already having some impact — in January 2019 it led to Crown prosecutors in the Northwest Territories dropping a wrongful sexual assault charge against a man living with HIV in Yellowstone. "We followed the directive and chose not to prosecute," said Crown attorney Alex Godfrey.
Other positive recommendations in the report include:
An immediate review of the cases of all individuals who have been convicted for not disclosing their HIV status and who would not have been prosecuted under the new standards set out in the recommendations of the Committee.
These standards must reflect "the most recent medical science regarding HIV and its modes of transmission and the criminal law should only apply when there is actual transmission having regard to the realistic possibility of transmission. At this point of time, HIV non-disclosure should never be prosecuted if (1) the infected individual has an undetectable viral load (less than 200 copies per millilitre of blood); (2) condoms are used; (3) the infected individual's partner is on PrEP or (4) the type of sexual act (such as oral sex) is one where there is a negligible risk of transmission."
And, until a new law is drafted and enacted (which is only likely to happen if the current Liberal Government is re-elected in October), there should be implementation of a common prosecutorial directive

across Canada

to end criminal prosecutions of HIV non-disclosure, except in cases where there is actual transmission.
The report also recommends that any new legislation should be drafted in consultation with "all relevant stakeholders including the HIV/AIDS community", which the Legal Network also welcomed.
The report is the result of a study of the 'Criminalization of Non-Disclosure of HIV Status' that ran between April and June 2019. Many Canadian experts testified as key witnesses to help MPs gain insight into why Canada's current approach is wrong. HIV JUSTICE WORLDWIDE also submitted a brief to the committee, providing international context to Canada's extremely severe approach to HIV non-disclosure.
The Legal Network concludes:
The next step is actual law reform. The report makes clear that change to the criminal law is needed. Any new legal regime must avoid the harms and stigma that have tainted the law these past 25 years.