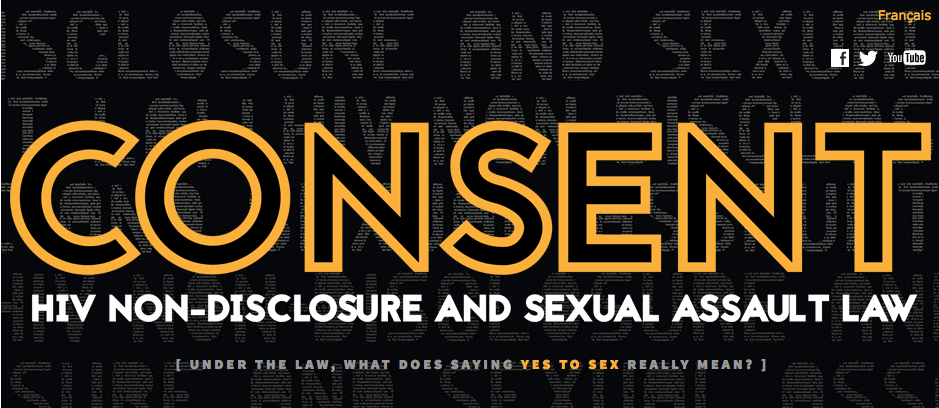 This week sees the release of an important new short film from the Canadian HIV/AIDS Legal Network.
Consent: HIV non-disclosure and sexual assault law interrogates whether criminalising HIV non-disclosure does what the Supreme Court of Canada believes it does – protect sexual autonomy and dignity – or whether, in fact, it does injustice both to individuals charged and to the Canadian criminal justice system's approach to sexual violence.
Produced together with Goldelox Productions, with whom the Legal Network also collaborated on their powerful 2012 documentary' Positive Women: Exposing Injustice, this 28-minute film features eight experts in HIV, sexual assault and law whose commentary raises many questions about HIV-related legal developments in Canada.
At a time when society seems to be taking the prevalence of sexual

violence and rape culture more seriously, this film dares to ask some

difficult questions about its limits in the law. The law of sexual

assault is intended to protect women's sexual autonomy, equality

and dignity, yet as applied with respect to alleged HIV non-disclosure,

these values are not necessarily being advanced. Through expert

testimonies, Consent shines a light on the systemic obstacles women

face in disclosing their HIV status, points to the dangerous health

and human rights outcomes of applying such a harsh charge as

aggravated sexual assault to HIV non-disclosure, and makes the

argument that the law needs to better protect those who are living

with and vulnerable to HIV. Consent demonstrates that advocacy

efforts opposing the overly broad criminalization of HIV non-disclosure

must address the use of sexual assault law and that such efforts must

do so alongside feminist allies.

From: http://www.consentfilm.org/about-the-film/
The Canadian HIV/AIDS Legal Network has for some time been exploring the implications of using sexual assault law to prosecute HIV non-disclosure cases, given the marked differences between the types of conduct that are typically referred to as sexual assault (including rape) and HIV non-disclosure cases.
In April 2014, the Legal Network convened leading feminist scholars, front-line workers, activists and legal experts for a ground-breaking dialogue on the (mis)use of sexual assault laws in cases of HIV non-disclosure. Consent: HIV non-disclosure and sexual assault law was filmed during this convening.
Their analysis demonstrates that the use of sexual assault law in the HIV non-disclosure context – where the sexual activity is consensual other than the non-disclosure – is a poor fit and can ultimately have a detrimental impact on sexual assault law as a tool to advance gender equality and renounce gender-based violence.
The Consent website ( in English / in French ) also lists future screenings across Canada, which will be accompanied by panels and workshops, as part of an ongoing strategy to build up allies among women's rights advocates for the longer-term work.
A discussion guide will also soon be available.