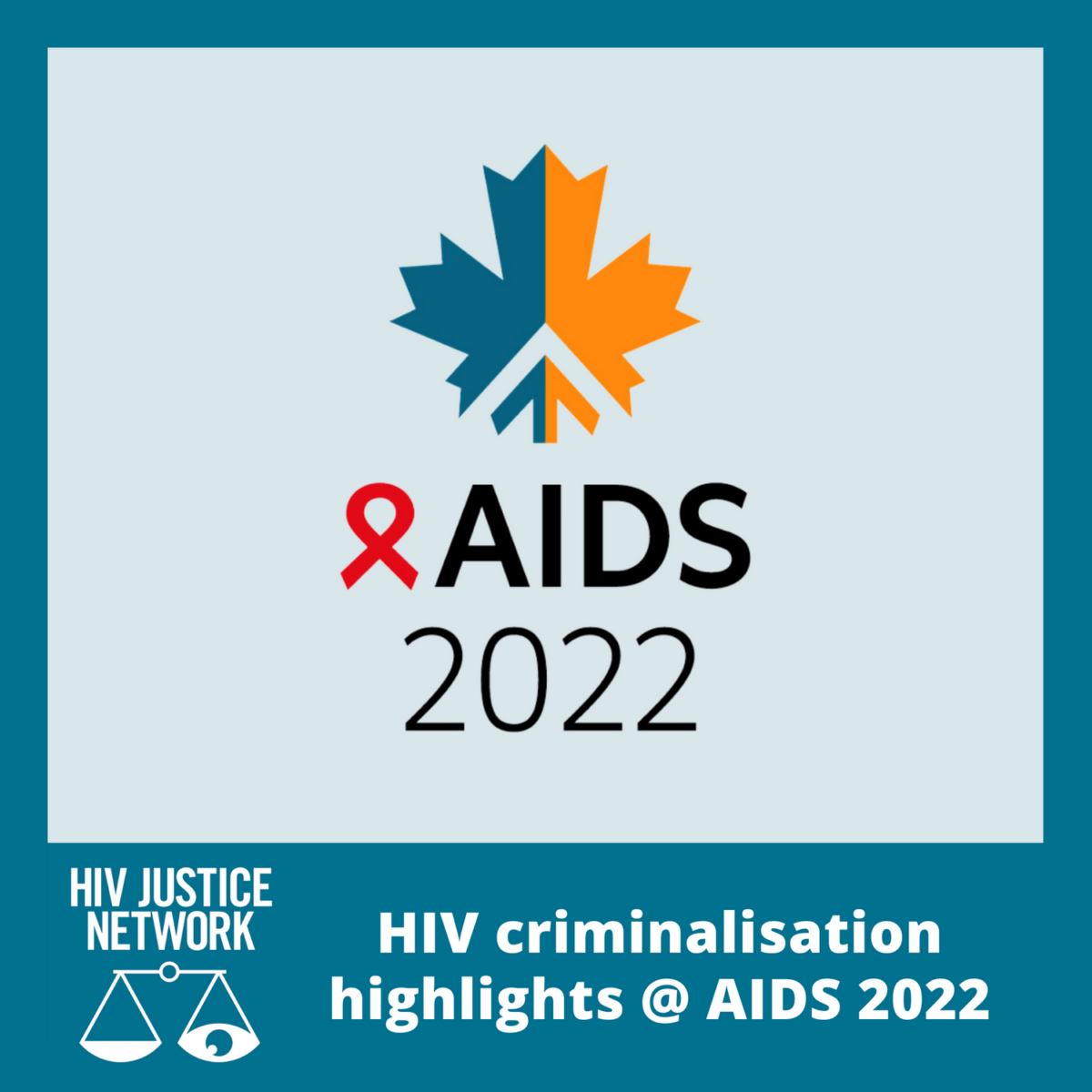 The 24th international AIDS conference (AIDS 2022) held in Montreal and virtually between 29 July and 2 August integrated HIV criminalisation throughout multiple sessions – both in the main conference and during pre-conferences, satellites and in the Global Village.
Australian activist, lawyer, Track F rapporteur – and HJN Supervisory Board member – Paul Kidd has provided a thorough overview of many of these sessions in this Twitter thread, which can also be read as a single blog entry here.
Research and action on #HIVcriminalisation (#HIVcrim) and #HIVlaw were well represented at #AIDS2022: I've summarised some highlights in this #thread.

— PK (@paulkidd) August 10, 2022
Two major campaigns were launched at the conference – one global, and one focused on Canada.
GNP+ and HJN joined with networks representing young people, women, the LGBTI+ community, sex workers and people who use drugs to launch the "Not A Criminal" Campaign to decriminalise HIV non-disclosure, exposure and transmission; same-sex relationships; sex work and drug use.
As part of the "Not A Criminal" Campaign, we are demanding countries remove bad laws and replace them with evidence-based legislation to protect our communities from criminalisation, discrimination and gender-based violence, and support the creation of independent human rights institutions. Additionally, the campaign calls on United Nations agencies and donors to develop strong, coordinated, and high-profile mechanisms to monitor progress on these member states' commitments.
"Far from being a legitimate public health tool, criminalisation of our behaviours, choices and identities is about the enforcement of an oppressive morality through policing our bodily autonomy," HIV Justice Network's Executive Director Edwin J Bernard said in a press release announcing the campaign. "This punishment of our vulnerability also means we won't be able to end the HIV epidemic by 2030."
The Canadian Coalition to Reform HIV Criminalization (CCRHC) made the most of the spotlight on Canada during the conference and launched its second Community Consensus Statement. This Statement calls on the Canadian government to change the Criminal Code to limit HIV criminalisation only to very rare cases of intentional transmission using appropriate existing criminal statutes. Canada's Justice Minister, David Lametti has since announced plans to launch a consultation this October on the criminal legal system's overly draconian response to HIV non-disclosure.
However, the biggest – and most welcome – surprise of the conference was the recipient of the Elizabeth Taylor Legacy Award which was presented during Saturday's prime session on HIV and Human Rights. Previous recipients have included Nancy Pelosi, Sharon Stone, Whoopi Goldberg, Michael Jackson and Elton John.
This year's Elizabeth Taylor Legacy Award was presented posthumously to the late Rosemary Namubiru – recognising her extraordinary contribution to raising awareness of the injustice of HIV criminalisation.
Lillian Mworeko of the International Community of Women Living with HIV – East Africa (ICW-EA) received the award on behalf of Rosemary's family. Rosemary's daughter had planned to be there, but – like many Africans – was denied a visa.
Our own @lmworeko received the Posthumous Elizabeth Taylor legacy award on behalf of Rosemary Namubiru & her family in 🇺🇬. Rosemary, a dedicated nurse, was imprisoned for her HIV status. @richardlusimbo called upon everyone to confront HIV criminalisation #AIDS2022 pic.twitter.com/3sBB9mvPRA

— ICWEA (@ICWEastAfrica) July 31, 2022
THREAD

UGANET joins the family of the late Rosemary Namubiru and the HIV Community at large to celebrate the posthumous Elizabeth Taylor AIDS Foundation Award awarded to her in Montreal, Canada, on 30th July 2022.

1/4#AIDS2022#EndHIVStigmaUG#UGANET4SocialJustice pic.twitter.com/h1yhW7YmtH

— UGANET (@Uganetlaw) July 31, 2022