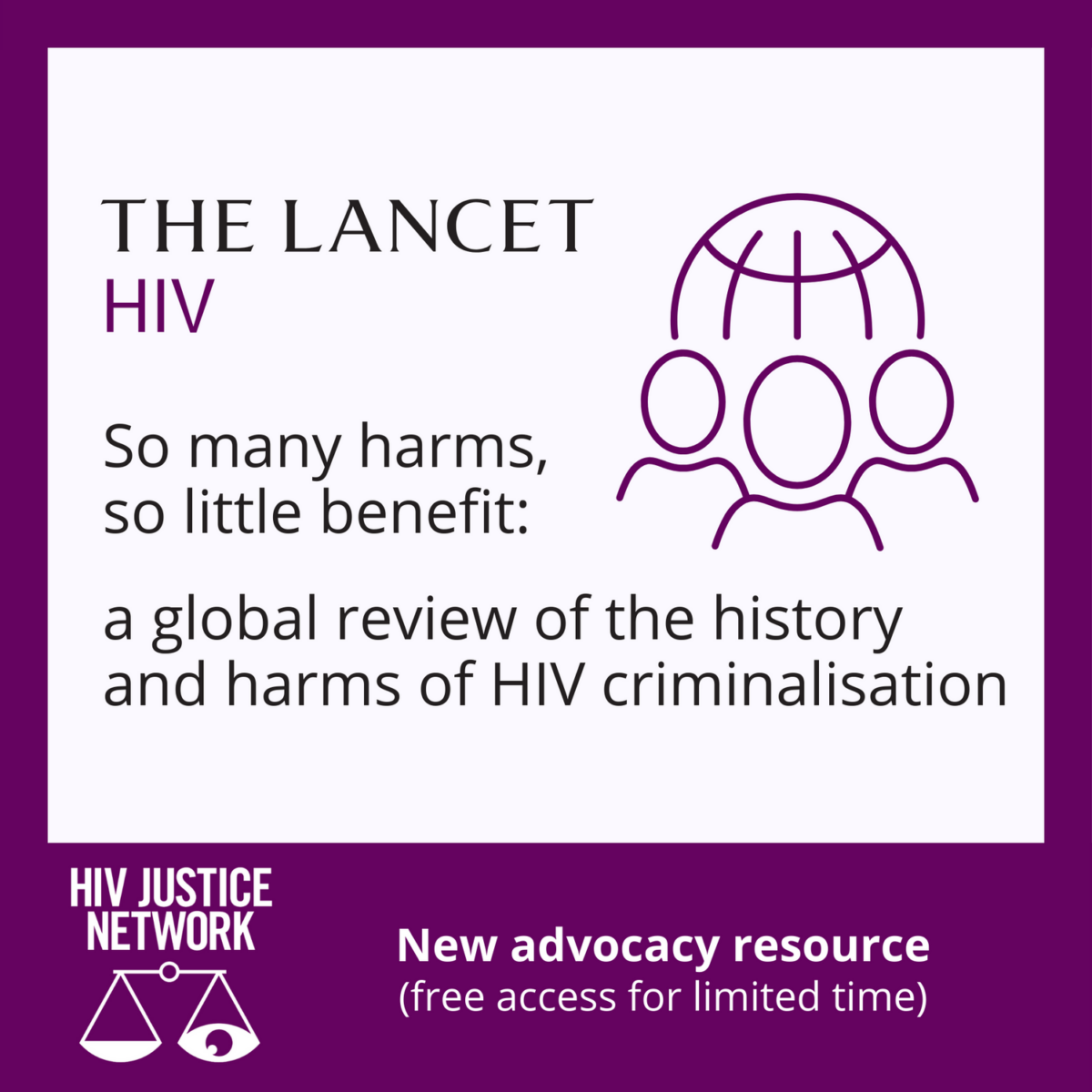 Last week, The Lancet HIV published an important new advocacy resource – a global review of the history and harms of HIV criminalisation.

So many harms, so little benefit: a global review of the history and harms of HIV criminalisation was co-authored by Joanne Csete (Columbia University Mailman School of Public Health), Richard Elliott (former executive director of the HIV Legal Network and current chair of our Supervisory Board), and Edwin J Bernard (HJN's executive director and global co-ordinator of HIV JUSTICE WORLDWIDE).
The review summarises key developments in the history of HIV criminalisation and highlights newer research – from the last decade but especially from the last five years – on the public health and human rights impact of HIV criminalisation.
It also summarises expert guidance on the subject, especially as it reflects evolving science, also noting the health and human rights concerns about the application of phylogenetic analysis for molecular surveillance data in the context of HIV criminalisation.
It also explores the impact of HIV criminalisation on different populations – women, sex workers, gay and bisexual men and other men who have sex with men, Indigenous persons, immigrants and racial minorities.
Finally, it reviews recent significant efforts to limit the impact of HIV criminalisation most of which would have been impossible without advocacy organisations of people living with HIV and their allies.
The review concludes that HIV criminalisation…
"is inconsistent with the human rights-based response to HIV espoused in UN strategies for decades. It adds to the legal and societal burden faced by those who experience discrimination based on race, class, gender, sexual orientation and immigration status as well as criminalization of other kinds. It is enabled by laws and a criminal legal system that in many cases have not caught up with the science of HIV, deploying the machinery of the criminal law as a response to conduct posing little or even no risk of transmission. It punishes people harshly even in cases where no bodily harm can be discerned and where there has been no intent to cause harm – indeed, even in some cases where people have actively sought to eliminate or reduce the risk of others acquiring the virus. It reinforces HIV-related stigma and can discourage people from seeking health services. It is a vehicle for the misuse of phylogenetic evidence and the public health apparatus of molecular surveillance.

"Any benefits of HIV criminalization, which are hard to discern from existing research, must be weighed against the enormous costs of deepening stigma and fear among people living with HIV and of incarceration, coercion and blackmail, police investigation, criminal proceedings, media hysteria, and saddling people with criminal records, sex offender status, or deportation. The myth that HIV criminalization protects women from predatory men should give way to investment in proven measures to address gender-based poverty, violence and discrimination. Financial support for the work of networks of people living with HIV in low- and middle-income countries to document HIV criminal laws and their impact would be useful.

"At a time of reckoning on race in global health, it behooves governments to review, reform and repeal laws that exacerbate the harm that centuries of White colonialism have visited upon racial minorities and Indigenous people. Significantly reducing HIV among sex workers, people who use drugs, criminalized LGBTQI persons, migrants and prisoners remains central to the Global AIDS Strategy and would be helped by eliminating HIV criminalization. And in a time of emerging infectious diseases, HIV criminalization sets a dangerous precedent. The few but dramatic cases of attempted murder charges that have been brought for alleged HIV transmission in the context of rape in South Africa were the closest precedent for attempted murder charges brought against two men who refused quarantine after having tested positive for SARS-CoV-2 in 2020. The demonization of COVID-19 "carriers" in too many countries is at least partly a shameful legacy of HIV criminalization."
---
So many harms, so little benefit: a global review of the history and harms of HIV criminalisation is available for free download from The Lancet HIV until November 22 2022 by using this link.