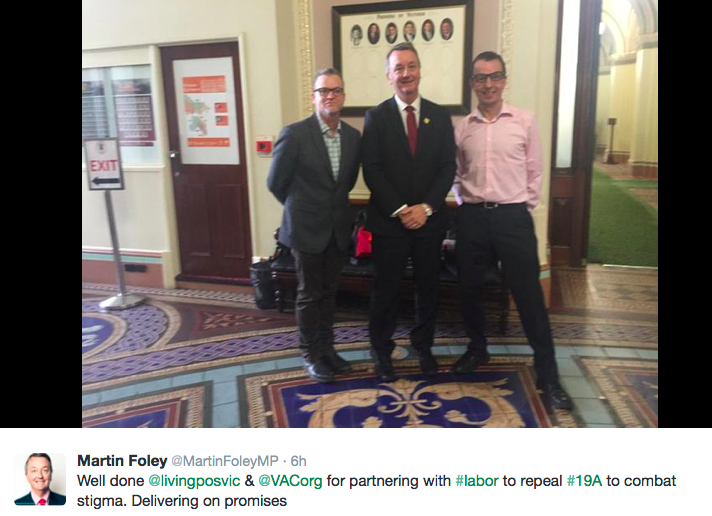 Australia's only HIV-specific criminal law, section 19A of the Crimes Act in the state of Victoria, has now been repealed. This is an exciting step forward for those of us working to turn around Victoria's poor record on criminalisation of HIV. This blog entry outlines the process we used to achieve this historic reform.
This story starts just before the 2010 International AIDS Conference in Vienna, at the first-ever HIV criminalisation pre-conference meeting, co-organised by the Canadian HIV/AIDS Legal Network, the Global Network of People Living with HIV (GNP+) and NAM (who host the HIV Justice Network). Attending this meeting and hearing about the incredible work being done in this area was the inspiration for starting a joint advocacy project to address the issue here in Victoria. The partners in that project are the two largest HIV organisations in our state, Living Positive Victoria and the Victorian AIDS Council.
Our objectives were to achieve a set of prosecutorial guidelines, on a similar model to those adopted by the Crown Prosecution Service for England and Wales, and the repeal of s 19A. Although our initial focus was on the guidelines, with the announcement that Melbourne would host the 2014 International AIDS Conference, we decided to shift our focus to the repeal of s 19A. We felt that by focusing on a law that was manifestly out of step with best practice, we could use the conference to embarrass our legislators into action. With a state election due three months after AIDS 2014, we felt confident we could make political headway with the issue.
Section 19A makes it a criminal offence to intentionally transmit a 'very serious disease', which is defined to mean only HIV. It carries a maximum 25-year prison sentence, making it one of the most serious crimes on the Victorian statute book. It was enacted in 1993, following a high-profile case in which a prison officer in NSW was stabbed with a hypodermic syringe, and a number of cases in which blood-filled syringes were used in armed robberies.
Although the law was passed, supposedly, to deal with this kind of 'syringe bandit' assault, in practice it has been applied exclusively against people accused of sexual transmission of HIV. Although only a handful of cases have ever been prosecuted (and none successfully), s 19A has often been charged, or used as a threat against people accused of reckless transmission or endangerment. Its presence on the statute book has sent an unwelcome and false signal that people with HIV are a danger to public safety.
Additionally, we were armed with a solid evidence base – particularly the reports of UNAIDS and the Global Commission on HIV and the Law, which specifically criticise HIV-specific laws like s 19A.
We made a point of telegraphing our intentions to the government and opposition political parties well ahead of the conference. We developed a policy brief setting out the case for repeal of the section, and sought dialogue with both parties in the months before the conference. We wanted to give them every opportunity, at a time when the eyes of the world would be on us, to take action that would generate international attention and goodwill.
Our approach to the government was initially rebuffed, with a curt reply that they had no intention of changing the law. The Labor opposition, which had opposed the law in 1993, was more welcoming and we were able to explain our position at a number of meetings leading up to the conference. We were unable to get a commitment for action, but we were confident that both sides knew what we were asking for.
We gathered together a strong coalition of supporting organisations who agreed to back our call. As well as the HIV sector, we had support from the broader civil sector (organisations focused on human rights, mental health, gay and lesbian rights) and from the legal sector, particularly the criminal bar. We had the backing of the AIDS 2014 chairs. We spent a good deal of time before the conference drafting talking points that enabled us to get our media messaging clear, and thinking about ways to get our message out to conference delegates already being showered with slogans, messages and leaflets.
As the conference approached, however, we had no commitment from either party. We were taken by surprise when the health minister used a speech opening the 'Beyond Blame' HIV criminalisation pre-conference to make a commitment to 'amend section 19A to make it non-discriminatory.' Given the blunt 'not interested' we had received a couple of months earlier, this was a stunning turnaround, but still fell short of what we wanted – full repeal of section 19A. Worse, the way the announcement was phrased suggested the scope of the law could in fact be widened to include other diseases like hepatitis C – the last thing we wanted.
As the conference week progressed, we continued to press our case and to highlight the need for repeal. We garnered positive press coverage following a media conference held on the opening day (even the tabloid press gave us a sympathetic hearing). The sight of thousands of protesters marching through the streets of Melbourne with signs reading '#REPEAL19A' made the evening news. We publicly called on the government to clarify why they were saying 'amend' rather than 'repeal'. Behind the scenes, we used every social event and reception to buttonhole politicians and push our case, highlighting the goodwill that an announcement would generate for them on the international stage. It was an exhausting week, but with each passing day we knew our opportunities were diminishing.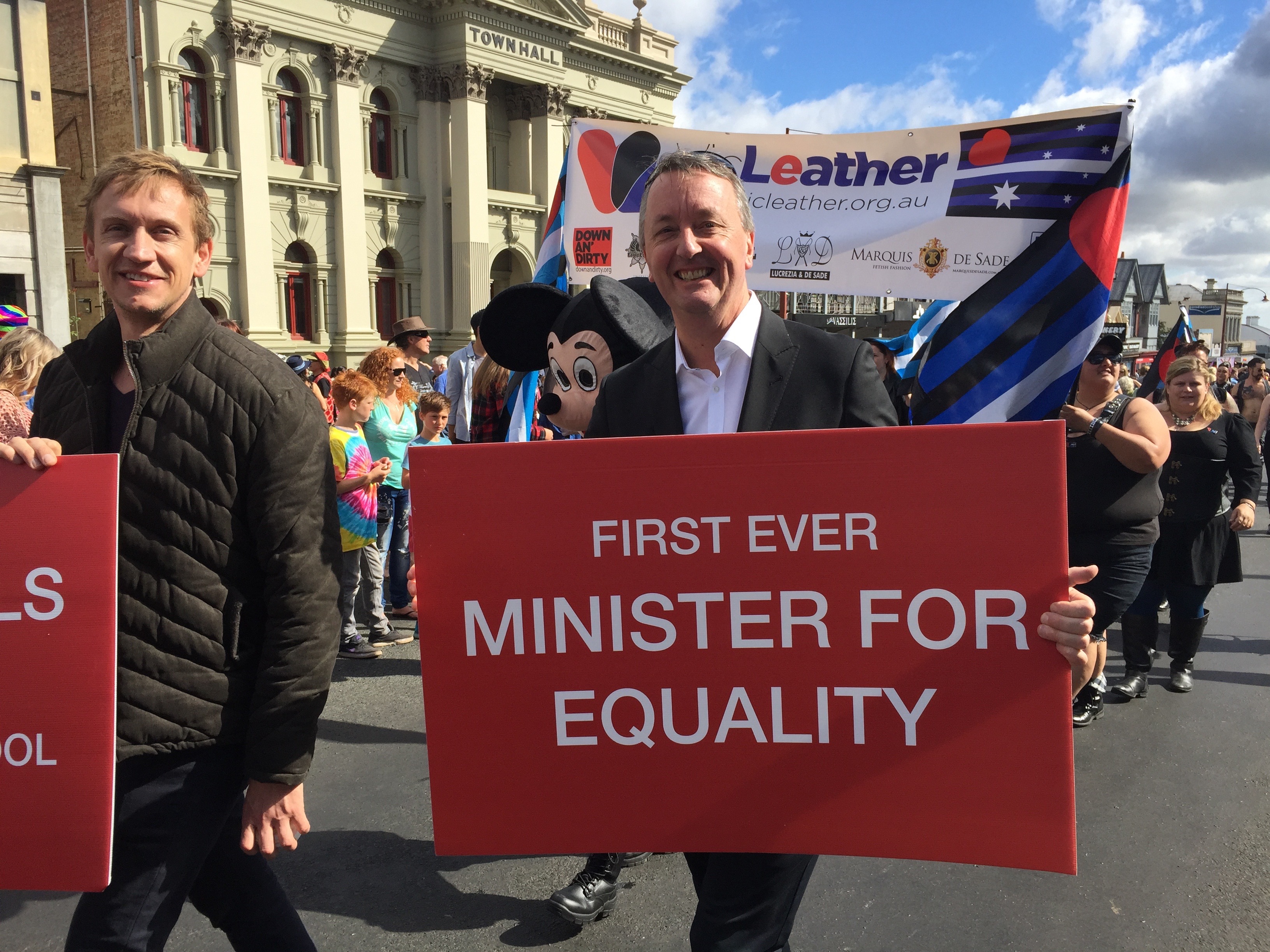 Finally, on the last full day of the conference, the opposition Labor Party committed to full repeal of section 19A, within one year, if they won the election in November. The word came though via text message while I was sitting in a conference session on criminalisation advocacy, and I felt close to tears as I told the room what had happened. We now had commitments from both major parties, meaning reform of the law was almost assured.
Following the conference, we continued to push the government to explain how they intended to 'amend' section 19A and pressed our case for full repeal further. We never got an answer to our question, because the government didn't bring the legislation forward before the expiry of the parliamentary term, then at the election there was a change of government.
The Labor Party, which had unambiguously promised to repeal s 19A, was now in government, and one of the most pleasing things about the last five months has been seeing them stick to their guns around 19A. Seeing government ministers on gay pride day carrying a banner saying 'repeal section 19A' was amazing.
I think the key message from our experience is that if you have an opportunity and you plan well, you can make tremendous use of it. I realise most activists won't have the luxury of having the international AIDS conference come to their city, but hopefully other opportunities exist where local and global attention can be used to highlight inequities in the law. Building collaborations and learning from what has worked elsewhere is vital, but develop a strategy that suits your local needs and capacities.
Don't be deterred if others disagree with your strategy – I've lost count of the number of times I've been told that criminalisation isn't a first-order issue, or that by advocating for change we risk 'making things worse', or that by advocating too hard we risk getting nothing in return and pushing the issue off the agenda.
Now that s 19A is gone, our work continues. We still need to address the unacceptably high number of prosecutions for 'HIV endangerment' that occur in Victoria. We strongly believe we have a model that will deliver the right public health outcomes while safeguarding the public, without the use of expensive, ineffective and highly stigmatising criminal prosecutions. With the repeal of section 19A, our state government has recommitted itself to a health-based response to HIV, and we believe that gives us the best possible platform to continue our campaign for prosecutorial guidelines.
Paul Kidd (@paulkidd) chairs the Victorian HIV Legal Working Group.