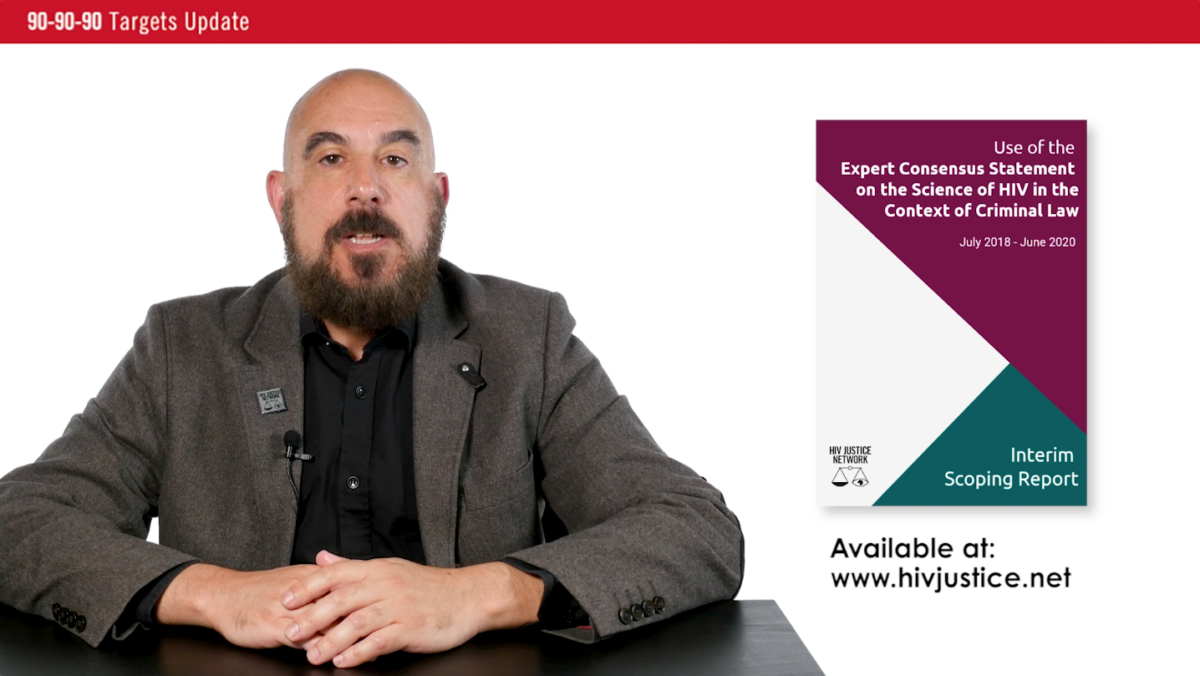 There were a number of presentations, mostly e-posters, at AIDS2020:Virtual that focused on HIV criminalisation. We have compiled them all below given that access was (and remains) limited.
The only oral presentations specifically covering HIV criminalisation were delivered by HIV Justice Network's Executive Director, Edwin J Bernard, presenting in three pre-recorded video sessions.
Below you will find the presentation 'Bringing Science to Justice' for the IAPAC 90-90-90 Targets Update, produced for the session, 'Creating Enabling Environments for Optimal HIV Responses'. This eleven minute presentation, that also includes a number of video clips, covers the following:
The detrimental implications of HIV criminalisation on human rights and public health
The impact of the 'Expert consensus statement on the science of HIV in the context of criminal law'
Lessons learned from HIV criminalisation on punitive responses to COVID-19
Conclusion: It is more critical than ever to commit to, and respect, human rights principles; ground public health measures in scientific evidence; and establish partnerships, trust, and co-operation between scientists, law- and policymakers and the most impacted communities.
Update (29 July): During a California HIV/AIDS Policy Research Centers virtual satellite session, Dr. Ayako Miyashita Ochoa of UCLA Luskin School of Public Affairs, Department of Social Welfare, interviewed activist Marco Castro-Bojorquez about the modernisation of California's HIV-specific criminal law as an example of of evidence-based policymaking.
There were a number of poster presentations that also focused on HIV criminalisation in the following countries/jurisdictions:
United States
PEF 1739 Australia
PEF 1740 Niger
PEF 1742 Malawi
PEF 1781 Florida, USA
PEF 1794 Uganda
PEF 1841 Taiwan
The abstracts are below. Click on the title to download the pdf of the poster.
BACKGROUND: In 2017, 36 states had laws penalizing persons with HIV (PWH) for sexual or no-risk behavior (e.g., spitting). Research shows these laws do not impact sexual risk behaviors or diagnosis rates. Citizens likely are unaware of these laws; we do not expect direct behavioral effects. However, laws reflect states' values and may mirror community attitudes towards PWH. Understanding how structural factors relate to stigma is important for stopping HIV stigma.
METHODS: National HIV Behavioral Surveillance used venue-based sampling methods to interview men who have sex with men (MSM) in 23 U.S. cities from June-December 2017. Using Center for HIV Law and Policy reports, we categorized states' HIV-specific laws as of June 2017. We compared MSM"s perceptions of community attitudes towards PWH between MSM living in states with versus without HIV laws. We obtained adjusted prevalence ratios using log-linked Poisson models assessing the relationship between law and four community stigma attitudes (discrimination, rights, friendship, punishment), which we then compared between black MSM in states with versus without laws.
RESULTS: Two-thirds of MSM lived in states with HIV-specific laws. MSM in states with laws were more likely to report black race (38% versus 15%), poverty (23% versus 12%), or incarceration (25% versus 19%). Multivariable models found laws were related to perceived community beliefs that PWH "got what they deserved" (aPR=1.13, 95% CI: 1.03-1.24), but not other attitudes. Compared to black MSM in states without laws, black MSM in states with laws were more likely to believe persons in their community would discriminate against PWH (64% versus 50%), not support PWH's rights (25% versus 16%), not be friends with PWH (24% versus 13%), and believe HIV was deserved punishment (32% versus 22%).
CONCLUSIONS: MSM in states with HIV laws were disproportionately from marginalized groups. Laws were related to perceived community attitudes that HIV was deserved punishment; understanding specific stigma attitudes can inform interventions. Although black MSM reported high community stigma overall, stigma was significantly higher for black MSM in states with HIV laws. States may consider repealing or reforming HIV laws and focusing on effective prevention efforts to End the HIV Epidemic.
BACKGROUND: In England and Wales it is possible to be prosecuted for the sexual transmission of infection under the Offences Against the Person Act 1861 or the Criminal Attempts Act 1981. After the first prosecutions in 2003, National AIDS Trust (NAT) successfully advocated for legal guidance for prosecutors and worked with the Crown Prosecution Guidance (CPS) to develop this.
DESCRIPTION: In 2018 NAT requested that the guidance be updated. In January 2019 the CPS shared a draft of their revised guidance with NAT, who then coordinated a joint response from NAT and other key stakeholders. This successfully ensured that the new guidance reflects medical developments such as Undetectable=Untransmittable and clinical guidance. Developments in case law have led the CPS to take the view that HIV/STI status deception may be capable of vitiating consent to sex. NAT is concerned that this could result in people who lie about their HIV status being prosecuted for rape or sexual assault, even with safeguards used and no transmission occurring. NAT prepared a briefing articulating legal, policy and public health arguments against this position, and presented it at a meeting with the CPS. As a result the CPS have added several caveats, but we still believe their position to be unacceptable and discussions are ongoing.
LESSONS LEARNED: The successes we have had in improving the guidance demonstrate the importance of long-standing proactive engagement, relationship-building and collaboration. Collaborating with a range of key stakeholders including clinicians and lawyers enabled NAT to leverage wider authority and expertise. However, the issue of HIV status deception has illustrated the implications for HIV of legal developments in related but not directly transferable areas. Confidence in our understanding of the law and persistence in making our arguments heard has been crucial in ensuring ongoing engagement on this issue.
CONCLUSIONS: The updated guidance will help to ensure that prosecutions for reckless or intentional transmission are conducted in a way that minimises harm to both individuals and the wider community. Regarding the issue of HIV status deception, possible next steps include securing parliamentary engagement, pro bono legal opinions, and further representations from local government and public health bodies.
BACKGROUND: A significant portion of people convicted of HIV transmission in Australia are not Australian citizens. Due to not holding citizenship, those convicted of serious criminal offences (which includes facing a prison term of 12 months or more), are at risk of having their visas cancelled and being removed from Australia. The HIV/AIDS Legal Centre (HALC) has represented a number of these clients in both their criminal and subsequent immigration proceedings to assist these clients in preventing their removal from Australia.
DESCRIPTION: Where a person is not an Australian citizen and commits a criminal offence they are at risk of detention and removal from Australia. In two recent case studies of people with HIV convicted of HIV transmission, following the completion of their custodial sentences steps were then taken to cancel their visas and place them into immigration detention. Both clients had their visas cancelled and had to take steps to appeal the decisions. Part of the reason for the cancellation was the perception of ongoing risk to the Australian community. Neither client had been convicted of intentionally transmitting HIV to their sexual partner. HALC continues to represent one of the clients mentioned and the other has now exhausted all appeal options.
LESSONS LEARNED: There are often many and varied reasons for HIV non disclosure and, from HALC"s experiences, following criminal and public health interventions it is unlikely that a person with HIV would continue to place their sexual partners at risk of contracting HIV. Decision makers in migration proceedings appear to be unwilling to accept that a person with HIV would no longer place their sexual partner at risk of HIV transmission as the decision makers note in their decisions that they there remains a risk to the community.
CONCLUSIONS: The outcomes of these cases demonstrates the need for ongoing advocacy and law reform in the removal of offences for HIV non-disclosure, exposure and transmission, except where actual intent can be established to a criminal law standard. The cases also demonstrate the ongoing need for continued robust representation of those, often vulnerable migrants, who are facing visa cancellation.
BACKGROUND: To effectively fight against HIV, Niger adopted Law No. 2007-08 of April 30, 2007 related on HIV prevention, care and control. This law included problematic provisions, including the criminalization of exposure, HIV transmission, and the non-disclosure of HIV to the sexual partner. Actually, PLWHIV continue to be victims of the application of the provisions criminalizing the transmission of HIV through several criminal prosecution cases in 2017.
DESCRIPTION: In June 2018, 13 civil society organizations created the "National Coalition for the Decriminalization of HIV in Niger". This one benefited from the technical and financial support of HIV JUSTICE WORLDWIDE. Its advocacy objectives, by 2021, are to : repeal of offenses criminalizing exposure and transmission of HIV ; research and disseminate reliable and convincing data on the impact of HIV criminalization on access to HIV-related services. Since its creation, the Coalition has carried out the following activities: National workshop for consulting civil society stakeholders on the exposure, transmission and non-disclosure of HIV in Niger; The development of the Memorandum of December 20, 2018 entitled 'exploring ways and means to resolve the problems of legal proceedings against people living with HIV in order to reduce to zero the new infections, deaths and discrimination linked to AIDS; Organization of several advocacy meetings during the 'zero discrimination' day (March, 2019) for public decision-makers and partners.
LESSONS LEARNED: Judicial police officers and magistrates have to exercise greater caution when considering a criminal prosecution, and in particular, carefully assess the latest scientific data on the risks of transmission and the consequences of the infection; National AIDS Control Program needs a comprehensive assessment of the application of criminal legislation on the transmission, exposure and non-disclosure of HIV status in order to measure its impact on the effectiveness of national response.
CONCLUSIONS: The criminalization of HIV transmission undermines public health efforts and does not take into account the reality of PLWHIV and especially women who are not always able to disclose their HIV status without fear of reprisals or violence, or to impose the wearing a condom. The threat of possible criminal prosecution only increases their vulnerability.
BACKGROUND: Building on the work of the Global Commission on HIV and the Law, and in order to promote an enabling environment for achieving the 90-90-90 targets, UNDP has supported regional-and national-level work on removing legal barriers to accessing HIV services in sub-Saharan Africa. Covering over 20 countries, this work consists of regional-level capacity building for duty-bearers and rights-holders from the different countries and in-country activities tailored to local realities.
DESCRIPTION: In 2019/20, we evaluated the impacts of this work through a review of project documents and key informant interviews with stakeholders including civil society representatives, government officials, and UNDP staff, and conducted an in-depth case study in Malawi.
LESSONS LEARNED: Participation in regional spaces empowered national-level stakeholders in their country level work. A participatory legal environment assessment (LEA), jointly owned by government and civil society, served as the starting point and the resulting document, providing an overview of the strengths and weaknesses of HIV-related national laws and policies, has served as a cornerstone for subsequent activities. For example, national advocacy efforts informed by the LEA, and participation by the Chair of the Parliamentary Committee on HIV in regional activities, were key to shaping a revised HIV law to better align with international human rights law. The new law has led to the reform of the institutional framework for the national HIV response. Judges participated in regional judges' fora where they could request information on HIV-related science, discuss lived experiences with key populations' representatives and hear about how legal issues were being addressed across the region. Lawyers from across the region took part in joint training. After one such training, and with technical support from regional partners to create a strong case, a lawyer chose to appeal the conviction of a woman under Malawi's law criminalizing HIV transmission. The presiding judge had attended regional judges' fora and, drawing on a firm understanding of HIV transmission dynamics, overturned the original ruling.
CONCLUSIONS: A mix of regional and national level activities allows for tailoring of activities to national contexts while also providing space for peer networking and support where 'difficult' issues might more easily be discussed.
BACKGROUND: According to the Centers for Disease Control and Prevention (CDC), as of 2016, 108,003 people live with HIV (PLHIV) in Florida, which also has the highest rates of new HIV diagnoses in the country. Numerous complexities worsen Florida's HIV risk environment, including sex work, human trafficking, injection drug use, and sex tourism. These topics are often bases for HIV-related arrests that journalists cover. HIV criminalization describes statutes that criminalize otherwise legal conduct or that enhance penalties for illegal conduct based on a person's positive HIV status.
METHODS: This study employed a systematic review of Florida news articles on HIV-related arrests published between 2009-2019. Through qualitative content analysis, our study analyzed how race, gender, and journalistic tone coalesce in reports of HIV-related arrests.
RESULTS: A 2018 report from the Williams Institute indicated that white Floridian women are primarily arrested for HIV-related crimes. The systematic review found zero news reports on HIV-related arrests of white Floridian women, and only one article identified a female perpetrator whose race was undisclosed. Sixty-four other articles reported solely on the HIV-related arrests of men, predominantly black men. We identified two categories of articles where HIV was either central to the arrest, or the person's HIV-positive status was reported but exhibited little pertinence to the arrest.
CONCLUSIONS: Journalistic and police reporting behaviors risk inadvertently stigmatizing PLHIV at a time when public awareness of HIV depends on perceptions of HIV. This information will be used to shape equitable local nonprofit campaigns for community prevention, and HIV decriminalization efforts, while also combating the perpetuation of HIV misinformation.
BACKGROUND: The purpose of the research: To assess the compliance of the Uganda HIV and AIDS Control and Prevention Act, 2014 (the Act) with international human rights law standards.
Problem: In 2014, the Government of Uganda enacted a law to control and prevent HIV and AIDS. However, human rights advocates contest that the law contains provisions that don"t comply with international human rights law standards.
METHODS: Study period: August 2014 – August 2015 Study design: Qualitative design. Data collection: The study used a document analysis method. Method of analysis: The study identified international human rights law standards related to HIV and AIDS and used them as benchmarks for the review, analysis and synthesis of the literature.
RESULTS: The study established that: The Act carries provisions that comply with international human rights law standards. These include HIV counselling, testing, and treatment; state responsibility in HIV and AIDS control; the establishment of the HIV and AIDS Trust Fund; HIV-related human biomedical research; and prohibition of discrimination in various settings on grounds of HIV status. The Act also contains provisions that are not compliant with international human rights law standards. These include mandatory HIV testing, disclosure without consent, criminalization of actual and attempted HIV transmission, and criminal penalties for vaguely defined conduct. The Act lacks provisions that would make it more effective in controlling and preventing HIV and AIDS. These include commitments by the state to be accountable for its obligations stated in the Act; definition of what constitutes discrimination in various settings; and addressing challenges such as the causes of discrimination, inadequate professional human resources at health facilities, lack of HIV-friendly services in health facilities, and unregulated informal sector in complying with the law.
CONCLUSIONS: The study identified the compliance and non-compliance of the Act to international human rights law standards. It made recommendations to the Government of Uganda, organisations of people living with HIV and AIDS, organisations that advocate for human rights, and national human rights institutions, on the need to eliminate, revise and add some provisions in the Act to create an enabling legal environment that conforms with international human rights law.
BACKGROUND: Taiwan ranks top amongst the most progressive Asian countries, including being the first to pass marriage equality in Asia. Yet, stigma and discrimination of certain sub-populations, specifically people living with HIV (PLHIV) continue to prevail, as reflected in the Article 21 of HIV special law which overly criminalizes HIV non-disclosure, exposure and transmission.
METHODS: Using qualitative and quantitative approaches, Persons with HIV/AIDS Rights Advocacy Association (PRAA) of Taiwan makes a case on how the current criminal justice system in Taiwan adapt the narrative of 'HIV as a weapon' to prevent PLHIV from asserting their rights.
RESULTS: Article 21 states that individuals with knowledge of their HIV-positive status, by concealing the fact, engage in unsafe sex with others or share injection syringes, diluted fluids, and thus infect others, shall be sentenced for 5 to 12 years. Data showed over 30 cases were identified from 2012 to 2019, the majority of prosecutions were associated with sexual activities. However, unsafe sex was often defined exclusively with use of condom, and the court rarely recognized scientific advancements in antiretroviral therapy and suppressed viral load. Cases included: prosecution from ex-partner whom knew defendant's HIV status before their relationship; state prosecution without plaintiff by turning 14 HIV-positive witnesses into defendants; 13-year incarceration despite medical expert's testimony on the unlikelihood of HIV transmission. Those who haven't been prosecuted continued to face both physical and emotional health threats, such as a woman threaten by her admirer to disclose her status if she turns him down. Bias and prejudice, worsen by difficulties in proving self-disclosure or condom use commonly resulted in convictions.
CONCLUSIONS: Article 21 and out-of-date judicial interpretation of HIV transmission risks gravely deprive the rights of PLHIV and further perpetuates stigma against PLHIV and affected communities through special criminal law on HIV. There's a strong case to be made for abolishing Article 21 under the Constitution of Taiwan and the International Bill of Human Rights. Training and support on HIV advancements shall be given to all members of judicial and criminal law system to further inform any application of criminal law in cases related to HIV.