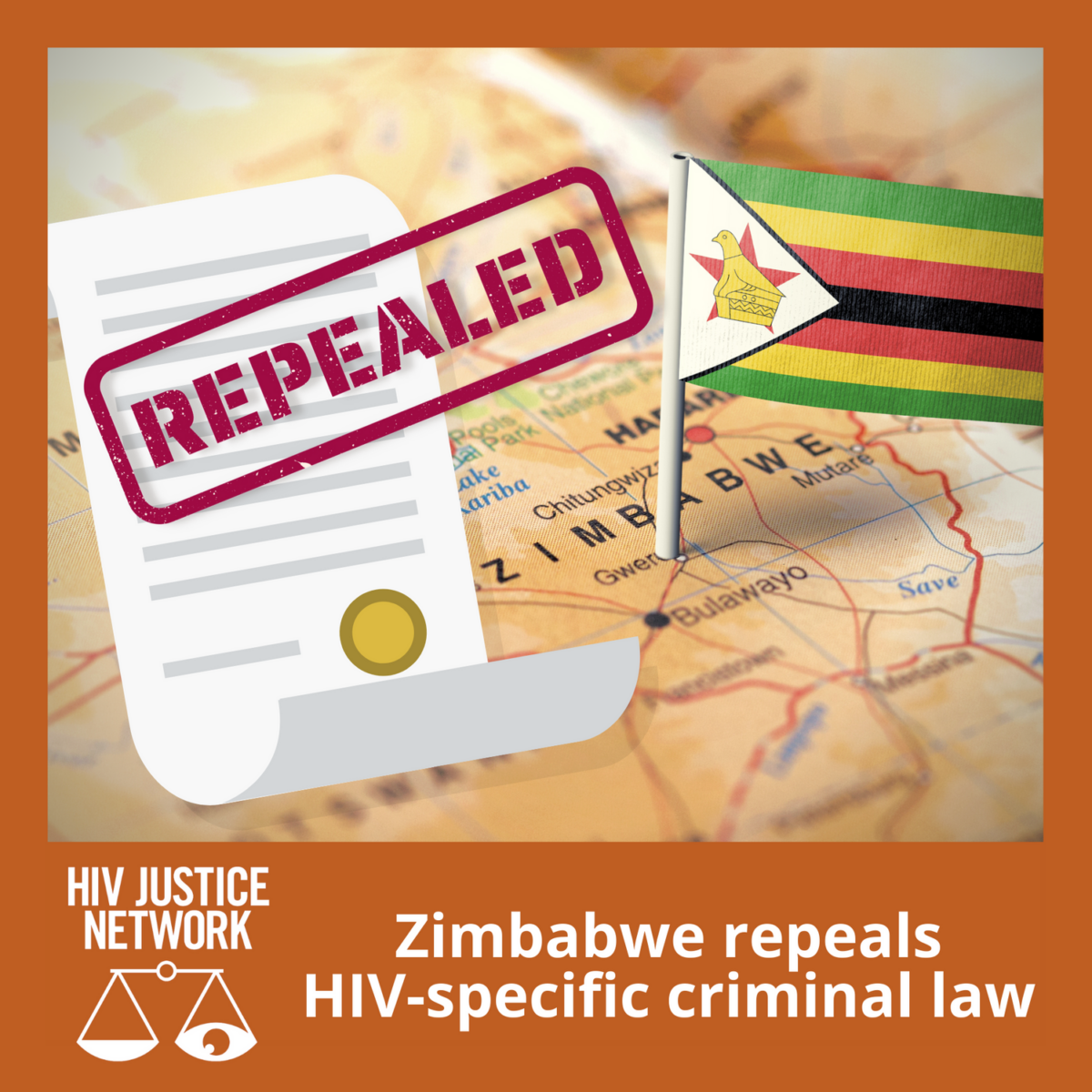 Last week, Zimbabwe's parliament finally agreed to repeal the country's HIV-specific criminal law, section 79 of the Criminal Code. The law which contained the provision to repeal section 79 – the Marriages Act – was originally gazetted in July 2019. It will now be signed into law by the president.
The significance of this cannot be underestimated. Zimbabwe becomes only the second country on the African continent to fully repeal its HIV-specific criminal law after the Democratic Republic of Congo repealed its law in 2018.
Although there have been remarkable advocacy successes elsewhere on the continent in preventing an HIV-specific criminal law being enacted in Malawi in 2017 and the suspension of one of Kenya's two HIV-specific criminal laws on the grounds of unconstitutionality in 2015, it is rare for a sitting parliament to decide to completely repeal an HIV-specific criminal law.
That it did so is testament to a multi-year, multi-stakeholder campaign that began with civil society advocates sensitising communities and parliamentarians, notably the Honorable Dr Ruth Labode, Chairperson of Parliamentary Portfolio Committee on Health and Child Care, who began pushing for a change in the law in 2018 having previously been in favour of the provision in order to protect her female constituents.
However, after attending a number of meetings, notably a November 2018 Symposium convened by Zimbabwe Lawyers for Human Rights and HIV JUSTICE WORLDWIDE partners, ARASA and SALC, along with other civil society organisations, she began to appreciate that HIV criminalisation does not, in fact protect women, but actually harms them.
We all know very well that in Zimbabwe and the world-over, we do not have diagnostic equipment which can tell us who gave HIV to the other and at what time. There is an assumption that whoever has manifested the disease first is the one who transmitted the virus. It can be anybody and it could be the other way round. If you are a woman and suddenly you find yourself positive, you will not tell your partner because of this law yet if the law was not there you would tell your partner and go and access ARVs to live happily ever after.

Hon Dr Ruth Labode, 2018
Zimbabwe was, in fact, the first African country to enact an HIV-specific criminal law, including it in the Sexual Offences Act of 2001. The law, which was supported by women's rights groups who sought to address violence against women, made a criminal of anyone diagnosed HIV-positive who "intentionally does anything or permits the doing of anything" which (s)he "knows … will infect another person with HIV".
The law was further amended in 2006 through the enactment of section 79 of the Zimbabwe Criminal Law (Codification and Reform) Act, 2004. The new law, erroneously titled "Deliberate transmission of HIV", did not require HIV transmission or for an accused to have an intention to transmit HIV: only that they undertake an act that includes "a real risk or possibility" of transmitting HIV. Further, section 79 was so broad it could be applied to anyone who knows they have HIV or who realises "there is a real risk or possibility" they might have HIV. The only defence was if the HIV-negative partner knew their partner had HIV and consented.
There were many attempts before the first reported prosecution in 2008. Since then, there have been at least 18 further HIV criminalisation cases, making Zimbabwe the country with the highest known rate of HIV prosecutions in Africa.
As prosecutions continued, it became apparent that Zimbabwe's HIV-specific criminal law did not protect women. Numerous cases accused women, including where it was likely that the accused was infected by her accuser spouse (although she was diagnosed first) and where men have made allegations as revenge for complaints about domestic violence.
The disproportionate impact of the law on women was highlighted in a 2015 campaign, 'HIV on Trial – a threat to women's health' by Zimbabwe Lawyer's For Human Rights (ZLHR) at the same time that they – ultimately unsuccessfully – challenged the law at the Constitutional Court. The campaign highlighted the case of Samukelisiwe Mlilo, who features in a powerful 15 minute documentary, 'Alone But Together – Women and Criminalisation of HIV Transmission: The story of Samukelisiwe Mlilo'.
The focus then turned to repealing the law, and by 2019 the campaign to repeal the law was in full swing, supported by a wide range of stakeholders – including HIV JUSTICE WORLDWIDE, the Zimbabwe Network of People Living with HIV (ZNPP+) and UNDP.
That year, Zimbabwe Lawyers for Human Rights and HIV JUSTICE WORLDWIDE published a range of policy documents aimed at different stakeholders – including people living with HIV, the media and parliamentarians – highlighting six key messages:
Section 79 is vague, overly broad and open to unjust application.
HIV criminalisation violates human rights and increases HIV stigma.
HIV criminalisation laws are unscientific.
HIV criminalisation does not prevent HIV.
HIV criminalisation is a barrier to HIV testing, treatment and prevention.
HIV criminalisation is harmful to women.
Now that Zimbabwe has repealed its law, it's surely only a matter of time before the other 30 countries on the African continent with HIV-specific laws follow suit. Advocates in Kenya – where the other HIV-specific criminal law is being challenged – and in Uganda – where the HIV-specific law is also being challenged – will be especially encouraged, as should all of us fighting for HIV justice around the world.